BIOGRAPHY

Equipped with an array of samplers, sequencers and vintage synthesizers, San Francisco wunderkinds Broker/Dealer make catchy minimal electronic music equally suited for the den or the dancefloor. Simultaneously channeling the aquatic dub of Berlin's Chain Reaction label and the genre-defining minimal techno of the Kompakt imprint, on their debut full-length, Initial Public Offering, B/D recalls German electronic artists like Mike Ink, not to mention Metro Area's innovative electro-disco.

Featuring subterranean basslines, ambient synth pads, dubby beats and interlocking pop melodies, Broker/Dealer's porous, punchy tracks and classy melodic nuances have been eliciting comparisons with the likes of early Mouse on Mars and Thomas Brinkmann since the release of their first 12" on the well-respected Cologne label, Traum Schallplatten.

Trying to recreate the essence of their live performances, the duo has spent most of their time in the studio working on tracks for an upcoming full length digital / 12" release on Spectral as well as various remixes. Keep an eye out in '08 for their new 'Soft Sell' single including a remix by Thomas Fehlmann.

Discography here.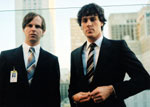 [Click to Download 300dpi]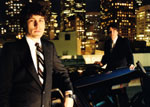 [Click to Download 300dpi]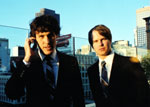 [Click to Download 300dpi]