Underground System
By: Dream Chimney
The following interview was conducted in April 2023
You just have to love the energy you get from Underground System! The Brooklyn outfit return to Razor-N-Tape with the 'Looking In EP', a five-track collection of two killer originals and two deadly remixes from Nenor & Clive From Accounts. Here we talk to frontwoman Domenica about the band, their influence, how their sound has evolved, and what challenges they have faced over the years.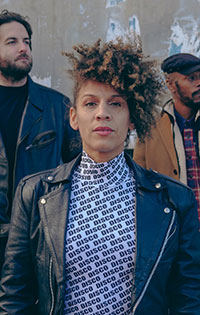 Thanks for taking the time to talk. First off, how long has Underground System been around?
Hello! Thanks for having us! We've been around for a while now, about 10 years, but with a couple of hiatus moments in between.
What was the catalyst for the bands beginning?
We started as an afrobeat band. Our name, Underground System, is an homage to Fela Kuti's last record before he passed, so one can say we were/are lovers of Fela and Afrobeat and would play many covers in the early years.
Were any of you DJs on the New York scene in the early days?
My music partner/co-leader, Peter Matson, started DJing around Brooklyn shortly after the band started. Later we began playing as a DJ duo with myself on flute and Peter on the decks.
Where did you play and what kind of stuff were you into?
There is a nice handful of small hi-fi centric clubs in Brooklyn that Peter has played at for years now since they've been open. Places like Black Flamingo, La Milagrosa, and Jupiter Disco. Some since discontinued small venue parties like Rhythm Section Sundays at Bembe in Williamsburg with our friend Mickey Perez hosting and DJing, and DIY loft themed parties with nice Klipsch speakers, in particular one loft called 'Starvue' that would have been Peter's first time playing all vinyl on proper Bozak rotary mixers and K-horns for the full-on NY disco and house experience.
Most of the records we play are dance records with a broad New York centric range of style. House, disco, afro/Latin, electro, a bit of techno. Not too much off limits if it's fitting at the moment.
Are you playing any DJ gigs currently?
Yes. Peter's an active DJ in NY and touring around, recently playing at nightclubs like Le Bain in Manhattan, Spiritland in the UK, Le Mazette in Paris, Dante's Hi Fi in Miami, Nightmoves in Brooklyn, and also back home at Good Room where we had quite a time DJing as 'Underground System' for a special 10- year anniversary of Razor-N-Tape. We also continue to play Underground System DJ sets for special events and guest bookings. April 14 we'll be at the Razor-N-Tape store for our EP release party 4-8pm. Catch irl or streaming live onMixcloud
What kind of vibe might we hear in an US set?
Dance music babyyyy! We've been described as Tina Turner meets Talking Heads meets Prince. So, with the full live band you know there'll be dancing on stage. Lots of driving grooves. High energy. Fun banter. And eye winking. We've also got a relatively unique thing going on for our DJ sets when Domenica gets into the Live PA extended flute work and a bit of vocals. Crowds really respond when we're in the pocket with that, and it can breathe some fresh life into classic disco and house tunes we love rinsing.
Can you tell us the members of the band today and what you all do respectively?
Domenica (frontwoman/flute/percussion/co-leader/composer)
Peter Matson (co-leader/composer/producer/guitar/drum machine/synths)
Olatunji Ohore (percussion)
Jon Granoff (bass/synth bass)
Our longtime drummer, Yoshio Kobayashi now lives in Japan, so we've invited our friend, Attis Clopton, to play on drums, and on occasion my friend/colleague Julie Acosta joins us on trumpet and background vocals.

How often are you all together in the studio?
We all live in NY, mostly in BK. Most of our studio time as a band is when we have solidified our demos and are ready to fully record for a couple of days. The songs are written by Peter and myself, so we spend time in the studio on a regular basis. Usually from the studio of our friend, Vito Roccoforte (The Rapture, Poolside); coming up with grooves and melodic ideas to go back and forth with the lyrics until something clicks.
If you had to choose some words to define the sound of Underground System, what would you say?
Electric. Powerful. Driving. Commanding. Hypnotic. Fun.
Who are the artists, and bands that Underground System takes inspiration from past or present?
Our music is influenced by different sounds, many of which with a New York origin story. As much as we are rooted in afrobeat styles, we take homage from many corners of indie and dance music.
We were described a lot in Press for our first album as 'Fela meets LCD' or 'Soulwax meets David Byrne', which isn't terribly far from the truth! Talking Heads, ESG, Liquid Liquid, new wave bands like XTC (basically all the 3 letter abbreviated bands from the 80s), lots of other 80's Downtown kind of Disco. Brazilian music and Baila funk. Friends groups that blend afro and electronic elements like Ibibio Sound Machine and Sinkane. More fun contemporary indie choices like Little Dragon, !!!., The Rapture, Tune Yards, Stereolab, Charlotte Adigery and Bolis Pupul. And then the laundry list of proper dance music producers and house music labels past and present…The list goes on and on!
How much do you think your sound has changed since the beginning? What elements have remained the same?
Our sound has certainly evolved and matured from its inception. Being that this was originally an afrobeat band, we still keep those rhythmic formats as the foundation of all our songs. But through the years we started incorporating more electronic instruments (synths, and drum machine) while keeping the live instrumentation in the foreground. We love combining both organic and electronic sounds so they blend and are harder to differentiate. Also, vocally I've been experimenting with my range, attitude, and singing with a more sultry tone.
What are the challenges you have faced over the years in putting out music?
Distribution and tour support. Although releasing music independently is a satisfying accomplishment, it's challenging when one doesn't have the right connections to work with as needed, so finding the right label and promoters/agents to believe in you takes a lot of time and effort.
You are a live band first and foremost. When and where was your last live gig?
Early February we did a weekend Northeast US run to MA, VT, and upstate NY. The last one was in Saranac Lake at the Winter Carnival in Saranac Lake. We've performed in Saranac before, but not in the winter. It happened to be one of the coldest weekends all over the northeast, so we thought maybe the attendance would be low, but it was packed with returning fans and new ones too. The crowd was great. It was freezing outside but we made it hot inside. Plus, I got to break in some knee-high boots that were perfect for the setting.
How is the live music scene in New York City post pandemic?
NY is back to being the city that never sleeps. Live shows are poppin', and audiences are here for it. Supporting, listening, and enjoying themselves.
Where is your next live going to be?
We have a nice string of shows coming up this spring and early summer, but there are two that we're highly anticipating. May 20th we're in our hometown at a great rock venue in Bushwick/Ridgewood called TV Eye. We've curated the night with some of our favorite NY artists to join us on the bill. AND June 3rd, we'll be performing in Mexico for the first time at the Queretaro Festival.

On production - What was the first Underground System release?
The very first record we released was 'B.O.B EP.' It showcases our afrobeat roots with the original 10-piece band and featuring two of our first original songs, B.O.B (Bootyshake Out-Break) full of polyrhythmic grooves and 95 South, an homage to the women/aunties in Domenica's life sung in Spanish. This was released independently, and we only have a very small handful left of this special record which might be put up again for sale in the year to come ;-) Digitally, 'B.O.B' made its way onto a Planet E compilation called 'Detroit Love' compiled by our friend DJ Holographic, if you'd like to have a listen!
Which of your releases do you think made the most noise?
There are a couple that come to mind. We wrote an arrangement of Bella Ciao from our second EP that's become quite popular, and we've played it in every one of our shows ever since its release. Although this iconic traditional anti-fascist Italian song has been covered by many artists throughout the decades, our version is probably the only rendition of its kind; sung in a Baila Funk style with full of afrobeat energy. After Bella Ciao, we released our first LP 'What Are You' and that brought us a lot of attention. It was a baby that we birthed after a few years of writing and recording. It was the first time we started combining organic instruments with electronic instruments. In this LP, the tune that always gets us pumpin' is 'Go.' It's impossible not to hear our development on this track, where we stay true to our afrobeat roots while incorporating elements of new wave, alternative and post punk.
Stepping out next Razor-N-Tape. How did you get together with the guys?
One of the founders of Razor-N-Tape, JKriv, is a close friend and colleague. He's collaborated with Peter on their own releases on Heist Recordings, playing live at a residency here in Brooklyn at Public Records, and some other remixes. We also have a lot of other mutual connections with the label, and it just made sense to begin releasing some music post pandemic with them. Close to home, but a very active and globally respected label.
Do you feel that your sound, and your approach to a new releases has changed since linking with RNT and in what way?
Not exactly, but I think being on the label gives us more encouragement to continue exploring our hybrid electronic and organic sound we keep refining, and we've worked with some great remixers like Yuksek, Andrés, Nenor, and Clive From Accounts. JKriv co-produced one of our new tunes 'Sleazy' so that's some direct influence there! Otherwise, I think the label puts a good amount of trust in how we approach our sound.
The title - Looking In - provokes a lot of thought. Is there are meaning for you inside this title?
Yes. We composed these songs during a time of a lot of reflecting and observing because the world was at a standstill. 'Looking in' has a double meaning. Looking inside oneself but also observing others who do harm and finding self-motivation to take action. Just like the music, it appears to be introspective at first, but eventually reveals itself to be everything but that.
What are you most proud of on Looking In?
This EP feels like a further exploration of contrasting elements that make Underground System stand out. Our hybrid production approach of marrying electronic music with organic instrumentation, tightly written song forms mashed up with minimalist grooves, and singing off-beat, sometimes ethereal, vocal content with focused lyrics. It's a group of songs that encouraged us to
What is the process of bringing the remixers on board? Are these down to the label or did you already have people in mind to work the tracks?
Razor-N-Tape obviously has a massive roster of producers that have released with them before, so it's a mix of their contacts, ours, and also the cross section of style we might be going for.
We give the label suggestions and vice versa until the right remixer makes sense. For this coming 12", Nenor and Clive from Accounts were artists who the label already work with and they were also excited about the tracks.
We love both remixes. Each has a different approach but still keeping things in line with our spirit and the lively dance floor quality we aim for.
Nenor's remix of 'Sleazy' he flips the groove while subtly maintaining the quality and spirit of the vocal. Plus, it's super fun with a big bouncy bassline at the drop and clever breakdowns sprinkled throughout.
As a contrast, Clive from Accounts took the most long form/dancey feeling tune on the EP, 'Your Distraction,' and remixed it into an even groovier and dubbier territory. Creating a great big bassline punctuated with vocal chops and jazzy guitar that sits just right. Peter's definitely looking forward to playing this one out on wax in DJ gigs to come.
What other projects are you working on that you can share?
Currently working on our second LP. Hope to release these tunes to the world soon.
Is there anything else you would like to tell us about you?
Support live music and don't be afraid to let loose! Also check out our music video to 'Sleazy' and other goodies on our website:www.undergroundsystembk.com
"Looking In EP" Available April 26, 2023 on Razor-N-Tape