The following interview was conducted via email in September 2005
To start i really don't know enough Hawkwind or Gong tracks to get to crazy on the interview here, so ill just stick to Tim's solo work.
Q: Welcome Tim Blake AKA "Moonweed", to start... any background story on the nick name?
A: Given to Me By Daevid Allen in the GONG days , around 1970.. it seems to have Stuck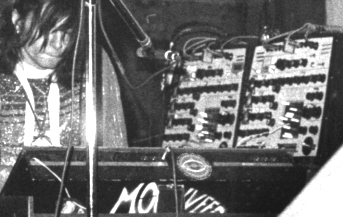 Q: When did you first start making music of any kind?
A: I started as a Choir Boy- Made my first record singing Christmas Carols ! Went on to Be educated Cranleigh School, and studied Trumpet , Music Theory & analysis with Derek Bourgeois , now a celebrated "Contempory Classic " composer . By the time I had left school, in 1968, I had experience in playing in orchestral, 'band' and solo situations, as well as having done my own investigations in Rock & Blues, as a harmonicist.
Q: What was the first synthesizer you owned? How did this come about?
A: Well Electronics came to me before the Synthesiser was invented , but My first was an EMS Synthi No 0007. I was already into signal generators , echo systems etc, but was inspired by Hawkwinds aquisition of a VCS3 to do the same. Of course the 1969 release of "Switched on Bach" had sharpened my attentions to Synths
Q: Where there any particular music/artists you were listening to before you began playing the synthesizer?
A: I had Enjoyed Classic, contempory and "Rock 'n Roll" as long as I can remember. In the Electronic field, Berio , in the 'Concrete' area , Henri. I also come out of the development of the UK rock scene, from "Rythm & Blues" ( John Mayall.>>.Yardbirds) to 'Progressive' ( Floyd, Soft Machine, Hendrix).. but was also marqued by Arthur Brown, and Deep Purple. As a harmonica player as a very young blues man, I was marked too by Capitain Beefheart
I also had a friendship with Paul Kossoff, who went on to write "All Right Now" a Classic piece of Rock, with Free.
Very early Hawkwind, and a little later GONG, were 'Just my cup of tea' of course. Basically, I've allays enjoyed excellence in most forms of music, I don't think I have been influenced by any 'Style' in particuliar, but often by the 'movement' attached to the music. Of course I'm a sound man, and like things to sound good for Starters !
Q: How did your on-stage electronic music / light show collaboration with Patrice Warrener begin and how did you coordinate with each other to relate the visuals with the music?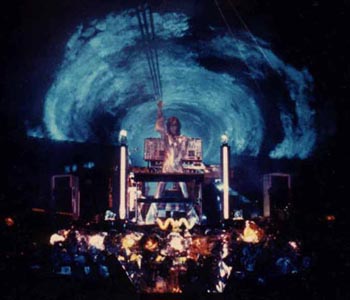 A: I came to Paris as a roady for Skin Alley in 1969/1970. We played a place called the "Open Circus" .. I already knew all about Lightshows, we always had one in the Clearwater Productions days ... but the 'Open Light' was amazing.. It was only Later that I discovered that this was Patrice's 1st offering, his tecnology and a whole group of image creators.
Installed in Paris in 1971, we met up naturally, and started to do things together. Me and open Light etc. Going back to Gong in 1972, there was Whizz, the stage lighting man who came from Open Light.. so Patrice and I were always in contact. Anyhow, I always was fiddling with Lights and a small Laser myself.. its one of my passions.
When I left Gong in 1975, it seemed natural to continue to work with Patrice.
Today it would be possible to 'program' and really add synchronisation and more between Music & Light.. in those days , it was the common feeling between the two of us that did the trick. I still work for Patrice's Lighting company sometimes.. we enjoy each other's company when it's time to get things done, and it must be said , the Chromolithe Illumination system he exploits now, is as revolutionary in public illumination as Crystal Machine was to Light Shows.
Q: From the wonderful photos on your site it seems quite a production of music gear you would use on stage. How were you able to tear apart your studio and take it out to perform? How were the venues in France able to accommodate your setup, which im sure had never been done before... correct?
A: Im trying to imagine from the pictures of your 1977 tour. About how many people battened the shows? What was the atmosphere and response from the crowd? Was it common to have other artists playing before or after?
Well It's Hard Work ! But we were always a bit "traveller", living in unsecure situations , so everything was always ready to move! In the group situation, a group can never be any better than it's Road Crew. throughout the GONG years and later the Hawkwind period @ '79-82, I owe so much to David Id, who could set me up just like at home !
Of course , with the Laser gear, and water cooling things got worse & worse. The Best Crystal Machine gigs were the 'permanant' installations of several days in theatres. The shows with other acts were always both hair raising, and slightly compromised. In japan, we had a crew of about 20 people involved in setting up! We were lucky though, a lot of people came and helped in some of our more celebrated shows.. in fact You'll find people in almost every big Sound and Light shows who started giving us a helping hand !
Q: At the time of your solo performances, did you have some piece of gear that was most important to you or a favorite?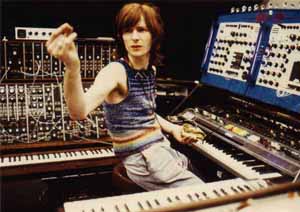 A: Every piece of equipment was loved and cherished ! Crystal Machine never had the support from the 'Industry' or sponsorship/subvention market, so I have always used less gear than many others, making every piece important. Patrice built my 2 Ems into a marvelous piece of gear that was always associated with this time in my career, in fact I only sold them off a couple of Years ago to the person who seemed most competent as far as their upkeep was concerned, Keith Kniverton.
Q: I've also seen some photos of a live show with another keyboard player and even a bongo player. Did you often perform with others aside from Gong and Hawkwind?
A: I have always enjoyed making music with others. I think my solo stuff , apart from "having my own things to say" was more a reaction against the cupidity and downright dishonesty that I have always found working with groups, than a desire to do things my own way. It has always been an uphill struggle to receive credit, both artisically and financially for the work done with Gong & Hawkwind, so I felt it easier to take a fuller responsability for my musical meandering by working as a 'Soloist'.
I would like to have done , and to do , more work with others - especially these days when I get a very great pleasure in playing 'Virtual' Guitarist roles. I find also that I'm very efficient on the production side of things , and would have enjoyed doing more, as if it's easier to give one's best to other peoples music than to ones own !
Q: Your 2nd solo album says its your first studio album, was your first, "CRYSTAL MACHINE", recorded live on stage? Either way, how exactly did you record it?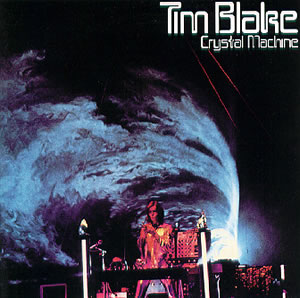 A: Crystal Machine was a collection of bits and pieces , recorded both at different locations and at concerts. I hadn't sat down and said , 'Let's make an album'. I'd just compiled some of my music with the intention of looking for a recording deal, and one day Fabrice Cuitad, then from Barclay, made me an offer to put it out.. I wasn't going to refuse , especially as that deal allowed me to make New Jerusalem too. I had no multi-tracking at the Crystal Machine time though, so it's a collection of Stereo-taped bits.
Q: After your two albums and sometime in Hawkwind you did not record or perform for many years. Was this because of the music business, touring or personal?
A: I reacted quite badly to some bad treatment in the Hawkwind period, and once again thought it better to rely on myself. Unfortunately, nobody was interested in continuing to work with me. I was also in a part of my private life where I wanted to be more fixed , and "at home", so I suppose it's a mix of all the above !
Q: My first interaction with music of your style/genre was Tangerine Dream and more recently Ash Ra, however you may have predated them. At what point where you aware of others playing similar music?
A: We had Tangerine Dream, Klaus Shulze, Agitation Free, and Ash Ra supporting on tours with 1972-3 Gong, resulting in their venue to the Virgin Stable. What the French Called "Kraut Rock" was getting very popular at the time. Saw early Kraftwerk too.. met them and in general we all considered ourselves as contemporaries. I played a London concert with Chris Frank about 12 years ago.. Chris was very welcoming " Ah Tim.. this has been a long Time .. in fact it could be the definition of a Long Time !"
Q: Unfortunately I'm not familiar with your newer music, how is it different or similar? Any other solo albums in the works in the near future?
A: There have been two important things .. "The Tide of the Century" is an album where I have consolidated my Love for Songs and Singing quite well.. In fact It's what I enjoy best in my Solo work, but at the same time, I received a commission to write and record "CALDEA" music, a return to "70s floating instrumental music, and I think I did well here too. Hopefully, I will be able to continue to work in the same two 'style's .
I had been involved with Hawkwind too , since 2000, and had been enjoying Rock again, as well ! In 2003 I was effecting a change round, with the intention of rebuilding Crystal Machine with Patrice.. Unfortunately , early 2004 featured a terrible car crash, from which I have spent more than 18 months convalescing ... In fact I have only been playing again for a couple of months, and will need to be re-operated on again at the end of september. But the most recent concerts have seen a very good start to performing again, and I think I'd rather work on a compilation available for down loading, and try to become involved in performing and making my 21st century music more well known , before writing and recording something new.
But I'm very interested in putting together some kind of multi-media project again, and this would certainly provide the declic to want to do more new material.