Takuya Matsumoto
By: Dream Chimney
The following interview was conducted in February 2023
Takuya Matsumoto has been on the playlists of Floating Points and Move D for a decade. Floating beneath the surface of the underground scene, putting out deeply emotive and complex compositions. We catch up with the Japanese marvel who is about to drop his 'Tape Is Rewound EP' on Fina Records.
Thanks for taking the time to talk Takuya. Where are you today and what are you doing with the day?
I'm in my room and I'm doing day job.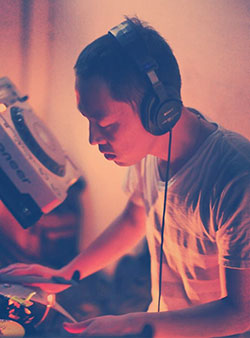 And where are you based?
I am live in Midori Ward, Yokohama. It is outside the centre of Yokohama.
What is the music scene like where you are? Do you DJ much on your local scene? Where do you play?
There are good DJs in Yokohama that play several genres of music. Not such big venues, but there are also many good small places too. I don't DJ there, I just dance.
You practice a live set. What does the set up for the live consist of?
When I do a live set, I use only my laptop. I have installed Ableton Live9 and I use a Korg midi controller. Recently my live set style is a blend of DJing and live performance.
Even though you have been producing for two decades there is not so much written about you in the press. Has it been a conscious decision to avoid the media?
Japanese press has not been seem so interested in me, but I never intended to avoid the media.
Your first self-released in 2001. Tell us a little about your first release experience?
When I was university student, I met a lot of local DJs. One of them is Kouji Nagahashi, IERO's owner. We were crazy about Detroit techno/house at that time and ended up making music together. We became good friends and Kouji and another friend of mine wanted to make a vinyl record and they suggested that I join the project. We pressed 200 copies but we didn't know anyone to distribute so my friend went direct to record shops and sold them. I still appreciate what he did until this day.
How much has your sound and style changed since then would you say?
In basic terms my style has not changed but it has become much more technical I would say.
Are there some artists that have inspired your sound across the years?
Too Many to write! People like Aphex Twin, Mu-Ziq, Derrick May, Carl Craig, Theo Parrish, Phuture, Larry Heard, Floating Points, Falty DL, Herbert, Pepe Bradock, Ricardo Villalobos, Sly Stone, James Brown, Yellow Magic Orchestra, Patrick Adams, Maurice Ravel, King Tubby, Adrian Sherwood, and Moritz Von Oswald.
You made an exceptional deep house record in 2010 - Drafting under the stars. Move D and Floating Points jumped on it.
The Start was that I handed the record to Move D at club in Tokyo in September 2010. That night's event was Urban Tribe's Japanese Tour, and he came to the club to DJ. After that, Move D played 'Jump Rope Music' and uploaded a mix on his Soundcloud page. Floating Points probably listened his DJ mix. A few weeks later, Floating Points contacted me via IERO and I sent a copy to him. The re-release was 2012. We never promoted it, we only go went to clubs and handed to DJs.
What do feel has been your most notable release to date and why do you consider it to be so?
'Drafting Under the Stars.' Because everyone still loves 'Jump Rope Music' though released 13 years before, I think that it's my best work.
EKR's Galactic Dance in 2014 on Clone's Royal Oak was a serious dancefloor release. Was this a slight shift in your sound at that particular point?
Yes, Serge, Clone Record's boss' taught me how to make good dance-oriented tracks through this session. Until he said it was ok I kept trying. Through this, I grew a bit.
You had two releases in close succession on Meda Fury. How did you connect with this label initially?
First Renaat Vandepapeliere founder/ ex-owner of R&S, contacted me. I don't know where he listened to my music. He was re-starting Global Cuts Records. Eventually Nick Williams and R&S team, started the new label 'Meda Fury' as subsidiary of R&S.
Your releases have found their way into some cool hands by word of mouth. I guess that means it's all about the music.
Yes. And I was lucky.
Which of your releases are you most fond of and do you feel should have had more love?
Actually, I really love 'Places Of Colours EP'. 'Souvenir' is one of my favorite tracks too. I like their chords progression.
There was a five-year gap in your release from 2017 - 2022 what were you doing in that time?
I had took a rest. In 2015, my regular job was too hard so I ended up with a depression. I am better now but I am still taking medication for it.
Your most recent release on Clone was an ode to 85-88. A very clever play on that era. But the music was not made then. Tell us a little about the concept and the music.
Each track is dedicated to Chicago House Legends, Larry Heard, Marshall Jefferson, DJ Pierre, Tyree Cooper. They are true creators. The concept was 'how to make old school machine sounds by using only a laptop'. It was kind of an experiment.
You released your 'Places of Colour EP' in 2015 on Fina Records. How did you meet up with the label?
Simon Morrell contacted me via soundcloud. I checked the labels past releases I thought - this label is great and believable - so I signed.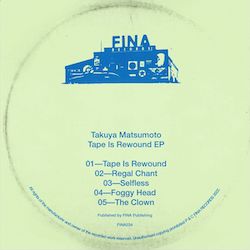 Second time back on Fina with 'Tape Is Rewound EP' with an incredibly diverse collection of tracks. What made you decide to put these tracks in the same collection?
I didn't put it together initially, but I intentionally made various mood tracks for one EP. I think even if it is a 4 track EP, it should be colourful and like an LP.
No matter how sporadic your releases have been over the years the quality has remained high. Are you working on other projects now that you can share?
I have a Dub House project going on. It is very lyrical.
How do you seek inspiration for the productions that you make?
I just sit down in front of my PC and program something! Sometimes chords, sometimes samples, sometimes loops, anything really!
Do you have a dedicated studio?
I make music in my bedroom, and I use my laptop. My laptop is my studio. The most important item for me is my SONY MDR-7506 headphones. I have used them for more than 10 years for mixing. I can't use monitors because of the neighbours complaining.
How do you get yourself in the right headspace for a productive studio session?
I have a good sleep!
When you're not in studio making music how do you like to spend your time?
I love to go fishing.