Kurt Hauenstein (Supermax)
The following interview was conducted via email in October 2005. Punctuation, spelling and type left in its original format.
Q: How did you get started making music and what would you say was your biggest influence from the beginning ?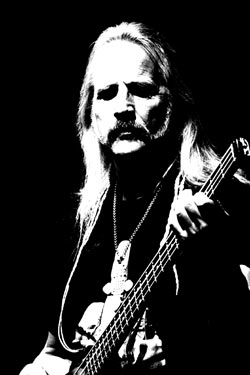 MY FRIENDS STARTED A GROUP AND NEEDED A BASS-PLAYER SO I ASK MY GRANDMOTHER TO LEND ME SOME MONEY ;BOUGHT ME A BIG BASS:GIT- (FRAMUS-BILL WYMAN) AND START PLAYING BASS
Q: Did Supermax begin as studio project that took off or had you always invisioned it as a live band set to tour the world ?
I STARTED IN THE STUDIO AND AFTER I PUT THE GROUP TOGETHER
Q: Ive seen some amazing photos from SUPERMAX concerts! What was a typical concert like ? How large of a venue, crowd reaction ? Where was your favorite city/country to play ?
FROM 150 PEOPLE TILL 100.000 PEOPLE FAVORIT COUNTRY RUSSIA
Q: Your music definately favors the use of synthesizers to go with its underlying rock overtones. Were you writing and playing the keyboard parts for all your songs or were you more focused on the bass and rhythm?
BASSICLY I WRITE THE SONGS ALONE;PLAY ALSO THE MOST INSTRUMENTS MYSELF AFTER THE SONG IS DONE AND GOT A FORM I GET SOME MUSICIANS TO PLAY OVER IT
Q: Reggae music seems to be an obvious influnce on your music, tracks titles alone "Reggae Fever", "Coconut Reggae", "Reggae On Baby". Where / How did you first become exposed to this type of music ? Were they any particular artists that you most fond of ?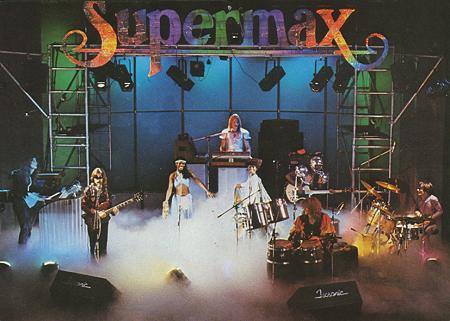 I WAS MANY TIMES IN JAMAICA AND ALSO LIVED THERE FOR SOME TIMES MET ALSO A LOT OF REGGAE ARTISTS THATS WHY I WAS THE FIRST WHITE GUY THAT PLAYED ON REGGAE SUNSPLAY IN KINGSTON -JAMAICA
Q: I recently found a copy of a record, which you produced, by the group "LONDON AIRCRAAFT" doing a cover of "Love Machine" which seemed to resemble your band except for the obvious reverse in the members' skin colors. How did this project come about ? Was this a way for you to create a band that could tour with your music and keep you out of the spotlight ?
IT WAS JUST A DEAL TO GET OUT OF A RECORD-CONTRACT AND LARRY WAS ANYWAY SINGER AND PERCUSSION-PLAYER IN THE GROUP
Q: Also curious of your relation to the Canadian group from the late 70s called 'Bombers' who have done covers of many of your tracks. 'Dance, Dance, Dance' and 'Dont Stop the Music' to name a few. Where you aware of this at the time ? What do you think of their versions?
SHIT;THEY TRYED TO STEEL THIS NUMBERS ;BUT WE CATCHED THEM ON MIDEM IN CANNES (FRANCE)
Q: What are you working on these days? Can we ever expect any more Supermax releases? Are you still using your old synthesizers? Do you work digitally?
THERE WILL COME OUT A LOT OF NEW STUFF SOON REMIXES;DVDS;BOOKS;NEW ALBUMSSEE YOU