Secret Soul Society
By: Dream Chimney
The following interview was conducted August 11, 2023
South Wales best kept secret is Secret Soul Society. Releasing a captivating long player 'Keep The Mystique' this week, it's a 15-tracks pack of curveball cuts built from lovingly sourced samples that arrives digitally and on a limited cassette. Secret Soul Society is Cal Gibson who has previously released on Paper Wave and dropped an album on Slightly Transformed. He co-founded Scruffy Soul Recordings while continuing to collect and play music from the worlds of jazz, funk, Afro beats, dub, soul, and reggae. Here we ask him to give us a further insight into his new full-length collection that is out soon on Hell Yeah!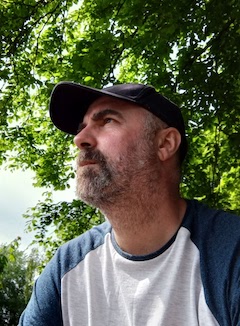 Tell us about the initial idea for the album Keep The Mystique. When did you first approach this concept and what was your original intention with this release?
It's funny: this release has been very much guided and masterminded by Marco Gallerani at Hell Yeah! I sent him a few beats and pieces and mentioned that I used to be half of Neon Heights back in the 2000s, when we made kinda chilled out funky stuff after having started out more on a deep house tip. Because there's (whispers) possibly a few samples involved, Marco thought that Keep The Mystique fits the bill: where do the samples end, and the soft synths start? Who knows? Who can tell? I can barely tell myself. So, over the last year I've been sending Marco stuff and he picked his favourites - it developed organically really until - bingo - an LP had accumulated. So, it's definitely been a partnership in a way: Marco's brains and my late-night obsessional collaging. The intention is just to enjoy the process of creation. It's almost therapeutic at this stage of the game.
What was most important for you to convey through this album?
I think really, it's just a declaration of love for music, as corny as that sounds. For about ten years I stopped making music, stopped DJ'ing, sold most of my records, stopped almost listening to music. I had fallen out of love with it all. And then, little by little, I'd hear something or read something (shout to Rob at Ban Ban Ton Ton. His writing was a big part of reeling me back in) and would think maybe I should start tinkering again. I always had guitars lying around - sadly I'm one of those mid-life guys still ropey as hell on six strings - so I got a laptop, downloaded a bunch of freeware, and got going. It is purposely intention-free. There is no grand plan, no world domination exercise, just an expression of joy in creation.
Life has been tough for us all I think over the last few years. Can we as humans drag ourselves out of this shitpit we've dug for ourselves? I'm not so sure we can, but I am sure that art and creation and love are what will guide us.
What are you most proud of with Keep The Mystique?
I think the track with the wonderful Japanese singer / producer / DJ Sato is my favourite, Cards On The Table. Through my super talented jazz buddy Jules in Kyoto, we'd worked together on Paper Recordings as The Boogie Brothers feat Sato, and I love her voice - it's so gorgeous - so I sent her the beat and was absolutely floored by what she sent back. Domo arigato Sato!
What was the most challenging part of bringing this release together?
It's been remarkably stress-free to be honest. Whatever Marco suggests I agree with! That's how we roll! He has all the insider knowledge, so I bow to his better judgement.
I guess this album marks a lot of years in the music business, I'd love to hear your thoughts on how your creative / production process has changed and remained the same over the years.
So, years ago we had a nice studio in Nottingham full of outboard gear, dusty old synths, guitar amps, pedals. All the kit. We spent years down there every day, locked into the groove, never seeing the light of day. Typical young studio rats, only surfacing to spin records and play football. Or that's how it seems looking back! And now....now it's all contained in a laptop with a crappy midi keyboard. All that gear, all that stuff, shrunk down to thimble size. But the process is pretty much the same: dig for a loop, play loop incessantly for many hours, whack a bunch of freaky sounds on top. Job done. Keep it simple, stupid! First thought, best thought. I like the punk ideals married to the depth and texture of jazz and soul. Tumble them all up, shake well and stand back and see what's occurring.
What drives you to continue creating music?
Good question. Primarily I enjoy it. I moved to a new city and country a few years ago (the wonderful kingdom of Wales!) and hence know virtually no-one other than my family. Which means I hardly go out. With the family growing up there's lots of free time at night to open up the DAW and get lost in the circuits. It's therapy and enjoyment all in one. The muse may well remove itself again at some point and that's cool too. I'm much more relaxed now about music and perceptions of what's hip and what's not. It's all just music. You like it? Great! Don't like it? Great too! Music's not for everyone as Mr Weatherall used to say.
What has been one of your favorite moments from the past year?
As a family we had our first holiday for quite a few years so that was great as things have certainly been up and down for us all recently. Music-wise I'll have to say Marco inviting me on to the Hell Yeah! roster for this LP is a real honour. Like the stuff I put out on Paper recordings, it's so cool to be part of a label that's a byword for quality underground dance music.
Where do you find the most inspiration when it comes to discovering new music?
Again, Rob at Ban Ban Ton Ton sends a bunch of stuff my way to write about and to play on my show on Loose FM so that's always really appreciated. Bandcamp of course is great for artists, and friends and fellow producers often kindly send over bits and bobs to check out. We did have our Scruffy Soul label but that's been dormant for a while. We also have our Carrara Bandcamp label which is Darran P and myself, and I do stuff for Citizens of Vice with Lanowa as Pilots of Peace. It's always interesting to fling files back and forward and see what emerges.
You are releasing on Hell Yeah Recordings. What can you tell us about the imprint and its mission?
I just think it's a damn fine record label. Balearic in nature, open-minded, underpinned by a top-notch sense of quality control from Marco. If it's on the label, chances are that it's worth checking out! I think Marco likes stuff he can play in his DJ sets, which is pretty much how I approach music-making: go as deep and as wide as you like basically...
What's next for Secret Soul Society.
I've been remixing Aura Safari for Hell Yeah which has been a lot of fun - Zeke Manyika on vocals...ooof! - and there's a leftfield disco EP coming on Rare Wiri shortly. I've been pondering getting back behind the decks but can't decide if that's a good idea or not seeing as I'm pretty much a hermit these days and I'm not sure I could handle the pressure of the dancefloor to be honest! It's been lovely getting nice feedback on the album so we might conjure up a volume two maybe....who knows?