Reuben Vaun Smith
By: Dream Chimney
The following interview was conducted in June 17, 2023
Looking like a Cali surfer, Yorkshire lad Reuben Vaun Smith is about to take the music scene by storm. His new album drops on respected CA label Ubiquity Records Inc, after an impressive Soundway release. The son of a Yorkshire muso publican, who is pricking up the ears of discerning Balearic collectors, he is most definitely one to keep the eyes and ears on. Here RVS talks about the wigwam in the basement, his family pub and music venue, and his sonically stunning new album 'Da Cuckoo YaYa'.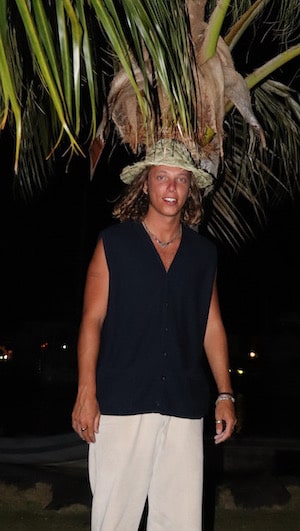 It's really good to talk to you Reuben. What are you up to today?
Hey mate, all good! I'm back at home in Pontefract right now working in the family pub.
Where in Leeds are you from? Do you still live in the same area?
Pontefract is about 30mins outside Leeds in a Wakefield postcode actually and ye, I'm still here for now. but not for long aha.
The Leeds scene has always been one that's close to my heart. Have you been to the Outlaws Yacht Club, that's always been great music spot right?
Yes, I've done a few DJ slots there over the years and also a few shifts on the bar. It was my main spot to go when going into the city for a long time.
Talking of yachts, tell us about your life on boats?
Well in lockdown I went to do my Yacht Master Offshore course since I couldn't cope with being locked in the house everyday haha. But after I finished the course I was lucky enough to meet a nice couple who were taking their boat back to Sydney from Gibraltar so I had around 10 months with them dotting around which was great! I finally left them in the Caribbean to go home and record this new album!
Back To Basics may have been a bit before you were clubbing. Is the legendary club night still going strong in the city?
Yes it was before my time. But Dave Beer is also from Pontefract so I know him quite well actually. I'm not sure if it's still going at the minute but I know he recently got married at Glastonbury so I'm not sure what's going on with the night right now.
So many cool collectors and DJs in and around Leeds. People like Craig Christon, Joe Morris, Andy Pye have been pioneering the Northern Balearic sound. Do you know any of these guys and what they do?
Yes, I know Craig and Andy well. They were over at the family Pub about two weeks ago. We do a few full day parties a year here with the full tribe. The next one is coming up on the 29th which will be a good one! Enrique from Ubiquity is going to make an appearance for it.
Leeds has always attracted a lot of Balearic DJs like the Balearic Queen Nancy Noise and Amnesia's Leo Mas. Have you been at any parties with these guys over the years as they've played a stack in Leeds?
I don't know these two unfortunately! I few years ago when I was just getting going, Leo Mas remixed a track of mine that Andy released on Balearic Social which was cool.
What are your first memories of music as a kid?
Sat in the cellar at home when I was about 2/3 years old with my dads massive old stereo blasting out on a morning. Or when my Grandma couldn't get me and my brother out of the bath she'd play Lust for Life full blast in the living room and we'd coming running in jumping about aha!
Is there an album that sticks in your mind that your folks played ?
Probably has to be 'Naturally' by JJ Cale!
It's funny how those times and sounds stick. Do you think you are influenced by some of the records that you parents played back then, today?
Yes deffo, me and my brother have another project that we recorded in 2020 in the start of Lockdown that's hopefully going to see the light of day this year via Ubiquity too. You can definitely hear 'Naturally' in the first couple singles that are going to drop.
Your dad was clearly a big influence on you. What was he up to musically when you were a kid?
When I was a tiny kid he was sat in a wigwam down the cellar with 'Big Daddy Folk' writing music until my mam told him he was going back to his mother's if he didn't get cracking with a job haha. But yeh, he's always been into loads of different music.
Was he involved in Basics at all?
He was involved in it but they all used to go. Yeh, we have the Classic Album Thursdays 'CAT Club' once a month at the pub which we normally try to invite the producer or someone with some link to the album. Its bit crazy some of the names that have rolled into Ponte for that.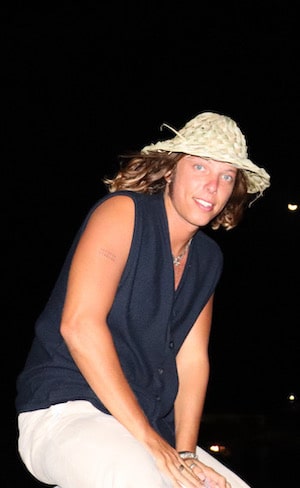 Have you DJ'd at all?
Yeah, only a little bit. It's not something I want to pursue as I prefer making the tunes but when the suns out I bring some records down to the family beer garden now and again.
How old were you when you first dabbled in production and what led you to start?
I was late to the party really. I started just before my 20th B'day and it was just a natural progression from collecting the music really.
What kit did you first produce on?
I have a fair few bits and pieces now, when I get it all set up it's a nice space station! Too much to list aha, but at the very start, I only had the one midi keyboard which I still run through Logic. Not a cracked version anymore tho!
I've slowly been buying bits now and again. Probably the main difference is the keys aren't midi anymore that I run my Nord and Korgs through, which gives it all a richer sound. But to be honest, the process hasn't changed at all. I've just a few good synths and nice couple drum machines.
Your first album Warm Nights. Was it a long time in the making or did the tracks come together quickly?
Quickly! Those recordings are just messing about trying to get something going with not much thought really and I was lucky enough to get them into the hands of Miles who liked them! But to be honest, I only just feel like I've arrived in a place where I have a nice understanding and should be releasing stuff.
Do you have a studio mentor, someone who guided you a long the way.
I used to send a lot of early demos to Pellegrino over Instagram about 6 years ago. He helped me a lot.
Soundway Records Can't imagine that was an easy label to get yourself signed to. How did that happen?
I sent a couple demos through to submission page and luckily they got picked up and through to Miles! I did spin a Soundway record in my shed a lot before though staring at it with it on mute with my tracks playing as if it was already pressed so that probably has something to do with it too!
And the hallowed Ubiquity Records Inc. You have certainly landed on some top spots! How did you strike up a dialogue and get them to sign you? Or did the music do the talking?
I sent the other project I mentioned through to Michael on instagram, again actually, … aha.. it's amazing what can happen from a DM on there! He got back within about 2 hours saying he was into it and then it's all rolled from there! I sent my solo stuff a lot later.
Your new album 'Da Cuckoo YaYa' is pretty stunning. It kicks from the off, every track could pretty much be a single. How do you feel about the album finished product?
I'm happy with it! Definitely the best I've released so far and happy it's rolled out fast. It's a best of from Jan/Feb as I really didn't want to miss out on releasing something this year.
There are so many great moments throughout. Shades of Khruangbin in the several tracks. Are they an influence on you at all?
Of course, they're amazing and have blown the roof off and help to push a lot of other instrumental music. But I do feel however great they are any other tracks/artists who have a nice melody on a guitar will get the comparison aha…. but yeah they're great!
That would be a very nice collaboration. Would you fancy it if it was on the table ?
That would be crazy, of course I'd be up for it.
Track Oumbadougou, is that an homage to Abdallah Oumbadougou?
Yes! I was listening to him a lot in lock down and when that track was forming I felt it had his influence running through it, so I thought it'd be nice to give a little nod and name the track after him.
Tell us about some of the vocal contributors on the album? Beams for example.
Lucy Saddler! A great local singer who's friends of friends in the pub really. I was asking around if anyone knew some singers and got passed on to Lucy then yeh, she smashed it! Were currently going to work another EP together which is sounding great.
What other musicians have been involved on the tracks?
Niall who plays bass in the live band and my brother! Keeping it local.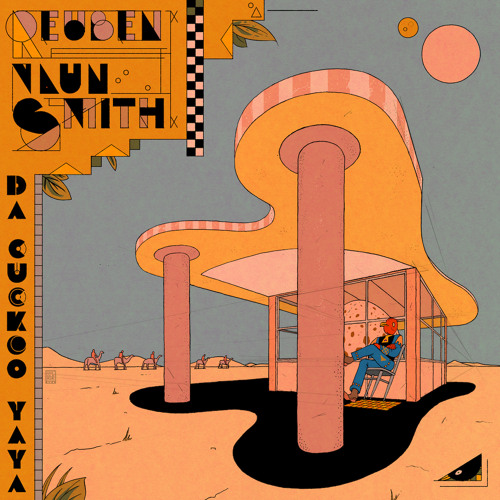 I really dig the artwork. Can you tell us anything about it?
Stefan Glerum! I loved the covers he did for Bruxas and also the others he's done so it's great he was keen to work together on this one and glad it came out bang on!
Any plans to perform the album live?
Yes, I've just started working with Janos at POJPOJ booking which I'm excited about! So we should be around EU next year. Also, a few bits lined up for September with L'eclair, Takeshi's Cashew and Lalalar so it's looking good!
Have you thought about making any 'club' remixes to take them down to the basement?
I haven't yet but there should be a few remixes incoming which I'm looking forward to so keep your eyes pealed!
Who do you think is making great music this moment?
There's a lot around! I played a run of shows with YinYin last year and they were insane. They're currently recording a new album which I can't wait for it to come out. I listen to a lot of Big Thief and RF Shannon on the day shifts in the pub which I love. Probably too much to write down!
Your sounds reaches far across the globe. Is there an intrepid traveller inside you?
For definite! I just hope next time I set off it's with the music!
When you're not in your studio making music, what do you like to do?
Not much while I'm here to be honest.. aha. I'm wanting to relocate to Spain soon, so I'll be doing a lot of swimming in the sea hopefully.