Danny McLewin (Psychemagik)
By: Dream Chimney
The following interview was conducted in November 17 2019
DC: Congrats on the long awaited debut album! When did you guys first start working on the concept for the album?
Thank you! It's been a long, winding journey but we got there in the end. We started it when we first met over 10 years ago.
DC: What was the collaboration process for the two of you for these tracks?
I come from a sample background and I also used to make music for film and tv and Toms always been a musician/producer/wizard. He started making beats when he was 11 or something crazy. Tom's the lead producer and we both work on the arrangements and ideas. Initially I played him a bunch of samples I'd had kicking around and we worked on the ones he was feeling the most. These kind of set the initial tone for what was to come and during this process a lot of the original tracks were born. We'd start with a beat and then Tom would be wilding out on some synths and I'd be marking out the hooks whilst he was deep in the moment. He'd be triggering some drums while I was playing some weird percussion library over the top. It was fun. Back then made quite a few tracks in a relatively short period of time. It was only about a year after we started that our manager at the time landed us 2 major record deals with Warner's and Chrysalis. They ended up letting us go but that short time we were signed to them allowed us so much creative freedom.
DC: The cover art of the new album has aFleetwood Mac "Tango in the Night" vibe to it. I know you guys are big fans, any other overall themes or inspiration for the new album ?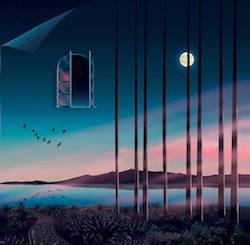 Well the title of the LP was actually a quote from our dear friend Anita who looked at us when the sun was coming up for the 2nd time at this eternal after party and I was like wow that's amazing, it makes no sense but absolute sense! I've got to write that shit down cause I'll never remember it. It summed up that moment in time perfectly.
Me and Tom would always somehow end up making our best tracks on weds for some reason. We'd call it cosmic Wednesday, which always went into Thursday We made most of that album in those late hours into the morning. I told the artist (Elvis Barlow-Smith) this story and said I wanted it to capture the feeling of those twilight hours but with a slightly surreal twist. He listened to the album and nailed it immediately. He's a clever dude.
We recently had a wonderful mix from Quinn Lamont Luke. How did you guys connect and start your collaboration for the track on the album?
When we first started making the LP we both went to see the Incredible Handclap Band in Canterbury where we first saw Quinn playing live. Not long after that we got to see him play his solo stuff as Bing Ji Ling and through mutual friends we got introduced and became friends. We often talked about a collaboration so we sent him the track and he liked it and wrote the vocals. We were all in nyc together and we recorded it at 'Fun Machine Studios' in Manhattan.
DC: For the album you were able to record in multiple studios including Kate Bush's workspace. What brought you guys to these specific spots?
Tom had mixed Canterbury band Syd Arthur's album and the violinist Raven Bush had kindly offered up their studio which was where his aunt had made all those epic 80's LP's. So it was a favour for a favour kind of deal. When we first walked in you could just feel this incredible aura. Her piano and Yamaha CS-80 kinda added to the ambiance! We recorded the strings at Air Studios cause we had the major label budget which will most likely never happen again. I met the string arranger randomly at one of those corporate Q&A's that I did for some spare cash where they ask you tons of questions for market research. Me and him snuck off to the pub during our lunch break and became good pals. A few months later we were recording with a full orchestra at which was truly a dream come true. We were actually supposed to be in studio 2 not Lyndhurst Hall but the people who booked it that day never showed up so they let us record there which was incredible.
DC: How did you and Tom first meet and start the Psychemagik project originally ?
A mutual friend of ours suggested we should meet for years but had never got round to introducing us, then we randomly bumped into each other in a field at a festival in Kent. Tom was djing later that night and I asked him about this unusual track he was spinning and he said that's my track!! Right there I knew we should work together.
The following week we met up and we made our first edit 'Moreskin' which was a blend of Cozy Powell, Herman's Rocket and Mantronix. The week after that we made 'Valley of Paradise' and the seed was sown.
DC: Even before you both started producing together, what was the first track you remember remixing or editing ?
The first edit I ever did was of the Joe Pass track ' A Time For Us' from his 'Guitar Interludes' LP. It's one of those super emotive tracks but it's a bit short so I just extended it and added some extra drums to give it a little extra bounce.
DC: Your record store/service Beach Freaks (along with our own ThunderBals Chimney (2008-2010)) how did that get started ? What is the most expensive record you have sold?
Well I actually met Charles via eBay cause he bought a copy of 'The Living Dead At Manchester Morgue' from me and we ended up talking shit about records non stop after that. Then he invited me to Dusseldorf and we both played at Salon Des Amateurs and the friendship was sealed. Beach Freaks evolved out of that friendship and mutual love for obscure oddities. The most expensive record I ever sold was probably an acetate of this Russian 80's new wave EP that was never released by Mila Anatoli.
DC: What your favourite most recent vinyl discovery that you can share with us?
I found this sweet folk psych gem 'Slow Burning Candle' by 'Sally Townes' at 'End Of An Ear' in Austin Texas this summer and i'm totally in love with this track:
DC: Being an avid vinyl collector do you (still?) take records to gigs or do you play strictly digital dj sets?
I very rarely take records as I usually buy so many records whilst touring i can barely carry them home. I loved playing Brilliant Corners and Giant Steps (RIP) in London which are vinyl only spots but for me the music and vibes are the most important thing, not the format. There is no doubt a certain magic that comes from playing records that cannot be recreated. I enjoy that experience mostly at home these days.
DC: Any album tour plans, future 12" releases or remixes coming up next for us to keep an eye out for?
Yeah we have a 12" of one of the album tracks 'Ghost Particle' coming out in January with an incredible remix by the super talented Russian producer 'Cable Toy' who did an incredible mix. I met him in Moscow and really liked his whole vibe. I had already been given one of his tracks 'Doktorhaus' by a mutual friend Lipelis and loved his sound. He is def one to watch! We'll be touring in New Zealand, Australia and Asia from Dec to March so look out for dates coming soon!
DC: Since this a Dream Chimney interview, we have to ask, What is your "Track of the Day"? Your absolute favourite single track at this moment.
I finally got my hands on a copy of this British funky jazz LP that has this sublime cut by 'Magician' called 'House of the Purple Mist' which is absolute perfection.
FURTHER READING