Projections
By: Ryan Chimney
We were fortunate enough to have a quick chat with two of our big time favorite producers, Simon "Woolfy" James and Dan Hastie akaProjections who are releasing a new EP `Echophonic` on their Ritual Release label.
Are you guys still based out of Ojai? How do you like living there?
Yeah, Ojai's still our hometown. We've been up here for a minute now. It's good country living, if you dig the country life. A longing for city life and diversity makes us head down into Los Angeles where it all seems a bit mad, and then we get to come back to tranquility. So it repeats. We imagine relocating in the future. Probably end up on another continent, or some desert island feeling the same way we do now, haha. Looking forward to exploring.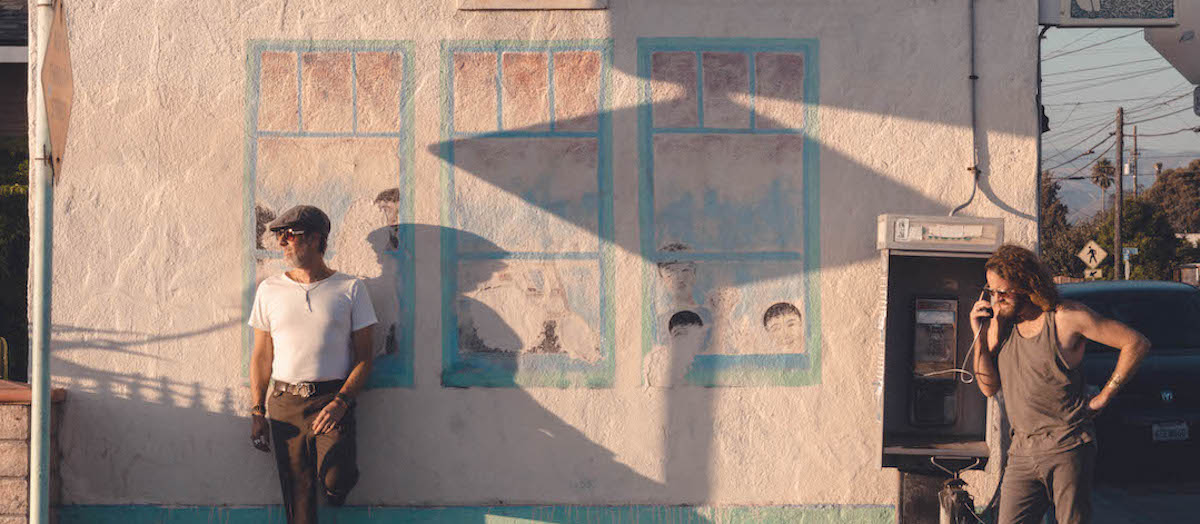 How long have you and Dan Hastie been producing music together and how did you guys get started?
OK, long story short, though it might still end up long. Twenty odd years ago, we started a reggae/soul/funk band and had quite a few residencies throughout LA. A few years later, Dan and I created Projections and the members of the band evolved into Orgone. We got signed as Projections to Guidance Records, one of the original deep house labels out of Chicago. Then we did a split single with the NY based label Rong Records, one side being Woolfy, the other Projections. That's how we arrived at the Woolfy vs Projections moniker. From there we've been lucky enough to work with amazing labels such as Permanent Vacation, DFA, Future Classic, and of course the highly coveted Ritual Release
Hope you have recovered from the last couple of years. How did you handle the early parts of 2020?
Definitely a good time to dive into creative works with many other artists, as everyone was confined to their own four walls: Coyote, Steve Kotey, Ilya Santana, to name a few. Much of the upcoming Projections album 'Reflections' was incubated during that year. Malik Moore came up to Ojai for a bit of a wild weekend and we got to record our latest release 'Echophonic'. We also got to advance our culinary skills... I'm sure everyone did. Michelin star what?
Do you have a shared studio setup in CA? How often are you able to make music together?
Separate studios, but fairly interchangeable. Both have a variety of analog synths and guitars. One you could say is more ergonomic than the other, and they each have their own character. It's nice to create in both spaces.
The new Echophonic EP is on your label, Ritual Release. How and when did the label get going?
Before Covid hit, we were struggling to identify and express ourselves as artists given we had so much music we'd recorded ranging from reggae to house to indie with no obvious place to put it all. Our good friend John Alderson worked with us to form the label, get on board with K7 for worldwide distribution, and funnel the music into distinct artist projects. It's been about taking the time to let the music realize itself with love, integrity, and attention to quality. The workflow we developed has been the backbone of our recent releases.
The Echophonic EP is in a reggae & dub vein, as was (Woolfy & Lexx's) 'Too Hot'. What's taken your music in that direction?
The influence of Jamaican music and love of Compass Point etc has always been there. It's where we were at when us two first broke bread. The core music on Echophonic was actually originated back in the early 2000s. It was the two of us and a crew of musicians from Santa Barbara called The Sand Dollars. We were based out of North Hollywood at the time and had access to heavy hitters such as Ricky Lucchese on trombone and James King on flute. Super solid sessions. The vocal tracks came later and were sung into a pair of headphones used as a mic. We kept it in the Projections vaults for a good minute. Crazy story is that some stranger from Japan handed me (Simon) a dubplate of the B-side, Silverback Rock while I was DJing a club back in 2005. How he got the master we'll never know. I have a feeling that it had something to do with Dan touring with The Pharcyde, and maybe he handed someone a CD and it got a limited pressing of 5 records. They're out there... we got one.
What's involved in creating a great dub mix?
Several Space Echo's, tape and marijuana.
Have you been playing live gigs or DJing out again, or planning to in the near future?
Absolutely. We've done several DJ tours as well as band tours as Woolfy vs Projections throughout Europe, the Americas, Russia and Australia. The live show always hit home at venues like Beauty & the Beat (London), Club Zukunft (Zurich), and PS1 (NY). It's always a challenge for promoters to have us rolling into a club at midnight with amps and a ton of gear, so we've recently found a sweet spot where we get to rock a crowd playing some records, singing a couple tunes and rocking some keys.
What's in the DJ bag right now? What artists or releases have you been enjoying, or been inspired by, recently?
We most definitely enjoy digging, whether it be the local record store or someone's Bandcamp page. It seems there's so many rabbit holes to fall down these days. Being that our latest release falls into a reggae disco vibe, we'll keep it there.
Chronixx has a fantastic new soul/reggae tune out called 'Never Give Up'.
Jacob's Dub by Persian hits the mark with a heavy, driving, dubbed out bass line, big sound.
Kalita Records hits the mark with the reissue of Desmond Chambers' 'Hally Gullyhall' complete with a Toby Tobias remix.
Great new EP from James Bright, the lead track 'Totem' has some great production.
Always in the bag is Chalice with 'Loosen Up'.
Keeping it dubwise, digging releases on labels such as Phantom Island, Soundway and Emotional Rescue's Konduko reissues. Always checking in with BanBanTonTon on what's new and what's hot.
What's next for Projections, Woolfy and Ritual Release?
Lots and lots really. A full length LP by Projections releasing around Christmas time, conjuring up a sunny beach in winter. A Talking Heads/Paul Simon-esque tune from Woolfy with remixes in tow by Chris Coco, Fuga Ronto, Eddie C and Tom Noble. Also on the label, new outfit Guruku is joining forces with recording artist Rojai for a disco boogie treat. Keeping it fun, keeping it quality, keeping it real.
Echophonic EP
1. Echophonic
2. Silverback Rock
3. Echophonic (Special Dub)
4. Echophonic (Special Dub Instrumental)
Ritual Release 2022
Available August 26, 2022