Processman
By: Dream Chimney
The following interview was conducted in March 2023
Brazilian musicians and DJs, Processman and Cady are shortly to drop their new EP on File under Disco, the imprint headed up by disco scenester, Dicky Trisco. We have a chat with Processman ahead of the release.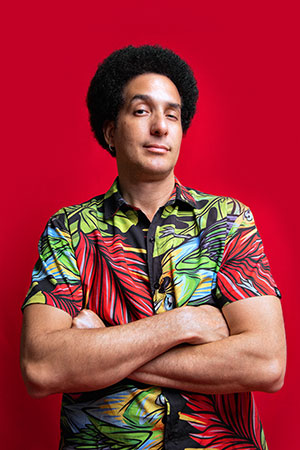 It's great to talk to you. Where are you and what are you up to?
We are very happy to have our tracks released by File Under Disco. Now we are working a lot to make the EP reach as many people as possible.
How would you introduce yourselves to our readers?
We are two music lovers, two people who make music to express our feelings. We write music that expresses truth. I'm Processman: a musician, bass player and I'm an audio and production enthusiast. Cady is a DJ and also creates wonderful melodies and lyrics; she loves to be in the studio working on tracks and singing.
What parts do you both play in your duo?
We create the songs together, but I do the production process. Cady has good ideas for melodies in the arrangements and I execute them. She's the singer.
Where are you both from originally?
Salvador, Bahia, Brazil
So you are based in Bahia today. Can you paint us a picture of your town?
Salvador was the first capital of Brazil, by the colonial era. The architecture in downtown, the oldest part of the city, is the same as some European cities such as Porto in Portugal. Our local culture is a mix of African, Indigenous and European inheritance. Bahia is the land of Caetano Veloso, Gilberto Gil, João Gilberto and Jorge Amado.
What can you tell us about the Bahia music scene today?
The music that comes from Bahia has been of great creativity since the beginning. It has been always associated with a percussive style, with rich rhythm cells even in singing (João Gilberto, for instance) or guitar playing (Dorival Caymmi and Gilberto Gil, for instance). In 2006 maestro Letieres Leite created the Rumpilezz Orkestra; it consists of a brass orchestra with african baiana percussion as its front line. The pieces were created based on traditional candomblé rhythms. This orchestra has been a great influence to musicians once it turned out to be a music school project as well. Neojibá is another relevant project of musical formation for young musicians mixing traditional orchestral repertoire with modern stuff. Aside from formal education music, the ghetto keeps delivering interesting innovations. Young artists use sampled percussion sounds to create their music. There's also a group called Baiana System that is one of the biggest artists in Brazil. Due to easy access to the internet, pop music has great influences from mainstream international music. We can also find good rock, jazz or indie artists.
What are the best places to go in Salvador's nightlife?
"Santo Antonio Além do Carmo" is very cultural. Rio Vermelho has many nightlife options, great diversity. I would point out "Borracharia", a small club that has been active for more than ten years!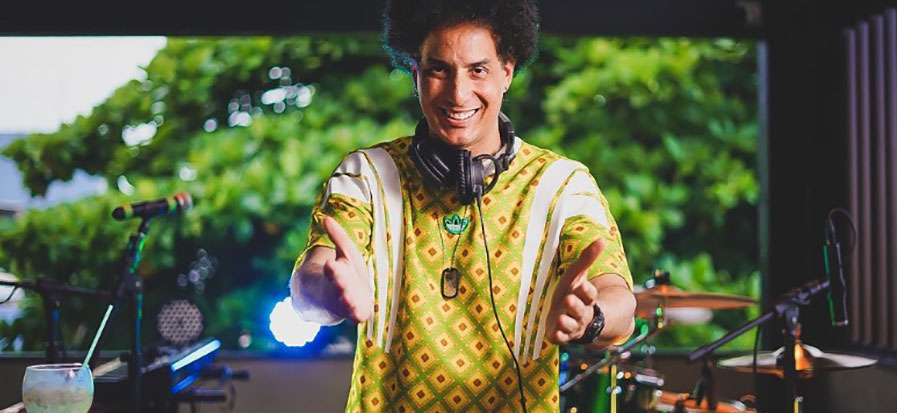 How long have you guys known each other and where did you meet?
We met in Salvador in 2019. A common friend took her to my studio because she was searching for a producer who had a disco house oriented style. Despite the fact that I was born and raised in Salvador, I have always been connected to funk, soul and disco music besides all the influences of local music. That very same day we wrote our first song together.
How did you know you wanted to make music together?
It's easy to write songs with Cady because we have fun doing that.The first time we met I had an unfinished instrumental track and when I showed her she simply started singing over it. I recorded her performance with my cell phone and told her: -We now have a song together!" After that, even during the pandemic we got together a couple of times to write songs. We feel very comfortable with each other and the energy flows.
What were you both doing prior to this project? Are you involved in other music projects outside of your current duo?
I have my own career and Cady has hers. She was playing around the world and I was doing the same as I do today: music! I also work as a DJ, a sideman in some gigs, as a producer for different artists and I have a music production & audio training course. I like to meet new people and make music with them, if possible. When I met Cady I had just released a collab with the French producer Yuksek, a track named "Do Beijo". I think my music grows when I have other people working with me.
If you had to choose some words to define the sounds that you make together what would you say?
Bahia Future Disco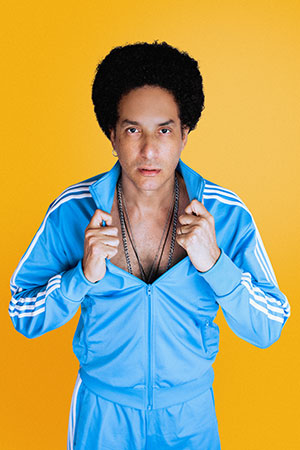 Your music conjures feelings and images of the summer. Is the summer an integral part of your musical spirit?
No. I believe music is born like a child. It has its own personality and spirit, one can't impose that. Unless you are writing advertising pieces. Adupé, for instance, has a faithful mood. We talk about gratitude and divinity. Sou Baiana has a feminist text; it is groovy, upbeat, but the subject is serious! It talks about how a girl from Bahia is misunderstood by men just because she's an easy going person.
Do you ever make records about the winter in Brazil?
Brazil is a tropical country and the winter is not as hard as in Europe or North America. But yes. Rainy days are good opportunities for reflexive and introspective creations.
So many wonderful Brazilian artists throughout time. Who are the artists that are icons to you?
Gilberto Gil, Banda Black Rio, Jorge Benjor, Marcos Valle, Dorival Caymmi, Carlinhos Brown, Sergio Mendes, Elis Regina, Rita Lee...
Are you both DJs too?
Yes. I have my own party label named "Bahia Boogie" where I'm the curator. We've done parties in Salvador to spread the Disco and House oriented scene in the region. I made my debut in Mareh's Festival in the last edition and then I was invited to the lineup of Mareh's boat party in the Summer. Cady has already played in many nice places around the globe. Last year she was the DJ at F1 race in Sao Paulo and people loved her performance!
Are you also a live act?
Maybe one day if we manage to reconcile our schedules we can work on a live act together. We both have busy individual professional lives. This EP was prepared during a pandemic when we had plenty of time. We could call this more of a collab of two friends who love music and love each other too!
Is this your first release together? If not tell us about your first release as a duo?
Our first song together was not released as a duo. Do It Alright was released as a track of two different artists in collaboration. It has two different versions; a party groovy version and an acoustic Bossa version with acoustic guitar and percussion.
Who do you think is making great music at the moment?
You should check out Guinu, Qinhonhes, Fabio Santanna and Bala Desejo. Also Polo & Pan, Folamour, Roosevelt and Khruangbin.
How did you hook up with File Under Disco?
Dicky Trisco came to Salvador right after he played in Mareh's Festival in Boipeba. We were introduced by Joutro Mundo, who had also played in the Festival, and we went out for a beer. He told Dicky that I was a producer, songwriter and DJ, that I was looking for a label to release my work. On the way to the bar while I was driving I played some of my tracks on the car's sound system. He enjoyed my music and said: "Send everything to me! Tonight, as soon as you get home!" I couldn't believe the connection we established so fast!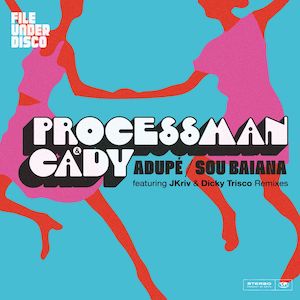 Can you talk us through the EP tracks a little.
The track ADUPÉ is about gratefulness and contains Yorubá words and terms, related to African-based religions, such as Candomblé: Adupé means "thank You", Ilê means "home", Oxalá is the Orisha (a divinity/ god) associated to the creation of the world and human race. Part of the lyrics was written by Mocottó, a friend of Cady and I who is a percussionist in a house of Candomblé (Terreiro de Candomblé). I started the creation of the track with the instrumental part: the idea was to mix a percussion groove with arps and a synthesized bass line. Then Cady came up with some vocal ideas based on the lyrics Mocottó suggested. When we went to studio to record we invited Clariana to double the main vocals with Cady. There are also layers of vocals recorded by them and by Elis, my 11 year old daughter. The first person I thought to remix the track was Joutro Mundo. I sent him the stems and he worked on them pretty fast. When he came to Salvador after Mareh we headed to the studio and I recorded an electric bass line for his remix. This was the start of my history with File Under Disco, because that was the day he introduced me to Dicky! Later I decided to create a disco house mix for the track. I used only the vocals stem and built a brand new arrangement from scratch. This time I grabbed my MusicMan electric bass and delivered a funky bass line. I also added some strings riffs to bring that 70s disco feel.
SOU BAIANA is an attempt to honor early house tracks, those with almost no vocal melodies, with long speeches about relevant issues. I had the bass line and groove done and invited Cady to record her voice. I asked her some questions about being a woman from Bahia; women who are generally friendly, smiling and helpful and men often mistake this for a sign that they want to date. I gathered the most relevant pieces from her speech, created the hook based on the sentence "Porque sou baiana, véi... É o que?! Oxente..." and doubled it with a strings section. Then I added a bridge with a vocal melody line to bring a contrast. I also mixed both tracks.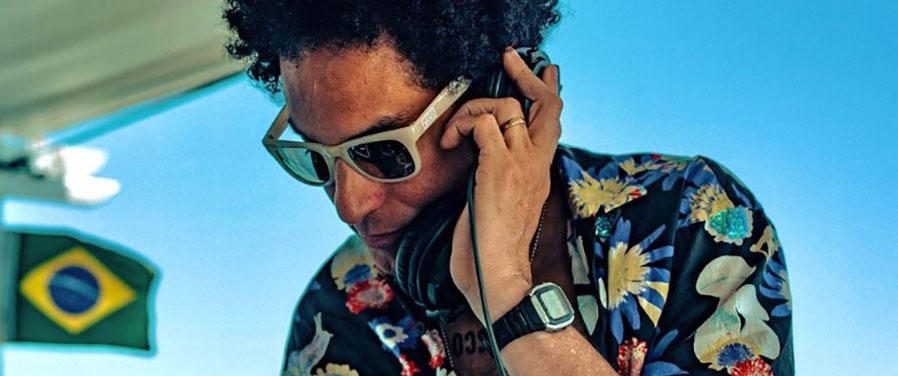 Strong move bringing on Jkriv and Dicky Trisco for the remixes. Were you thrilled with their result?
Sure! It's wonderful to have such talented people bringing their contribution to our music. It's very interesting to see how they understand our initial idea and come with something different to boost it. We felt very honored because we've been long date fans of their work as DJs and producers.
What are your next ambitions as a duo?
We would love for our music to be shared with some more releases besides this one. We also would be very happy to contribute with other artists. We have many unrecorded songs and unfinished tracks that could fit in many artists' repertoire. We believe in the power of music to change people's lives!
Is there anything else you would like to tell us about you?
Listen to our music! Let's connect people and make the world a better place to live.