Phenomenal Handclap Band
By: Dream Chimney
The following interview was conducted in March 2023
New York disco darlings, Phenomenal Handclap Band, are about to drop their 'Burning Bridges EP' on Brooklyn's Razor-N-Tape. We catch up with Daniel Collás to talk about how it all began on the New York disco scene, Toy Tonics, and touring with Bryan Ferry.
It seems like Phenomenal Handclap Band have been around forever. When did the band first begin?
The first album came out in 2009. Around that time, I was really just looking for an excuse to make a record with friends and acquaintances I knew through my travels in nightlife, people I would see out a lot and talk about music with, but never had time or a real reason to work with. So Tigra, Morgan Phalen, Jaleel Bunton, Aurelio Valle, Carol C, Tom Brenneck, Angelina Moysov, Bart Davenport, Jon Spencer. The one exception was Ellen McIlwaine who I had met through a friend of a friend. She is one of my all-time favorites, and I jumped at the chance to work with her. I'm still kinda surprised more people didn't know who she was or make a big deal about her appearance on that record. Anyway, so once that record was done, we didn't really think there was going to be much in the way of performing or touring. We just thought we'd be able to play a few shows on the coasts because it sounded like a logistical nightmare.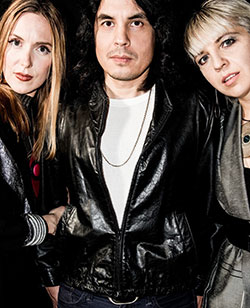 Were you DJs on the New York scene in those early days. Where did you play and what kind of stuff were you into?
Yeah, I used to play a lot of these kind of mod parties where soul music and funk 45s and proto disco really went over. One of my first big gigs was the main room at Life on Bleecker St. At that point, I was only vaguely aware of the earlier generation of DJs in this city who had played some of these records, so I was always pleasantly surprised when these older guys would show up, seemingly out of nowhere, and really get down to 'It's Just Begun' by Jimmy Castor Bunch, Chicago's version of 'I'm a Man', Eddie Kendricks' 'Date With The Rain', etc. I didn't find out til much later that most of those people were coming from Body & Soul, which was in the next room.
A few years after that I had a weekly Saturday night party at Sub Tonic, and that was when I really got deeper into disco. By then I was going to the Loft, and places like Passerby, and had read Tim Lawrence's Love Saves the Day and the Brewster & Broughton book (or at least up to and including the second chapter on disco) and was already obsessed with Grasso, Cappello, D'Acquisto, and Mancuso. I've always skewed toward 60s and 70s soul music, and I especially like when people from other cultures and countries tried their hand at it. Basically, whites and Latinos getting into rhythm and blues or African Americans experimenting with psychedelic rock.
Maybe because I'm mixed race, the multicultural aspect in music has always been important. To me, that was the through line from blue-eyed soul and what I used to call 'hippie funk' to Italo and cosmic disco. There was this element of musicians not quite feeling at home in the sound, but still making the best of it.
Can you tell us the members today and what you all do respectively?
Juliet Swango sings and plays guitar and bass, Monika Heidemann sings and plays synthesizers and bass, I'm the producer and I play drums, keyboard instruments, percussion, and sing very occasionally
Are you all based in the city today?
Yes
When did the new members come along?
After the second record we were all kind of exhausted and it was starting to feel a little like a rat race. I've never loved performing, I was always more interested in being in the studio, so that didn't help either. Also, during one of our last tours, Morgan and I started working on what would eventually become the Drakkar Nowhere record. We were based in Stockholm at that time, and it was way more interesting to get to know that city and hold up and write than it was to play shows as PHB, so we just took a hiatus. We ended up focusing on Drakkar Nowhere for the next year or so, I did a lot of traveling, and then started producing a few other artists when I got back to New York. That was how I met Juliet. One of the first songs she brought in would become 'The Healer' on our third album. As soon as I heard it, I thought, 'This really sounds like a PHB song'. So we kind of shifted directions and started working on a new album together. Around the time that we signed with Toy Tonics, we met Monika at one of the first of those LCD reunion shows. Juliet and Nancy Whang were friends from their punk rock days, and Monika and Nancy had been in Juan MacLean's band together, so Nancy introduced us after that show, and we clicked. A few months later, the label sent me back to Stockholm, this time to work with Anders Hansson and add two songs to the album. Those would become 'Do What You Like' and 'Riot', which we all wrote together.
Is there a dedicated PHB studio where the magic happens?
Yes. Even with everyone able to make music on their laptops these days, it's really nice to have an actual dedicated private studio.
If you had to choose some words to define the sound of Phenomenal Handclap Band what would you say?
'Psychedelic', 'dance', and 'music'. Not necessarily in that order.
The sound of the band has always been unique. But Who are the artists, musicians, and bands that PHB takes inspiration from?
That's a long and expanding list. Off the top of my head: War, Rotary Connection, Norman Whitfield, Sly and The Family Stone (especially the pre Riot era) Free Design, Fox, Tim Maia, Erasmo Carlos, Rinder & Lewis, Tantra, Patrick Cowley, Tom Tom Club, Wally Badarou (Compass Point All Stars in general), Giorgio Moroder, Lucio Battisti, Skorpio. Also the early playlists of DJs Francis Grasso, David Mancuso, Nicky Siano, when they were basically laying the groundwork for disco, have always been a big inspiration.
How much do you think your sound has changed since the beginning? What elements remain the same.
We still gravitate toward an analog sound, and of course the vocal harmonies and synthesizers are a big part of what we do. Also, we always use live drums as opposed to drum machines or samples. That might have to do with the fact that I play drums, but even when I wasn't doing that as much, it was always a part of our aesthetic. As far as how the sound has changed, I feel like maybe we're letting the Italo- and Euro- disco influences show a bit more.
What are the challenges you have faced over the years in the industry?
I think the music industry is all challenges. The main one that comes to mind is that it used to be if you were a band, you were competing with other bands. Now it seems like you're competing with absolutely everybody. Everybody's social media account or Youtube channel is fighting for the same attention. Seems like everybody is either producing music or 'creating content', and if they're not, they're selling a course on how to do one of those two things.
How is the live music scene in New York City currently?
I feel like since the pandemic, there hasn't been as much going out to see random shows where you'd discover a band. That being said, I think Union Pool is still probably my favorite place to see live music with the best chance of finding something new. Magick City was also a good source of that, but they recently closed.
What was the first ever PHB release? Was it your self-titled album?
Yes, and 'You'll Disappear' and '15-20' were the first singles off of that record.
Which of your releases do you wish had gotten more love?
If I had to choose, I guess I'd have to say the original version of 'Judge Not'. I love the Ray Mang mix, of course, but it was short-sighted of the label to release that without the original.
You toured with Bryan Ferry in your early years. Were you friends from his days in New York?
We had the same manager as Bryan Ferry at the time, and he was looking for a support act for his upcoming US tour. I think it had been years since he'd done one. We had remixed his song 'Heartache By Numbers' which I think got his attention, so he asked us to join his tour. That was a great trip. We played all the big theatres up and down the east coast, Cleveland, Chicago, the Fox in Oakland, and The Greek Theatre. Then we did two nights at Shepherd's Bush in London together a couple months later.
Half of his band were legends, like Chris Spedding, Paul Thompson, Fonzi Thornton, and Tawatha Agee, and the other half, as well as their two dancers, were around our age, so we'd have these big parties after most of the shows. Lots of fun. Two of my favorite memories: after one of the first shows, Fonzi came up to me and favorably compared us to Chic in their heyday, ie. when he was involved. We hadn't really spoken to each other until then, so he had no reason to comment on the band either way, but it was really nice that he felt like he needed to. Another time, Bryan and I were backstage, and I complemented his set up and his playing. He had brought a space echo on that tour just for one electric piano solo, and it was always the highlight of their set for me. He graciously thanked me and then kind of leaned in and whispered, 'I never know if I'm going to hit the right notes'.
How did you hook up with the Toy Tonics initially?
I had met Mathias Helmschrott/Modica/Munk/Kapote.. whatever-he-is-currently-calling-himself when his then label, Gomma, was distributing our first album in central Europe. He was interested in working with us again, and I had had good experiences with him and his label, so it made sense. We had actually signed PHB to Gomma initially, but Toy Tonics was starting to blow up, so he wanted to release the singles and album on that imprint.
Has your sound or your approach to releasing changed since the Toy Tonics association?
I think with Toy Tonics we realized that the album is a little bit of an outmoded format. It made sense when we signed with them, because we pretty much had an album done at the time, but I'm not convinced that it makes much sense anymore, at least for now. I think most people just don't have the attention span for an album these days. But of course it could also be that if you're going to work on an actual album, you have that in mind from the beginning, and it's a lot of work. So it ends up being discouraging when people only focus on one or two songs, or the remix of one or two songs. It's better if you can put that same amount of energy into a song or two at a time, and let people focus on those, sit with them for a while.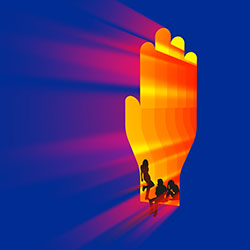 Stepping out next Razor-N-Tape. How do you know the guys?
Actually, Jkriv reached out to me during the height of the lockdown after our song 'Skyline' was released. We had never met before that. We started talking about collaborating via email in our respective studios, and that ended up being 'Try Again' on his Something Else EP.
The title - Burning Bridges - is thought provoking. Have you burnt any bridges lately? Talk us through the title track a little.
That song is about making choices and setting your mind to them and controlling your fate. But it's also a break-up song, kind of like, 'goodbye, I wish you the best.' It can kind of be summarized by the lyrics, 'If you want to earn a place, it's earned' and 'If you want to burn a bridge, it's burned.'
The remixes are impressive. Are these down to the label or did you already have people in mind to work the tracks?
Usually, the label will suggest people or ask if you have anyone in mind to do the remix. The funny thing with remixes is it's a little like when you're driving, pedestrians are annoying, and when you're walking, drivers are annoying. So, when I do a remix, I generally like to re imagine the song, almost start from scratch. But if a remixer does that to one of our songs, it can be really disappointing. But yes, we've been really lucky to have such talented remixers work on our music.
What projects are you working on that you can share?
We were in Stockholm recently, working with Anders Hansson again, and also Morgan Phalen and our good friend Fredrik Swahn, so those tracks will be finished soon. Also, we were all involved in the new Brian Jackson record on BBE, This is Brian Jackson. If you haven't checked that out yet, you really should.