Patchouli Brothers
By: Dream Chimney
The following interview was conducted in May 2023
The Patchouli Brothers are known for their high-quality edits and remixes. Based in Canada, the dynamic rework duo are next up on Razor-N-Tape with a four track collection that pops. We have a talk with the guys in the run up to the release.
Where are you right now and how are you spending the day?
We are in Toronto, mostly. Sometimes Montreal. Spending as much time in the studio as humanly possible.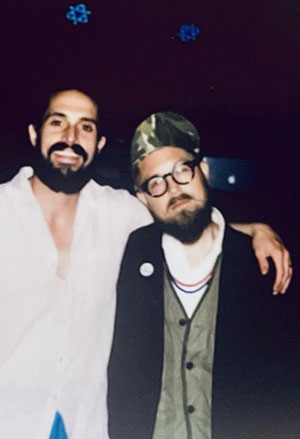 Are you real brothers? Or how far back do you go?
We are fraternal, but not related. It's possible we became blood brothers, at one point, but I can't say for sure. We've known each other for twenty-six years or so, and are akin to an old married couple most days, though we're both married to other, better people!
Tell us a little about the music scene in Toronto?
It's got something for everyone! We've thankfully been able to exist as rather niche, disco-centric DJs for the past 15 years, and are fortunate enough to make a modest living doing so! We are exceptionally and eternally grateful to Toronto and her people for allowing that to happen. We sort of stay in our own bubble, but there are a lot of interesting scenes here, run and championed by much younger, cooler people than we've ever been!
What are the main venues that play your vibe in the city?
It's less of a particular space thing, and more about rotating parties and scenes. Collectives Yohomo & New Ho Queen are two of our favourites. Venues like Drom Taberna, BSMT 254, the Baby G/Garrison, 915 Dupont and Standard Time are always doing cool things, though.
Do these venues attract many international DJs?
Lots of people certainly do come through Toronto, though I think there's been a mass shift to promoting locals.
Are you DJs as well as producers?
80 percent DJs and 20 percent producers. We've done edits for years, but remixes and originals only more recently.
Are you playing out on your local scene and where?
Yes, we have our own party called Beam Me Up, which we throw in Toronto and Montreal, each month.
What might we hope to hear in a Patchouli Bros set?
Under-appreciated disco and house, for starters. B-sides, album cuts, stuff generally lost in the ether. We have a liberal definition of disco, but we are mainly attracted to dance music from the mid -70s to the mid- 80s. We have been listening to a lot more nineties house though, as well.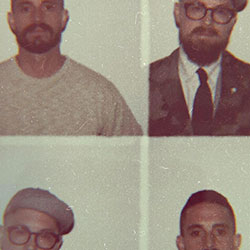 Where do you head to in Toronto to dig for new music?
We aren't massive collectors, as we prefer to play our own stuff out at parties, but we do buy for digitizing/editing/sampling. Discogs, unfortunately, a lot of the time, but Toronto does have some top, top record stores! Cosmos is amazing. Invisible City as well. Play De Record is legendary. You can't go wrong at any of those!
When did you guys first get into production?
Not really sure. Probably through reading stories about people like Tee Scott, Tom Moulton, Ron Hardy. The original razor and tape crew! And wanting to carry on that tradition, so messing around with songs we loved and trying not to butcher them! At least a decade ago, now.
Was your first release on Basic Fingers? Tell us a little about that?
Honestly can't recall the order, but that sounds right. They were lovely to deal with and it was very exciting for us. Pretty sure Kon suggested we hit them up. He was someone who was very influential and offered up a lot of support.
What do you think has been your most notable release?
Remixing Kon's project with Ben Westbeech, the Vision, for Defected was a dream, but I think we could do it better now, haha. It was our first remix, and I don't think we quite nailed it. We're not regretful or anything, but that one maybe just came a bit too soon, in our journey. Still proud of it! Also cool to release on Nervous' Sam Records label.
Which one of your releases slipped under the radar that we should check?
James Murphy has been playing our edit of the Zebras' For Your Lovely, lately. That's a cool one. For a label called STUDS on vinyl. Also, our small, relatively new imprint Dodo put out two edits of Mary Mundy, a singer and songwriter that we adore, with her blessing and approval. Super proud of that one!
You have released on GAMM and Whiskey Disco. You also had a killer EP on Moton Records a few years back. Do you feel that you took your music to a new audience?
Maybe! Moton was always one of our favourite labels. We love Dave Jarvis and Diesel and are such fans of that whole catalogue, so it was really nice to be part of that. GAMM and Whiskey Disco were also two of our earliest edits releases, so we are very appreciative that they wanted to work with us. We love most of their catalogues, too!
What followed are your remixes on Defected. Tell us a little about this and what was it like getting asked to remix on such a huge label?
We jumped the gun on this one! It was truly an honour. We dealt with Seamus Haji on this, and he's a really cool guy. It was daunting and we didn't have a whole lot of time to turn it around. Like we mentioned, we still don't feel like we did as well as we could have with that one, but it was our very first remix. Who gets to put their first remix out for Defected and share the record with Paul Woolford and Dave Lee?
With your reputation for exquisite remixes, this led on to you remixing for the mighty Soul Clap Records. Tell us a little about that.
It was, I think, our second remix, and it was for our friend Michael the Lion, who is as lovely a person as you'll ever meet! We loved the vocals from Amy Douglas & Steven Klavier, and really wanted to let them shine. John Morales also did a mix of the same tune, so I hope we did the track some justice!

You are clearly edit experts. What do you think makes a good edit in your opinion? What are the essentials?
We've spent a ridiculous amount of time making edits! Maybe about 2000, by now, over the last 12 years or so. Silly way to spend that much time! Trying to dedicate the same amount of time to more extensive production work and writing now, though, and it's given us a great framework for that. Our approach is intuitive, at this point, so not really sure what is essential or what makes an edit good! We focus on extending what we like, cutting out what we don't, making things a bit easier to mix, but not too stiff. Guess the most essential thing is loving the tracks that you work on! And we release some of them to keep the music alive and so that other DJs can play them at parties. Pretty simple stuff, really.
How do you go about finding the tracks to rework?
Such a mix of sources, though we only work with lossless audio. We've picked up some great rips from pals over the years, like hard drives of stuff, and we've got our own ripping set up to a serviceable state.
How did you hook up with Razor-N-Tape initially?
We've talked to them for a few years about doing something together, but neither party got around to it until recently. It's an honour! Not many do it better.
The perfect label for you in many ways. Have you got a favourite disco edit from their catalogue?
It's too difficult to pick one, but some of our favourite releases have been from Underdog, Eli Escobar, Al Kent and Planty Herbs. The original stuff from 79.5 is really nice.
Have the Patchouli Brothers got any plans to make original beats or is it all about the fun of putting a new spin on dusty gems?
Making music is our number one focus in life, right now. The difficulty is making things that hold up to the production quality of things that we've edited, though, so nothing has come out just yet. We're inching closer, every day!
What else are you working on now that you can share?
Putting out original music by friends on our own label, Dodo Records, this year! Hopefully those will start rolling out soon, starting with a release from a top DJ and producer from the UK called Arnie Wrong and followed up with some great stuff from our friends 4th Corner. Honoured to be playing Pride in both Toronto and Montreal, this summer. Hopefully heading back to the UK in the fall!