Lovebirds
By: Dream Chimney
The following interview was conducted in February 2023
Mar-A-Lago is a beautiful thing. Is this a project co-written by you both?
B: Pretty much all the music is by Declan. I'm the one who detects the golden nuggets when he jams and develops it into a song.
This summery Balearic vibe is on point for Dream Chimney. Are wishing away the winter with these sunny tunes?
B: Yes and no. It's actually quite nice with the lower temperatures in the studio. All the gear gets quite warm and when you open the window at -10 C it really has a cooling effect. Also, we just pretend it's summer all year round. Might sound delusional, but it seems to result in some great music!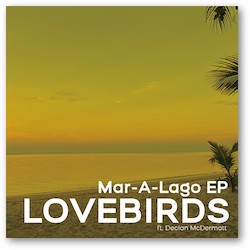 You mentioned you met when Sebastian was selling his studio gear. Did he give you a fair price Declan and are you happy with your purchase?
D: It was a great deal. I had been looking for a Studer for quite some time and I was thrilled when I found one listed in Berlin. I love my Studer dearly and I will always appreciate all the magical adventures it has provided me through Basti, thanks again mate!
There is some stunning musicianship on Mar-A-Lago. Particularly the guitar hook and the bassline. So, this your area Declan. Did you have fun playing these parts?
D: It was an absolute pleasure. This is right up my alley in terms of style and genre, and I really wanted to showcase my ability as a multi -instrumentalist. I was able to sit back and focus 100% on my musical output thanks to Basti's slick engineering, which made it even more enjoyable.
Sebastian - must be a pleasure to work with such an accomplished musician. How good is Declan?
B: He's really good! And the fact that he can cover so many corners/instruments is even better. It means you can develop a whole song with just the two of us. If there's a whole band around it often gets busy and distracted.
And for you Declan, working with a master producer must have its benefits. What have you learned from Sebastian in the time you have worked together?
D: I have definitely picked up a lot. Basti has a very pragmatic approach when it comes to making music, which I like. I don't ever feel like I am restricted with my musical contributions, and we try keep things pretty relaxed in the studio, which seems to assist us both creatively. The most important thing I have learned from this process is that perception is everything. Make the most of the time you have with the piece of music you're working on, because those initial stages of the creative process where the idea is fresh and new are absolutely invaluable. Sometimes the more you chase it, the further it gets. Sometimes the opposite.
Were you into Lovebirds before you met Declan?
D: I wasn't familiar with the Lovebirds name. But I remember thinking -I should probably check out some this guy's work" after purchasing the Studer! Of course, the most prominent piece of work was "I want you in my soul" which instantly reignited some distant memories. I remember driving home from school with my mother and hearing this song played on the radio. I had a very different taste in music back then, so it's brilliance probably fell through my fingers. I guess you could say that I was passively aware of Lovebirds.
You guys have a guest artist on the drums right? Bit of a step away from his usual vibe..
B: Riccardo aka Blackloops has been playing drums with us for some years now. His kit is in my studio for 4 or 5 years. These 2 tracks are mainly Declan and me but Riccardo has become part of the team now.
The sound of the 70s, and the West Coast is very much our scene here. Do you have more of these hazy, nostalgic beauties to come? What else are you working on together?
A 100%. 70s is my favourite sound and especially the slick late 70s LA west coast vibe. We're working on a lot of tunes and are in the process of figuring out where it takes us. For some reason a lot of the tunes are downtempo 70s soul, Americana vibes.
Where do you think is the perfect place to listen to this music?
"Mar-A-Lago" should be listened to at the Mar-A-Lago Florida, super high on your drug of choice with the intention of getting kicked out and making a big scene.
"Great Ocean Road" probably sounds amazing in any convertible riding down a road besides an ocean .
When you are not up all night in the studio together, where do you hang out for a beer in Berlin you guys?
We are always up all night in the studio 😊
But There's a nice beer place in Mitte where I live called "Kashk". They have some delicious crafts there.