The following interview was conducted in May 2023
French multi-instrumentalist, and exquisite producer Laroye, is soon to drop his 'Let It Go' full length album on Local Talk Records. Here we talk to him about the album, his inspirations, and what drives him to continue creating great music.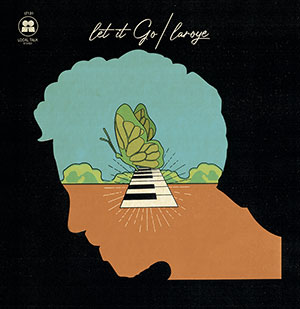 I'd love to hear about the initial idea for the album - Let It Go.
The idea was to create a collection of tracks that can be played in the clubs but with enough soulful and musical elements, but also to be enjoyed at home. It was important for Local Talk and me to have real songs in the project like -Grateful" and "Beauty in motion".
What was most important for you to convey through this album?
I wanted to have something eclectic which combines several elements that define the sound I've been developing over the years and also that would suit the Local Talk sonic palette. So it seemed that the soulful broken beat and some funky house cuts with a bit of afro elements would fit the project perfectly. I think the balance between the tracks is working nicely by interlacing different styles.
What are you most proud of with Let It Go?
An LP is quite a bunch of work in term of finding the common themes and it requires a lot of adjustments in all the details, especially when you put real songs and tracky tunes next to each other. Even if it's not the first album I produced (I released a full length record with my boogie project "Qwestlife" called Prophecy on Glitterbox ), it is my debut under "Laroye" and I'm really happy with the result.
What was the most challenging part of bringing this release together?
I think its "Grateful" Which I co wrote with Jerry Clavier. It took us a couple of months to write all the lyrics to complete the song, and to find the perfect words to describe our emotional states at that time as we both lost our dads a couple of years ago. It had to sound authentic but not clichéd and most of all stay uplifting and a positive message. We changed the key of the track to fit best Jerry's tone and I adjusted a lot of the recordings for that. Then I reshaped the production entirely after the core of the song was already recorded, new beat, new guitars and lot's of new synths. And finally, we did 2 backing vocal sessions with Jo Garland and Bryan Chambers to elevate the soul to another level. I had so many layers to deal with and parts to choose from. I think in total I had to mix a session with more than 180 tracks! So yes, quite a challenge but the process has been amazing and taught me so much and I think the final song is a really cool piece of music.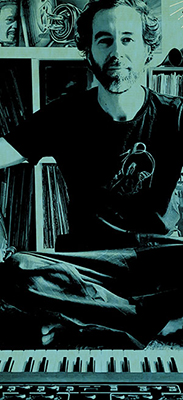 I guess this album marks a lot of years in the music business, I'd love to hear your thoughts on how your creative process has changed and remained the same over the years.
I think my production process is in constant evolution. I'm learning new techniques every day, new instruments and I've collaborated with a good number of people now so I'm always expanding my experience. The thing that stayed over the years, it's my connection with melodies and with the atmosphere I want to create, I always had a cinematic approach, I can always visualize a scenery when I'm creating music. The thing that changes the most in the approach is probably the confidence. Not being afraid of trying things and most of all trusting the process.
What drives you to continue creating music?
I think I'm lucky enough to have real recognition from my peers. Also, I'm very versatile and explored a lot of different ways to play or create music. I do an ambient live show with my modular set up, I played in Salsa bands in Paris as a conga player, and also did some shows with a little trio as a singer playing slide guitar, and I keep producing broken beat or boogie and disco house tunes. Sometimes I'm feeling a bit lost haha... I think it's a gift to be able to navigate in so many styles and it gives me the tools to never being bored or get stuck in a loop.
What has been one of your favorite moments from the past year?
Probably recording the Sugar Hill Gang and Melle Mel for my Qwestlife Project Album in 2017 and following by meeting Siedah Garret (who wrote "Man in the Mirror" and also features on the track called Fever).
Where do you find the most inspiration when it comes to discovering new music?
Even if it's not the best platform for artist revenues I found that the algorithm in Spotify is really amazing and you can discover so many things just by refreshing the suggestions according to your tastes.
You are releasing on Local Talk Records in Sweden. What are the values that attract you to release on the label?
In my humble opinion I think it's probably one of best labels in term of quality of music, especially in the broken Jazz soulful house territory. So many great artists are in the catalogue and I'm super honored to be part of them.
What is next for Laroye?
I've just finished an EP for Freerange records including a heavy percussion cut and a soulful track feat Javonntte to be released in September.
I'm also finishing an EP for Ezel's imprint Bayacou Records feat the incredible Ronay Ray and the Afro singer Idd Aziz. A track that mixes Afro House, RnB and traditional African chants.
A last but not least I'm Starting to produce a young singer from Brighton called Rifka, just finished a music video for her. It's a pop soul jazz project and the first EP will certainly be self-released this summer.
This is the beginning of a new adventure with new collaborations on the way and maybe the birth of my own label in the future.