The following interview was conducted in July 2023
Relative newcomer to the scene, Jo Sims is about to release on London's Pamela Records, the label that kicked off the birth of the new catalogue with four cuts from the late Andrew Weatherall. Pamela records follow up the weighty debut with Jo Sims 'Bass - The Final Frontier' and its rework treatment from Belfast's finest, David Holmes. On the week of the release, we put some questions to Jo about her background, her influences, and how pulled off this killer remix.
Thanks for taking the time to talk. Where are you right now and how are you spending your day?
Hi there - thanks so much for asking me to chat. I have just got back from recording a friend on vocals for a new track. Her name is Natali and she has a great voice.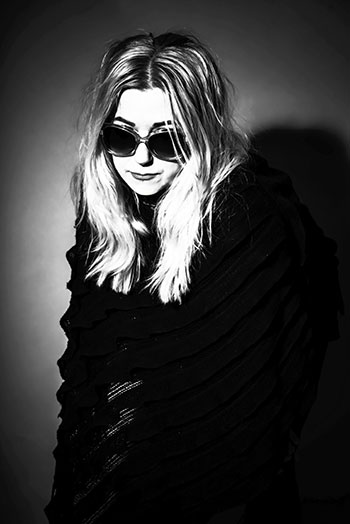 Where are you from originally and where are you based now?
I was born on the Wirral (Liverpool) but my family moved to London when I was four years old. When I left home I lived in Camden Town for many years but I am now based in Islington (both in London).
Paint us a picture of where you grew up and what the music scene was like when you were a kid?
My dad was a jazz musician so I grew up with music all around me. We often went to various Jazz festivals and gigs that my dad was playing at. As a teenager my dad and I would have constant 'music wars' at home, where we would be playing our music and both trying to outdo the other by turning it up louder and louder. My dad always won because his stereo was better than mine!
The pop music scene was very different then to how it is now - there were many musical sub-cultures and styles, each with different fashions and I used to dip into all of them but kept my own style. I never felt the need to adhere to one above all others because I have always loved the variety of different genres and I believe there is quality to be found in each of them. Because my dad was a jazz purist, I made a conscious decision at a very young age to NOT close my ears off to any new music and to try to keep my musical horizons as wide open as possible.
What was your first taste of music Jo?
Well, obviously that would have to be the jazz that was all around me from the moment I was conceived. One of my earliest memories is climbing on stage with my dad and playing my yellow toy trumpet at two years old!
When I first started performing music myself I sang in a harmony trio performing Andrews Sisters and Boswell Sisters songs with my sister Jackie and my friend Miriam. When we started I was 15, Jackie was 13 and Miriam was 17. We performed with my dad's band and were fairly successful on the Jazz circuit. I have photos of us at that age on stage at the 100 Club. My dad was getting phone calls asking to book us for gigs all over the country. We also got to perform with some Jazz legends like Slim Gaillard, Georgie Fame, Al Casey, Humphrey Lyttelton and Cy Laurie to name a few.
What sounds were you into in your teens?
Although I was performing Jazz through my teens, I was also listening to rhythm and blues, rock and roll and electronic music. My first musical girl crush and inspiration was Debbie Harry. Blondie were, and still are an incredible band. Then there was also David Bowie - what a genius! I was so inspired by the variety of styles he composed in. I developed a deep-seated love of synth music, too. Depeche Mode are still probably my favourite band of all time. I adore them. When Acid House arrived it blew me away. All musical 'rules' were shredded. It seemed like a psychedelic explosion of creativity.
What was the first record you bought?
Blue Monday 12" by New Order - I still have it. An iconic tune, instantly recognisable from the first hit of that Oberheim kick drum!
Where were the clubs that you frequented in your early clubbing years? Who did you run around with?
Oh crikey yes… so many! London club life exploded with the Acid House scene. I never went to just one club exclusively. I went to all of them at different times. The Mud Club, Raw, Astoria, Full Circle, Shoom, Love Ranch, Drum Club, Sabresonic, Turnmills, The Cross, The Brain, Dirtbox, Heaven (various nights)… too many to mention really. I am still good friends with most people I ran with back then, including the boys from EMF, who have recently been touring again. In fact I met most of my lifelong friends through the clubbing scene.
What was your first in job music?
I don't know that I can consider my musical career as a job…. I have never worked for a record label. I suppose I would have to say as a vocalist and performer. I have always been a creative.
You studied to be a studio engineer. What lead you to that?
I never did a music engineer college course. I just badgered people until they taught me how to do stuff - wore them down! I am a ferocious learner and became frustrated having so many musical ideas and having to rely on others to be able to express them. I wanted to know how to operate a studio so I could record my ideas and they could be listened to and understood by others, to get them out of my head!
How did you stumble across the opportunity to work in Sabres of Paradise studio?
I was (still am) very good friends with Gary Burns and Dean Thatcher and they were recording the last Aloof album, 'This Constant Chase For Thrills'. They asked me to do guest vocals on a track called 'Infatuated'. I actually went in there thinking I would be doing backing vocals and that we would kick some ideas around and then record them properly, but when they got me on the mic we had a run through with me reading the lyrics and they took the first take. I wanted do more but they said they had captured what they wanted and that was that. That track actually became (sadly) the last single they released as a band.
I hung around and asked Gary to show me how to use the gear. To my surprise he wasn't precious about showing me at all.
He showed me how to turn it all on and off and use the patch bay to funnel it all to the desk, gave me my own folder to save to on the main computer then looked me in the eye and said 'Don't be afraid of it. Just remember - you can't break it'. I already had some knowledge of Cubase and at the time he was using the first wave of ProTools and synching it with Cubase from an Atari Falcon. Gary then handed me keys to the studio, warned me not to call him with questions and told me that I could go in there in the mornings to play about and get to know the kit as long as I was finished and out of there by the time the band came in at 1pm.
It was the most amazing thing anyone had done for me, an amazing opportunity and I seized it with both hands by getting up early and going there every morning at 7am then working solidly to 12.30pm getting to know how to use it all properly and writing and recording music. I bounced all those demos onto cassette tapes. It was a magical time for me, a HUGE learning curve. Before that it was a 4-track recorder, old tape and technical fuckery for me recording anything outside of a professional studio.
What was the most important thing you learnt there do you think?
How to use a DAW and that every channel on a mixing desk is the same.
You're a vocalist too right. Tell us a little about what you have been involved in?
Well there is the Jazz singing I told you about earlier, and that Aloof single 'Infatuated'.
I have also performed with Alabama 3. For a time I wrote and performed under the name Dorothy's Ghost and released some tracks on a small dance label called Electric Sheep.
More recently I have collaborated with Rich Thair from Red Snapper on his Dicky Continental project. We currently have two singles out on Acid Jazz Records: 'Make Them Disappear' and 'Split'. These tracks are also on the Dicky Continental album 'Un' (also on Acid Jazz)
Your father was a jazz musician. Tell us a little about him and his influence on you.
My dad's influence has been paramount to my musical understanding. He taught me how to count bars and FEEL chord changes. He also taught me to be myself, and said that anyone who has a problem with that doesn't deserve to know me. He was a sharp wit and extremely clever, if a bit embarrassing at times to my shy teenage self. All my friends had 'normal' dads. Mine was a rebel, but he stuck around and always supported me.
Tell us about your first production project/ first release?
My first solo production release would have been my first single on Electric Sheep, called 'Never Said Goodbye'. It was well received and earned me a lot of respect in the industry but never sold much. Partly because the label was so small they had no budget for promotion, and partly because people had more or less stopped buying music at that time and streaming was coming into its own. I released a few tracks and remixes on that label.
Is there a release you've put out that went under the radar, and that we should check?
One of the other tracks I had on Electric Sheep was called 'Once Upon a Time' and I still really love it. It is very synth-led and has a T-Rex/glam rock style drum syncopation. There is a remix of it that I feel still works today.
The Alfos vibes are strong in your new release. How much of an impact did the sounds of Andrew Weatherall have on you?
Andrew had a massive impact on me. Him, Gary and Jagz were such a force and Andrew's ability to stride through any genre really appealed to my nature because I love that sense of musical freedom.
I have always enjoyed the more psychedelic dance tracks that are slower than the average house music tunes played in most clubs and what Andrew did with Sean Johnston when they started ALFOS went against the grain of what was happening in clubs at that time. ALFOS is a club where you hear a tune and HAVE to find out what it is, instead of it merging with a hundred other samey house tracks. There is a musicality to what they do that resonates with me, big time.
How did you hook up with Dave Jarvis?
I knew Dave from the clubbing scene and through mutual friends. He's such a genuine person and makes me laugh, plus he loves music, really LOVES music and I respect that. We had been chatting on the phone and he posted a track on social media had a similar synthy element as 'Bass' so I told him about it and asked him if he wanted to hear it. He said 'Yeah - send it over' so I did and he called me immediately saying he absolutely loved it. That meant so much to me. Still does.
What can you tell us about the label Pamela Records?
I remember Dave setting it up with Andrew and releasing the first single by Andrew Weatherall and Nina Walsh: 'The Motion' and 'Slip and Slide', which was epic. It was such a tragedy that Andrew died so soon afterwards. I know Andrew wanted Dave to move in that direction and get the label going. Andrew knew Dave has a very good ear.
Dave was devastated when Andrew died - not just for the label, but also for the loss such a good and supportive friend.
I never dreamed in a million years that the next release on Pamela would be mine! It almost feels weirdly like Andrew has guided us towards this.
Bass The Final Frontier - how long has this track been in the making?
I made the initial track at home during lockdown, to cheer myself up really. It was a very tough time for the music and creative events industries. Many people I know saw their entire forthcoming year's itinerary wiped off the board, along with their income.
This tune was a change of direction for me as well, because it has only minimal vocals on it. There were no live events or gigs happening and we didn't know when or if we would ever be able to go back to that - everything seemed so bleak; so I started to make tracks to cheer me up that were not song-based. The title was just something that made me chuckle and I couldn't believe that nobody had done it before (that I know of) so I made it into a track. I always have a story or theme or scene in my head when I compose and I just went sci-fi with it, in a retro, psychedelic way.
What was the process of production for you and could you feel it was big while you were making it?
The production was intense but fun. It was all that filled my head when I did it and it was my escape from the isolation of lockdown.
I am a big fan of William Orbit's production style and I wanted to make it feel sparkly like that. It seems simple, the parts are simple, but I applied a lot of concentration on attention to detail in the production and how the track builds.
The vocals sound like they have a sci-fi spreader effect on them, but they don't. I recorded layer upon layer of me saying 'Bass - The Final Frontier' in a slightly mid European/trans Atlantic accent using different tones and discordant notes, then stripped different ones away until it felt right.
The vocal is not in time with the track, as I wanted it to feel like a sample. There was a lot of to-ing and fro-ing to a studio belonging to a friend of mine, so I could hear it on the studio monitors and check the mix as it developed. I think when it was done I knew the track was a corker, but it is always a mixture of luck and timing as to whether others hear it and think the same.
How did you manage to get David Holmes on board to remix?
That is all Dave's doing! He played it to David because he was chatting to him and was so buzzed up about the tune, then David actually asked Dave if he could remix it! How cool is that?!
David Holmes, being a very old good friend of Andrew's too, wanted Dave to persevere with the label and agreed with Dave that this would be a great track to do that with. I'm chuffed to bits about the whole thing.
Has it felt intimidating in any way to have such a huge producer remixing your track?
I am completely stoked that David Holmes remixed my track. It is incredible and I could never have predicted it. I feel privileged and deeply grateful, but I don't feel intimidated because I am confident in my own ability and musical experience - I have developed my own style. I have spent years working on my production skills. I am striving to stand shoulder to shoulder with the producers I admire and am prepared to put the work in. I am always learning. I will never stop learning.
What are you most proud of with your Pamela Records release?
That I am being accepted as a producer without prejudice and that the work I have put into honing my production skills has made something special blossom. I am beyond grateful that I have been given the chance to give Dave such a quality release for what I suppose has become to be, in a way, the 're-launch' of Pamela. Dave's support and belief in me has been invaluable to my development as a producer and I want to do him proud.
I think as a body of work this EP is a quality release. Every track is different, yet accessible and listenable. My hope is that it will stand firm and still be listenable years from now.
It's great to see more female producers coming through. Have you found there to be challenges relating to being a woman in the industry? What challenges have you faced?
Things are definitely getting better for women in music but there is a long way to go.
It is very difficult to be a single mum and still pursue a career in music as the primary carer of your child. How do you fund it? How do you get out and meet people to network?
Women's wages going back to work in general after being out of the workforce to bring up a child are usually less than men's, not least because of having had that time out of employment and the challenges of having to work around childcare and schooling. It's minimum wage all the way. There is also much more ageism against women in music than there is for men.
Also, for me, despite my jazz experience, when I started making dance music I really had to fight to be taken seriously. People see a young blonde singer and immediately categorise them as 'pop totty'. If you speak up you are likely to be labelled a diva. It's ridiculous!
For years when people would listen to my own productions with my vocals on, they would ask: 'who did the music?' and trying to get anyone to teach me production felt like an uphill battle. I am finding it very refreshing NOT singing on my music these days. I feel people are listening to it without wondering what I look like or how old I am etc.
Like I said earlier, I have been recording the vocals of a singer called Natali Williams, who has a lovely tone to her voice and is a great performer. She has also experienced these things despite having some success singing with Adamski, Ron Trent and Felix da Housecat.
What are the pro's to being a woman in music?
Once you ARE taken seriously, there is a lot of respect. People in music are aware of the difficulties women face, so when you get respect, you have earned it and people give you that. For me, I think my femininity adds something to my production that is delicate. Even if the track is dark and heavy, something pretty is in there.
Being in music, either male or female, you have to be thick skinned. For women (or indeed men - or ANYONE who encounters them) the adversities in music can be a valuable learning curve that help you to more easily shrug off the inevitable criticism that people love to throw at anything creative that they don't happen to like or doesn't fit with their current narrative style.
If you had the power to change something in the world of music what would it be?
SO MUCH! I would make Governments support the music industry more as it is a valuable commodity (during Covid in the UK, the music industry was decimated and no funding allocated to it) and I would make streaming sites pay creators fairly, and/or sponsor new talent with their profits. Labels don't really give tour support to artists anymore so maybe streaming sites could provide funding for that?
What other projects are you working on that you can share?
I am now working on a full album, which will include the tracks on the current EP. It will be a proper long player. I already have a good 15 or 16 tracks to choose from and lots more in progress, including the ones with Natali on.
Also - as I mentioned earlier, I am working with Rich Thair on his Dicky Continental project, which is like soulful Trip Hop and has been released on Acid Jazz Records. Our single 'Make It Disappear' was recently Huey Morgan's record of the week on BBC Radio 6! The other single is called 'Split'. You can listen to the tracks here: https://acidjazz.bandcamp.com/album/un
When you're not in the studio making great music, what do you do to kick back?
I make art. I have had quite a few commissions. My style is quite pop art - acrylic on canvas. Not traced - all freehand. I have posted photos of them on my Instagram account: @josimsart. I also love spending time with my family and I enjoy meeting friends for dinner. I love a good restaurant!
Thank you for your valuable time.
Thank YOU for giving me this opportunity to tell you a bit about myself! ☺