Hiatt dB
By: Dream Chimney
The following interview was conducted in Aug 1, 2023
Hiatt dB is up next on Razor-N-Tape with his 11pm - Til EP. Born and raised in Texas, he later went on to spend time deep in the New Orleans night scene. He runs his own label Mystery Zone, a traveling sound system that he built himself, and he was the first act from the USA to be signed to Rhythm Section Intl. We get the chance to talk to the exciting producer that is Hiatt dB on the week of his new release.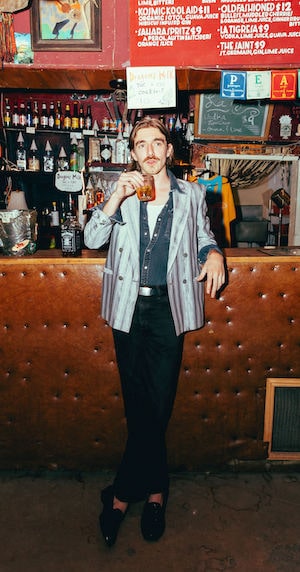 Thank you so much for taking the time to talk. Where are you right now and what are up to today?
Hey! My pleasure, thanks for having me. This is actually my first interview so I'm quite excited and really appreciate ya'lls interest in talking with me. I'm in Austin, TX right now. I moved here from New Orleans back in January to take a job in live music and cultural programming. It's a Sunday morning and I'm catching up on some new tunes before heading for a swim at Barton Springs!
Where were you born, paint us a brief picture of where you grew up?
I was born in San Antonio, TX and grew up in Southtown near the King William neighborhood. I didn't appreciate San Antone much growing up, but now that I've left I've come to really love the city, its unpretentious style, genuine culture, and holistic approach to development. Growing up I remember seeing bumper stickers that read, -Keep San Antonio Lame" (a reaction to our rapidly gentrifying northern neighbor's 'Keep Austin Weird') and I think that slogan speaks volumes, haha...
What are your earliest memories of music?
My car seat, truly. Driving around with my parents and listening to CDs from their collections.
Someone said recently that when they heard their parents play a Stevie Wonder album when they were a kid, it changed their world. Is there an album that sticks in your mind from those early days?
Oh absolutely. There are many of course, but the first thing that comes to mind is the Snatch movie soundtrack, funny enough. My Dad had a copy of the CD in his car and I'd always ask to put it on. Thinking back on the first time I heard "Disco Science" by Mirwais or "Dreadlock Holiday" by 10cc still gives me chills!
What artists and DJs were you into in your teens? What was the first record you bought?
I really didn't get into DJs and club culture until my later teens. Growing up, my first loves were psychedelic and classic rock, and eventually more punk-funk/punk-disco and early 00s indie sleaze, which was ultimately my entry point to dance music. I credit !!! (Chk Chk Chk) for introducing me to dancing and club culture. Their Austin live show back in 2013 or 2014 really changed my life.
I bought my first record back in middle school, a 12in single by the Pimps of Joytime. Truthfully, I bought it for the name and the cover alone haha… I haven't listened to it in forever, but thinking about it now, "San Francisco Bound" is surprisingly relevant to what I've been gravitating towards the past few years - downtempo, dubby, Balearic disco with a touch of bluesy, rock-adjacent elements. Will be playing it out again soon!
Before you took off to New Orleans, what were you up to musically?
I was always in one band or another - playing indie and funk rock. Writing rip offs of Spoon, the Flaming Lips, My Morning Jacket, MGMT, The Dead Weather, Foxygen, Jenny Lewis… right before I moved to New Orleans I found myself at the legendary, "Soul Spot" party a couple weeks after getting my fake ID. JJ Lopez was spinning disco, funk, and soul on vinyl and that really piqued my interest, but it would still be a couple years before I got behind the decks myself.
What was it about New Orleans that beckoned you?
Well, my mom had gone to school and lived there in the late 80s. She met a group of friends there that would become my godmothers, some of whom still live in the city- so I had visited a couple times as a kid. I knew there was a lot of music there, and a great party culture. It was close enough to home but just far enough away that nobody could surprise me, haha... Didn't plan on staying for 8 years but the city has a way of sinking its teeth into you.

What is it you love about New Orleans the most today?
There's a certain shamelessness about New Orleans; an effortless confidence that I haven't felt anywhere else. You can really let your freak flag fly down there and be celebrated for it. Everyone's a character and serendipity strikes on a daily basis.
What are some of the challenges the city faces currently?
Yeesh, where to begin. Obviously, climate change, sea level rise, increasingly devastating hurricanes. But I think many people's most immediate concern is affordability. New Orleans has a tourism- based economy. The city survives thanks to the world-renowned music, food, and cultural practices of its Black residents. When buskers and career musicians can't afford to live within biking distance of the French Quarter, when Mardi Gras Indians can't afford to make their suits, when longstanding parading bands and float designers can't afford to do their thing anymore, you can bet the tourism dollars will start to dry up. The city desperately needs to figure out how to take care of its culture bearers in the wake of rising rents, inflation, and skyrocketing home insurance costs.
If you've ever enjoyed a trip to New Orleans, or feel inclined to support its beautiful culture, I'd encourage anyone to donate to the Music and Culture Coalition of New Orleans. They're a nonprofit I've supported for years - honest people doing incredible work to support New Orleans culture bearers in trying times.
To the outside world, New Orleans has a wildly exotic and mysterious feel. What is your interpretation of the musical vibe there? What are the different types of music one might encounter?
New Orleans is known for Jazz, of course, but the truth is that New Orleans is really the northernmost Caribbean city. Musically, the sounds of Haiti, Cuba, Jamaica, the greater Caribbean, West Africa, and Latin America are just as present and relevant today as they were to the unique cultural mix and moment that precipitated Jazz itself.
Is there a dance scene in the traditional house music sense?
Absolutely! If you hang around long enough you're bound to hear stories of the State Palace Theater, a legendary 90s rave venue that closed after Katrina. My aunt claims to have seen Daft Punk there before the masks, but I've never been able to confirm her account… today there's a thriving dance scene centered around two clubs, Poor Boys Bar and the Rabbit Hole. Set De Flo and Gimme a Reason are two of my favorite club nights in the city, having built well respected brands by way of their consistently bangin' parties. Plenty of ways to dance all night in the Crescent City!
The sound of Hiatt dB is truly unique. It's leftfield house and disco but a strong southern vibration running throughout. If you had to put some words to your sound how would you describe it?
For better or worse, my catalogue is far from consistent, sonically speaking. But I try to imbue all of my music with a certain, "attitude" for lack of a better word. Not happy, not sad, just… tough. A groove that puts a swing in your stride, makes you want to step and smirk. That's the feeling I'm always after when I'm in the studio.
A brilliant example of the wildcard-ness of Hiatt dB is your Rhythm Section International release. How did you meet up with Bradley Zero and get signed to the label?
It's actually a pretty wild story, I'll try to keep it short. I found myself dancing right next to him at Nowadays NYC back in 2018. He had the night off and came out for Mister Sunday. We struck up a lively conversation about music and dancing and I ended up getting his email address. Feeling like I only had one shot, and fearing there was no way he'd pay attention to a soundcloud link, I asked for his actual address a couple weeks later and mailed him a dubplate I had cut in the meantime. Who wouldn't open a record mailer, right? 10 months later I happened to be listening to his Sugar Mountain boiler room set while doing data entry at my first job out of school. Nearly fell out of my chair when I heard him mix in one of my tracks in front of an endless sea of dancers. The rest is history!
Rhythms Section cites you as the first USA artist on to the roster. That's pretty cool right?
If you had told me 5 years ago that I'd be the first US artist signed to Rhythm Section I'd have said FUCK YOU and stormed off hahaha… it's truly beyond my wildest.
What can you tell us about the Mystery Zone club nights and how did they began?
Local legend Bouffant Bouffant was the first person to put me on in New Orleans, inviting me to guest DJ his monthly at Sidney's Saloon. Eventually he decided to leave that residency and offered the night to me, and I started Mystery Zone as a space to explore the wide range of club music I was discovering and itching to play out each month.
Are they still going on now?
Yes and no - I haven't found a new home for the party suitable enough to do something consistent, but I keep the concept in my back pocket for whenever the right opportunity arises. The most recent was back in April at Howards Bar & Club in Austin and featured myself, and guest selector Tom Noble (Superior Elevation) going hour for hour all night. Tom took me back to school with his selections - all killer, no filler!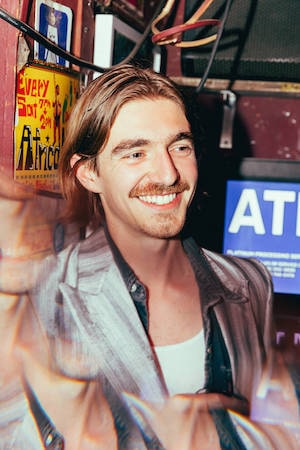 Do you have guest DJs to the MZ parties?
Always! Mystery Zone is a space to share, both on the floor and behind the booth.
Hiatt dB the DJ - what might we expect to hear in your DJ set? Tell us a track you are thrashing right now.
You'll hear a unique mix of analog, human, leftfield disco. Expect elements of cosmic, Balearic, rock, blues, country. I'm no stranger to breakbeat, deep house, body music, acid or electro, either. I love a good curveball too - weirdo and outsider folk, country funk, library gems… you'll never know exactly what you're going to get, but if you're open to genre bending hits that never were, I'm your guy. Lately I haven't been able to get this song Bianca / Tabu out of my sets… Balearic house with a spaghetti western twist!
Mystery Zone the label followed the party. Does the label have a mission?
Yes! Before I met Bradley and got signed to Rhythm Section, I was eager to release dance music and to have records stocked in all of the shops overseas I was following. Only problem was, no one would sign me! I had several friends in the same boat. It felt like we couldn't break through since we weren't living in Europe and weren't relevant to the club circuit. In hindsight… we really just weren't that good yet, which didn't help either hahaha… but that didn't stop me from saying, "Fuck it, let's do it ourselves". My buds Time Zones had a collection of demos I absolutely loved. After I finished my remix, I began planning MZR's first 12in release. I wanted to create a local outlet for producers and musicians in the South to press records and distribute them all over the world. Mystery Zone Records was my answer!
What's happening on the label right now?
I've got a very exciting collaborative project with my partner in crime Disko Obscura coming out next year. There are a couple more projects in the works, but I shouldn't comment on them just yet… don't want to jinx anything! You've got to have 10 irons in the fire for at least one of them to come to fruition.
I'd love to know about your travelling sound system. How did it all begin?
I visited Public Records in New York in 2018 (the same trip I met Bradley Zero, in fact). I was blown away by Devon Ojas's work. Having never heard any passive, horn loaded speakers before in San Antonio or New Orleans, I set out to put a system together that could bring some semblance of that same warm, resonant sound to my community. I found my Klipsch LaScala's on craigslist from a guy in Baton Rouge, Louisiana who bought them new in 1985. Once I replaced the tweeters and crossovers they were good to go. The subs came from an old movie theater in Athens, Georgia that was liquidating. They're custom, but based on the JBL 4560 design. When I got them they were pretty wrecked, but luckily they're just wooden boxes. I sanded them, stained them, replaced the drivers and rewired for speakon cable compatibility. All of the sudden, Mystery Zone had its own soundsystem.
You played at Mardi Gras right. That must have been a vibe.
What can I say? Mardi Gras is some kind of magic. My soundsystem became the in-house PA for Disko Obscura's ACID GRAS party. We would set up on a friend's front porch right off the parade route. First track, 9AM. Underground funk, disco, and boogie dawn 'til dusk. It's my favorite day of the year.
How did you come to meet the Razor-N-Tape guys?
I saw JKriv and recent RNT signee Elado perform at Black Flamingo in New York a couple years back. They KILLED IT! Such a great night of dancing. I shot Jason a thank you over instagram and we got to chatting. Ended up going back to back later that year at Jupiter Disco. I sent him my 11PM - 'Til demos asking for feedback and, to my absolute shock, he got back to me almost immediately asking to sign them!
Have you visited them in Brooklyn at the shop?
I have! Gorgeous space chalk full of amazing records. Jason asked me to play an in-store session before our Jupiter Disco gig Dec '22, and I happily obliged.
The 11pm – Til EP is soon to drop on the Brooklyn juggernaut. Firstly, tell us about the title.
The record was inspired by nights out DJing in New Orleans. When the bars never close, you play until the party's over. All of my flyers advertised 11PM - 'Til, since we never knew exactly when things would wrap up, though it was usually around 6 or 7 in the morning... As the demos started piling up and I began selecting tracks to round out a record, the name just seemed obvious.
The sound in this EP is in its own lane. It's dark and swampy and so good! What were you trying to convey in this music?
I was hoping to illustrate the arc of a twisted disco bender in New Orleans over the course of 6 tracks. From the anxious excitement of the opening hour, the rising action of the floor filling up with dancers, the whirlwind of a party's peak, to the strung out haze of the final tune. It's all there, shameless, and tinged with the sinister edge so characteristic of late nights and early mornings in the belly of the beast.
The artwork is stunning. Can you tell us a little about that?
When I need art for anything really important, there's only one guy to call: Riccardo Corda. I was lucky he was available given all the work he's been getting the past few years. Really appreciated him including some of the instruments I used on the record in the artwork, along with the nod to San Antonio via the Tower of the Americas reference. He really knocked it out of the park, I'm so glad you like it too!
What other artists do you feel are making great music right now out of New Orleans?
Oh there are so many! Producers Redance and Quickweave are making some infectious deep, sexy house music via their Plaisir Soundsimprint. Special Interest has been making waves as well with their recent signing to Rough Trade, and member Ruth Mascelli has their 2nd solo album coming out soon on Disciples (UK). Sinking City Records is a great label supporting a wide range of sounds from local artists. I'm a huge fan of Tasche de la Rocha's latest LP as well as the recent 79rs Gang album. Community Records is another great New Orleans label to follow - the new People Museum and Delores Galore records are amazing! I could go on and on.
What's up next for HDB?
Honestly, I'm not sure! This year has been a whirlwind coming off of a couple month tour last Summer/Fall, moving, starting a new job, a new party, and this release… I've got a couple projects in the works, but nothing to comment on at the moment. I'm in this for the long haul, so I'm not in any rush. Whatever's next, whenever it is, I just want to be sure it's honest and quality, and that always takes longer than you anticipate.
If we ever get to New Orleans, where should we go for great food and drinks?
You've got to try Fritai's Haitian street food!
And live music. What's your tip?
Just make sure you see Kumasi, New Orleans' own 14 piece Afrobeat orchestra. Dancing guaranteed!!
Finally, where can we find you and your party?
For now, I'm back home in Texas! Catch me in Austin, San Antonio, Houston, Dallas… the occasional fly-out date. If you're reading this and heading my way don't hesitate to holler! And really, thanks again for having me - it's been a blast to chat with you!