The following interview was conducted in February 2023
Thanks for talking to us. Where are you today and what are you doing?
My pleasure. Today was a bit of an odd one - I was actually rushed to hospital this morning with severe belly pain, reminding me of my appendicitis years ago. It ended up being a kidney stone. Ouch. It'll hopefully exit my body soon =)
Ouch. Sorry to hear that!
Where is it you are from exactly?
I'm from Leuven, Belgium, a lovely uni town in the Flemish region.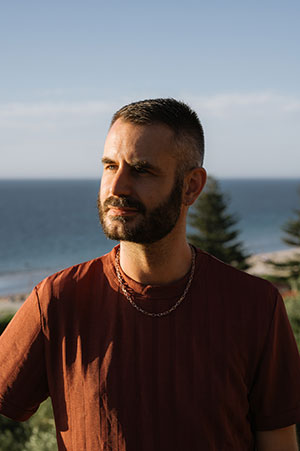 Paint us a picture of where you grew up a little?
Leuven is a very lively town with lots of people coming and going. The weekends, when all the drunk students with questionable music taste had gone home, were always when the best parties took place.
What was the music scene like there?
Leuven was always a big house music city. There was a legendary club called Silo where I started going out and played my first gigs as a teenager.
Where are you based these days exactly?
I'm in South Brighton near Adelaide, a lovely spot by the sea. It's incredible but couldn't be more different to Kreuzberg, Berlin, really.
What took you there?
The mother of my two sons is from Adelaide so her whole family is here. After living in Berlin for 8 years with no family support, we decided to either move to Belgium or down under. We've spent a year here now and are settling in.
What makes you stay there until today?
The beach, the pies, the sunshine and the sunsets.
Do you consider yourself an Aussie these days?
I'm a Belgian down under, though I'd like to think I'm blending in fine =)
What is it that you like about the Adelaide scene?
People are warm and supportive of each other. There's a space for everyone to do their thing. Much different to Berlin where there are 10,000 DJs, promoters and nightclubs.
What do you dislike about the Adelaide scene
Sometimes I don't like having to drive the car everywhere. I'm a Euro boy and we are used to riding a bike or catching a train.
Do you play out much there and where?
I do, mostly unannounced things in the city of Adelaide although I recently started throwing seaside events called Mellow Magic Sunday in my neck of the woods. The first edition with Alex Kassian was fantastic. Some of my favourite places in town to play are Sugar (RIP), Ancient World and Udaberri (where I have a biweekly residency). Adelaide's got much more of a scene going on than most people (and indeed myself before moving here) realize.
Apart from that I also make regular appearances in other cities like Melbourne, Sydney, etc.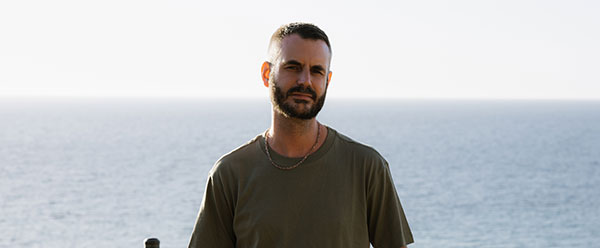 When did you first start to dabble with music?
I started buying records and DJ'ing in '99.
Were you a DJ first? Where did you play in those early years?
Yes, I started in Belgian clubs as a teenager. I'm 38 now and still enjoying playing records as much as ever! I still mainly play wax these days.
What kind of stuff did you play?
When I started, I went from a short D&B stint straight into house music: early Basement Jaxx records on Atlantic Jaxx, early Orbital stuff, West Coast deep house like Iz & Diz, etc. I still play a lot of those records out today!
When did you make the move over to production?
I started making sketches in Sony Acid back in the early 2000s but never had the patience to properly finish something as I was too busy DJ'ing, promoting nights and exploring the world =) When I moved to Berlin in 2013 I started working on production again a bit more, mostly collaborating with mates on projects such as De Ambassade, Cashminus, Icarus Traxx, etc.
What was your first release?
Het Collectief Deruyter - We Don't Agree, a remix I wrote with my pal San Soda, which got rejected by the label at the time and later bootlegged on vinyl.
What do you feel has been your most notable release to date?
Perhaps: Ca$hminus - 生命还存在意义吗?, a record I did with my ex partner Eluize. It has our friend Cora from Chengdu deliver a vocal in mandarin over a G-funk style groove. Cornelius Doctor provided a great club version of the track, too.
Which one of your releases do you think slipped under the radar?
Most of them I'm afraid, ha.
Who are the artists from the past who inspire the music that you make?
Early Chicago traxx, Gamble & Huff, Chez 'n' Trent, Phil Asher, Faze Action, Frankie Knuckles / Eric Kupper, Morales / Def Mix, Blaze, Chris Brann / Wamdue Kids, Dubtribe Sound System, Metro Area, too many to name, really.
Who do you think is making great stuff right now?
I'm not overtly listening to a lot of new music but here are a few faves:
Lord Echo
Panama Keys / Stump Valley
Pellegrino
What kind of stuff might we hope to hear in a Gratts set today?
Timeless music, whether deep house, disco, Italo, cosmic / Balearic fare, leftfield stuff, techno, acid, etc.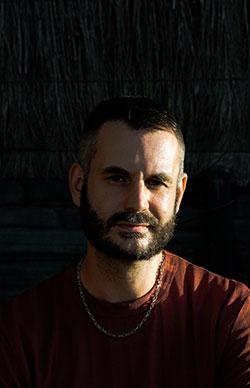 Be Strong Be Free is a wonderful name for a label. What was the inspiration for this heading?
The label name is taken from a lyric out of 'Sun Circles': -just be strong, and you will be free".
It's also a nudge to the DIY ethos and a general life belief.
What is the label's music policy? Do you plan to work with other artists on the label?
To release "mellow magic sounds" that are "Balearic but bumpin'". It'll be an outlet for my own productions first and foremost, though who knows if at some point I might release someone else's music.
Sun Circles - Tell us about the title and its meaning? Does it have a meaning?
Everything has a meaning =) 'Sun Circles' is a song I wrote for my two young sons Leo (5) and Ziggy (2). I wanted to speak to them in a song, give them some boring old dad advice I guess and essentially tell them everything will be ok =)
Vocalist Ellie aka Mr. Beale came up with the 'Sun Circles' line and I found it to be the perfect title for the track. It also was a nice inspiration for the amazing artwork that Mads Cooke painted.
Can you talk us through the EP a little. Nathan Haines - tell us what he contributed on the release?
Nathan Haines is one of my heroes - the New Zealander played flute and saxophone on 'Sun Circles'.
And Mr Beale?
Mr Beale aka Ellie is an incredible singer from London. I couldn't be more happy about having asked her to be a part of the record!
Strong move brining Kassian on for the remix. Were you thrilled with his result?
I think you can always trust Alex to bring an elegant composition to the table, and he didn't disappoint. Especially love the guitar parts.
What other projects are you working on that you can share?
I'm finishing the next few records on Be Strong Be Free:
"Jour De Fête" (BSBF1202) (for which I just got Mads Cooke's new artwork in this week), then "Rhythm Of Love" (BSBF1203) and next up the follow up to 'Brighter Future', a new one with Mr. Robert Owens (BSBF1204). I'm also finishing a few records that will be released on other labels - more about those soon, too.
What are your next ambitions as an artist?
To write a song that resonates with many people on this planet before I leave this planet.
Thank you for your time.
You're most welcome, thanks for your interest =)