The following interview was conducted in November 19, 2023
Matteo Gallerani, is the younger brother to Marco Gallerani, the label head of Hell Yeah. With big musical boots to fill, Matteo is doing a fine job in carving out his own epic, widescreen, cinematic name for himself on the new Balearic scene. With his 'Hidden Inside' about to drop, we get a chance to talk to Matteo about Berlin, what it means to be Balearic, and about living in the slipstream of his big brother.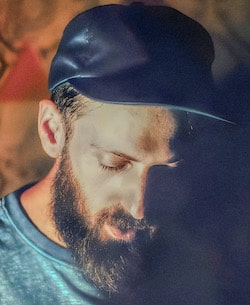 Where are you this moment and how is the view through your window?
Ciao! Currently I am in Berlin, sitting in my office at the end of the workday. I thought this was the ideal time for an interview, as caffeine has kept my brain active throughout the day, and now I am taking this moment to relax while my colleagues are gradually heading home. From the window, I see the famous TV tower (Fernsehturm) and the building that houses the WELT newspaper... not bad, I would say. When the evening comes, I always feel like I'm living in Gotham City. Hehe
Where are you from, where were you born?
I was born in the city of Ferrara in Italy, and I spent my childhood in a small village called Casumaro, nestled in the tranquil countryside of Emilia Romagna, where the landscape stretches endlessly to the horizon. Quite a fascinating situation, isn't it?
Where are you based these days?
Since 2012, I have been based in Berlin, in the Neükolln district. I came to the city to work in the restaurant industry as a chef, but over the past 12 years, things have changed a bit. I studied German, took specialized courses, and changed job. Now I am a creative designer and work for a start-up that focuses on Digital-Out-of-Home.
What do you love about where you are living?
I came to Berlin in search of better job opportunities, attracted by an environment where nightlife, art, innovation, and technology are at the center. I love living here because the city offers everything you could possibly need or want, regardless of necessity. The wealth of musical situations played a fundamental role in my decision to move here.
What do you miss about home?
I definitely miss my family, my closest friends, the regional cuisine, and its primary products. I miss the opportunity to take the car, turn the corner, and get lost in the countryside while listening to the latest songs just released. I miss the smell of freshly cut grass and the warmth of late summer days. It is increasingly difficult to find a reason to return to Italy; on the other hand, how to find a reason to stay here. I live by the motto 'here & now.'
When we think of Berlin we don't think so much of Balearic sounds. How is the downtempo scene in Berlin. Are there many producers making this genre in the city?
Yes, Berlin is not known for its tradition of Balearic music. This makes the opportunity to introduce this genre to a new audience, inspired by other musical shades, particularly fascinating. In the Berlin scene, we can find talented producers and DJs associated with the new Balearic wave. For example, there's Trujillo, with whom we've already collaborated on events in Berlin and Ibiza, such as our "Buena Onda Balearic Beats" party. But I would also like to mention Tornado Wallace and Telephones, two of my favourite producers.
What is the origin and meaning of the Balearic sound to you?
When I think about Balearic music, my mind immediately turns to the DJs who introduced me to this fascinating musical world, such as Chris Coco, Phil Mison, Moonboots and iconic places like Café del Mar in Ibiza. Of course, special thanks go to my brother Marco Gallerani, who opened my eyes to this unique genre and lifestyle with his enlightening guidance.
The term "Balearic Sound" is commonly associated with a genre of electronic dance music that originated in the Balearic Islands, particularly Ibiza, in the late 1980s. This sound is known for its eclectic and diverse influences, incorporating elements of house, acid house, techno, chillout and other genres.
For me, Balearic sound represents the exploration, fusion and blending of different musical styles, an experience that finds its perfect counterpart in different moments of the day. Best enjoyed in front of the sunset with an Aperol Spritz and something smokey in your hand.
You are part of the new Balearic breed. How has this sound developed from the Balearic of the 90s?
The development of the Balearic sound has taken place over several years, with the influence of electronic music genres. In the 90s, Balearic music was characterized by its fusion of styles such as house, techno, ambient and world music. It was often enjoyed outdoors and captured the relaxed atmosphere of the Balearic Islands. The contemporary Balearic electronic scene has undergone a natural evolution, characterized by the integration of modern production techniques, digital instruments, and the emergence of new sub-genres. The sound has become more sophisticated. In particular, the use of synthesizers, digital effects and advanced production tools has allowed for a more refined and complex sound design.
Who are some of your Balearic icons?
Marco Gallerani, Phil Mison, Chris Coco, Andy Wilson, Pete Gooding, Gigi Massin, Calm, to name few.
How long have you been making music exactly?
I started making music around 2008-2010. More or less.
What came first for you, Djing or production?
I started out as a DJ. For my 12th or 13th birthday I got my first CDJ100 and the DJM400 mixer, which is still my home mixer (I love 2 channels mixer). But even before that, I remember playing at a beer party during the fair in a small town around Ferrara city. On that occasion, I took my desktop computer on stage, consisting of a monitor and a tower, on which I had installed one of the early versions of the "Virtual DJ" program. I can consider myself a pioneer in this field, hehe. Shortly after that I felt the need to start producing music, because I wanted to mix the music I was buying with a distinctive sound of my own.
You are currently a resident at Berlins Buena Onda. Tell us a little about that gig.
Being a resident at Buena Onda is an exciting experience. I played my last gig last Sunday (Sunday 12th November) at Arkaoda Berlin. A really cool bar in the heart of Neukölln where I use to dj once a month.
The place has its own unique vibe and attracts a mix of locals and visitors who come for the good music and lively atmosphere. Buena Onda has become a musical home for me and the mood of the crowd inspire my sets.
Arkaoda was an important chapter in my journey as a DJ. It was there that I improved my skills and learned to navigate the crowd's diverse tastes. I usually play long sets there, as they offer a unique opportunity to create a musical journey.
At Buena Onda I take the crowd on a sonic exploration, starting with laid-back tunes and gradually building up the energy. It's about creating an immersive experience that reflects the ebb and flow of the night. The diverse crowd at Buena Onda appreciates the journey and that's what keeps me going.
Before the pandemic we played there every Monday for almost 2 years I think (my personal record was almost 60 Mondays in a row) and organised a lot of amazing parties together with my brother Marco Gallerani and Jona Jefferies. The most memorable with Phil Mison when we had the chance to play in the room downstairs with over 300 people.
Playing every Monday was a game changer. It allowed me to experiment, refine my style, connect with a loyal audience and, most importantly, create a community. The regulars became a musical family, and we shared countless memorable nights. When the pandemic hit, it was a pause, but it also gave me time to reflect and evolve.
You are widely known for making epic cinematic tracks. What was your first production/ release?
From the beginning of my production career, my brother, who is also the head of Hell Yeah Recordings, has been my main reference point for musical feedback. In 2018, we noticed that I had achieved a good consistency in music production, so we decided it was time to venture into creating some digital EPs. My first EP was titled "Remember to Forget". During the same period, I also released the EP "Orange Stripe" for the Italian label Slow Motion by Franz Scala and Fabrizio Mammarella. Probably, "Winging" and "1986" are the very first tracks for which I felt that the Balearic vibe would accompany me for a long time.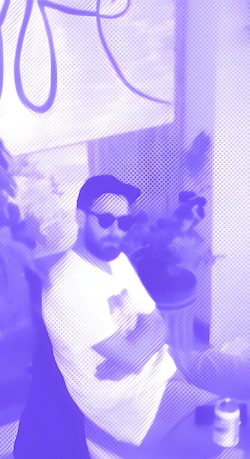 What do you feel has been your most notable release, which one made the biggest impact?
I like to imagine that my best track is yet to be created. That being said, the composition to which I am particularly attached and that continues to evoke deep emotions in me is 'Abysso'. This piece took shape during a period of complete solitude in my life, paradoxically influenced by the pandemic. At that time, I had ample space to reflect, listen to music and interviews, and undergo a profound self-examination. It was a period in which I experienced significant personal growth.
Tell us a little about your work with the Café Del Mar series.
In 2020, my musical journey took an emotional turn when Café Del Mar, the iconic purveyor of ambient and chill-out vibes, selected 'Gallo - Faron (Fabrizio Mammarella Remix)' for their 40th anniversary compilation. The resonance of the moment to see my work included in a series with such a rich history was profound. It marked a milestone in my career, a moment I hold close to my heart.
Fast forward to this year and the Café Del Mar journey continued with a new chapter. This time the spotlight was on my original track 'Abysso' which was selected for the 'Chill Out Mix 2' compilation. The sentimental value of this selection is beyond words. 'Abysso' is a piece created during a period of solitude, introspection and growth, a reflection of my personal journey through the challenges of the pandemic.
In October 2022 I also had the opportunity to play at Café del Mar in Ibiza alongside resident DJ Ken Fan. Playing some of my favourite tracks in front of the sunset was a powerful emotion. It was a metaphysical experience, constantly watching the sun go down and feeling a mixture of conflicting emotions between 'blessed' and 'fulfillment' that I will never forget.
You recently featured on Heavenly Recordings and Collen 'Cosmo' Murphy's Balearic Breakfast comp. How did you get involved on that?
I think Colleen, like many others, was impressed by the positive energy of Abysso remixed by Calm. She played it on one of her Balearic Breakfast podcasts and soon after contacted Hell Yeah to get it on the official compilation.
Imagine receiving the news that your work has been selected to be part of a highly anticipated and well curated compilation album featuring some of the most talented artists in your genre. There's always a sense of disbelief at first, a moment when you must check to make sure it's really happening. Hehe. Excitement quickly follows as you realize the recognition and exposure this opportunity brings.
Tell us a little about the track - Abysso. Remixed by the great Calm. That must have been a buzz for you.
As I mentioned, the original is one of my favourite tracks. The first time I heard Calm's remix I was really impressed. In Italian we could define it as a "PEZZONE" or a "SECRET WEAPON". Calm's request for the MIDI file of the piano riff was a pleasant surprise. From this small detail I sensed that the remix would have considerable depth, and indeed it did. The progression is, to use an understatement, epic! He has also managed to retain the sentimental touch of the original track.
I take this opportunity to thank Calm and my brother for this extraordinary Italo-Japanese connection. I hope to have the opportunity to meet Calm in person as soon as possible, perhaps in an evocative setting such as a sunset or in front of a steaming bowl of ramen.
Are you and Marco Gallerani really brothers? What's like working with your brother?
Haha (really laughing hard). That's a good question. And yes, we are really, really brothers with a considerable age difference of 12 years. Basically, when I started getting into mischief, I started calling my brother instead of my parents.
My brother is a fundamental part of my growth, not only musically but also as a person. Being older than me, I was (and still am) able to observe the attitudes, successes, mistakes, and general experiences of someone older but very similar, as we grew up with the same values instilled in us by our parents, despite at different times.
Working with him is a never-ending quest for improvement. It's not always easy to find a solution that satisfies him. But that's probably what makes the end result such a high-quality product.
Have you always shared the same musical tastes?
When my musical tastes began to form, his were already in full development. He has always worked in the music business, I have taken different paths, but with time they are getting closer. To use an analogy from motorsport, I can say that I 'got in the slipstream' and got carried away.
I guess you know the label pretty well. How many releases have you had on Hell Yeah?
Hidden Inside is my sixth EP on Hell Yeah. Besides having remixed several artists such as J-Walk, Calm, Sergio Messina, Feel fly, Kayroy & GREETINGS and Verdo. Together with my brother we are also working on compilations for Buena Onda Balearic Beats.
Hidden Inside has that widescreen cinematic feel. Can you talk us through the EP a little.
The idea of the EP was to create a package of tracks that sounded good together, one after the other. In creating this cinematic sound, I used some guidelines/characteristics such as incorporating orchestral elements or synth pads with long sustains to create a rich and expansive soundscape. The use of reverbs and delays help me to create this dreamy effect and make certain sounds seem closer or further away, adding a sense of depth. The structure and progression of the tracks play a very important part in the realization of the music. The piano is the instrument that gives me the most emotion, so I always use it in my productions to create the melodies. I like to think that when people listen to my music, they daydream and feel emotions.
When you are making a track that is as epic and uplifting as the title cut Hidden Inside, how do you begin?
I don't follow a set formula to start composing a track. The process depends on a number of factors, such as my mood that day, time spent in a club or at a concert, or simply listening to other music for inspiration. In the case of 'Hidden Inside', once I found the right pad, I added a few piano notes that would fit organically, followed by a bass line to complete the overall harmony.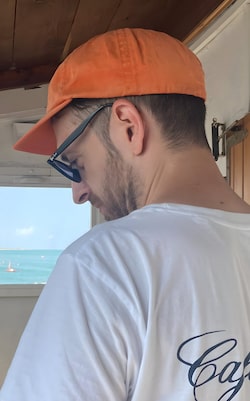 Who are the artists that inspire the music that you make from past or present?
There are probably too many to mention. So many artists, even very recent ones, inspire me in many ways. Among the very first that come to mind in the present I would say Calm, Tornado Wallace, Marshall Watson, Cantoma, Gaussian Curve, Lucio Dalla, Bjorn Torske, Begin.
How do you find your inspiration when making your music? Is there a ritual you follow to get in the mood?
When it comes to finding inspiration for my music, it's a mixture of personal experiences, emotions and the world around me. I believe that inspiration can come at any time, so I try to stay open and receptive to my surroundings. I often find that walking in nature or simply observing the nuances of life helps me to connect with different emotions.
When I feel the inspiration coming, I turn on the PC and start producing. It can happen that I don't touch my PC for a long time too. Ultimately it's a dynamic process and I try not to force it. Whether it's a specific routine or a spontaneous burst of creativity, the key is to be open to the possibilities and let the music unfold naturally.
What are you working on next that you can share?
Over the last few years, I have become increasingly interested in the project of creating an album, and I believe that 2024 will be the year in which I see this dream come true. I usually work to create EPs, so small packages of music that work well together. An album is a totally different story, more tracks, longer trip, with a mix of more articulated musical genres. I'm aware that the journey won't be easy, but if it were, it wouldn't be the way for me. I am often drawn to challenging endeavors, but I do so in the hope that the result will be the best it can be. After all, I am a dreamer.
Thank you for your valuable time.
You're very welcome! It was my pleasure to share my feelings and connect with you. Till next time! Tschüss!
NEW RELEASE
Check out the latest release from Gallo