Frederic Mercier
The following interview was conducted in April 2009
1) How did you come to music?
I've always loved music, when young I tried to make instruments myself. I had my first classical guitare at eleven I began music listening to English music, especially "The Shadows"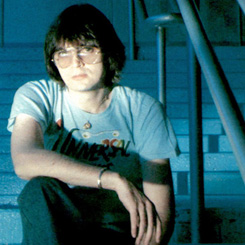 2) What studio equipment was used for "pacific" lp? (synths and instruments)
Poly Moog, Mini Moog, Stratocaster, Martin acoustic guitar, Steinway piano and MXR FX everything played by myself (only a sequencer in one title, the bass line in Station 713, ARP sequencer and Odyssey synth)
3) As far as we know, you participated in work on "charlie mike sierra" project. could you tell us about this collaboration? how did you happen to meet with jean-pierre massiera?
It was essentially because a friend of mine-Raymond Jannot- (prod of Les Miserables) asked me a title I never met jean-pierre massiera
4) Why did you stop making the music?
It's a long story, after my Synth LP (Pacific, Music from France...) I made hits in Europe like "Versailles, Funky Burger, Stars de la pub, and songs for American singers like "Turn it up" for the Madonna's movie "Who's that girl" I decided to change my life a bit so I began to be the director of marketing for Avid/Digidesign (Pro Tools) in France, and after I changed again to be in the Video as a director/videograph, and now I'm a "art photographer"..... As you see it's complicated, but I'm still in art, "Digital Art"
Spirit EP will be re-released onMellophonia records April 27, 2009 ! Visit the website for more details and sound clips.