The following interview was conducted via email in August 2005
Q: To start, explain Wunderwerke. A website, a record label, a production studio.. or all of the above ?
A: Wunderwerke is a multimedia company that is producing music,videos,events, and magazines since 1978 when it was founded by Franz Aumüller and Dieter Kolb. FA is managing director. It is also a music publisher,distributor and a website. And since this year a galery.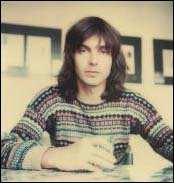 Q: You were particularly involved in the lyrics, stories and artwork for the band. When did you first begin working on your creations and did you imagine they would be used this way or was that its intention ?
A: Dieter and I have been frieds since kindergarden, when he started playing guitar in a band I was his biggest fan and designed the logo for the drum and the posters.Later, when he chaged to Hammond I helped him carry it on stage and later after the concerts back to the car. His parents had a shop for musical instruments. Dieter practised every day for hours in the basement (the shop provided us wih the latest models, I brought the records) and later we experimented with 2 tape-recorders. Franz Knüttel our classmate joined on drums and built our first sythesizer. later when we found out that his possibilities as a drummer were limited, he developed a drum machine. I came up with the name Roboterwerke and the story. Dieter studied music and had a fellow student Jof who made the first deal with CBS. Then I created the story and the lyrics for the first Lp. Although we sold more than 30 thousand copies we decided to become independent. The second Lp Metaluna was released on our own label Wunderwerke and sold not even 1 thousand copies... So we had to release the third Lp Futurist with RCA but at that time in Germany was the Neue Deutsche Welle and everybody was listening to songs with german lyrics. Therefore Futurist flopped too. Meanwhile I had spent all my money on a 6minute full animated movie, but since there was no music tv at that time it was never shown. We worked for another year on the 4th Lp Cosmotropics that was not finished.
Q: The artwork and stories ive seen focus on a strange yellow cartoon character who seems to always be getting high or be tempted by others on his adventures. What is the history behind this little guy and does his story continue on after Roboterwerke albums were completed ?
A: The little frog is Supersempfft a caricature of Dieter who has the most amazing adventures through the universe but when he comes back to earth finds his superpowers vanished.
Q: If your characters from the album were animated it could have become an early or the first music video. Did ever you have any interest in this at the time?
We are still interested, but...
Q: You are credited as producer on some of the albums, were there times when you aided in the music production or was it solely the lyrics and story.
A: Dieter an I developed a way of working together as a team.
Q: You are photographed with the amazing "GUITARET" did you play? Was it used on any Roboterwerke recordings ?
A: Our next project after Roboterwerke was 4D the 4th Dimension which was completely sampled with our Drumcomputer exept for the vocals.The Guitaret that I found on the fleamarket was used on the pr shots, because we didnt use any real instruments. We sold about 3000 tapecassettes when Virgin contacted us to be the first act on their new German label. At the presentation of the record at Virgin they loved it very much, but when I told them that all the instruments were collaged from records they were too afraid to release it. Later I played the tapes to Rusty Egan (I wrote the german lyrics for Visages The Anvil) he took them to New York to Africa Bambaata who used it for his Timezone : the Wildstyle.
Q: Seems you have be apart of so many elements of the art world, from writing to print/design to music videos. are you still involved in all of the above ? Was there an area you enjoy(ed) the most?
A: What I always enjoyed most was producing experimental music videos.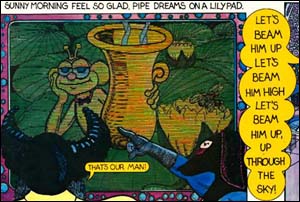 Q: Dieter Kolb was the first to use a drum machine from his own creation. This seemed to attract a lot of attention from artists ranging from Kraftwerk to Herbie Hancock. Were you there to witness this? how long did it take for him to get noticed for his inventions and what, if any, machines did Dieter produce for them?
A: The machines we showed to alot of artists were only prototypes we planned to sell them, but when we had them professionally made there were better and cheaper machines on the market...
Q: Considering Roboterwerke was the first or one of the first to play this new type of drum machine electronic music, what was your reaction as it began to become popular?
We loved it!
Q: Im really curious about the track "Pinhead" seems to be dedicated to your love from playing Pinball. I cant understand all the lyrics but i hear "extra ball" in there and many of the sounds could easily be used as pinball background sound effects. Did you write the lyrics for this? Was pinball a favorite pastime of the band?
A: Yes
Q: You mentioned Dieter stopped playing live in the early 70s. So Roboterwerke never performed live?
A: Yes the Roboterwerke equipment was too difficult to take around. We only performed live on the first art electronica in Linz.
Q: I've read briefly that the band would spend time in the Caribbean enjoying the local music etc, were you a part of these trips? At what point did this influence the musical style of the group?
A: We were big fans of dub music especially Lee Scratch Perry and King Tubby. We went to Tobago + Trinidad because we thought reggae was played everywhere in the Caribbean only to discover Steelband and Soca which we liked even better. We were there 4 times for the carnival season.
Q: Honestly the first id heard of the group was from eBay! I noticed the amazing album cover for "The Lion Sleeps Tonight/High on Tech" and then began tracking down anything i could find about the band. what do you think of the eBay phenomena?
A: E-bay is great for finding things.
Q: Recently there has been a resurgence in the band's music including a re-released track on the MAGICK KUTS edits label, what do you think of this and are you surprised it took so long?
A: We love it and would encourage everybody to make remixes.
Lately DJ Flowrider has Played me a scratch version of the Roboterwerke Lps on two turntables which I loved because the mix of old school electronics and scratch.