Flamingo Pier
By: Dream Chimney
The following interview was conducted August 29, 2023
Born and raised in New Zealand but schooled in London, Flamingo Pier may well be the southern hemisphere's best kept secret. With their debut album out on quality imprint Soundway Records and some serious live playing under their belts, that may all be about to end! The New Zealand disco-boogie outfit plant some Brooklyn roots with their fresh new 'Beneath the Neon EP' on Razor-N-Tape. Here we learn a little more about the lively Auckland trio.
Hey. It's great to talk to you guys. Thanks for taking the time.
Where did you all meet?
We met on the back steps of Crate Brewery London in 2014… We were all musicians from Auckland, New Zealand, ready to start a new direction. Luke coming more from the club dance scene, Dom and Brad more from a pop and rock background.

So, you are all back in Auckland now. How is the health of the music scene in Auckland, what's going on in the city right now?
Like all cities worldwide, covid has been rough on the live music, entertainment and nightlife scenes…To impact that further, Auckland had a bout of flooding over the summer, which also hurt many events, including our Flamingo Pier festival on Waiheke Island… Thankfully, the worst is behind us and we're hopeful that now is a time for the industry to bounce back better than ever.
What are the main clubs and live venues in the city?
For Live Music - The Hollywood Avondale, Powerstation, Whammy Bar.
For Dance music - East St Hall, Neck of The Woods, Las Vegas.
I've been hearing a lot about Flamingo Pier lately. All good things! Can you talk us through the members of Flamingo Pier and the parts you all play in your collective?
Luke Walker - Producer, beat maker, keyboards, piano.
Brad Craig - Guitars, Bass, Vocals.
Dominic Jones - vocals, guitars.
All 3 original members, Luke, Dom and Brad, write the songs together in our basement home studio in Mt Eden, Auckland. Once the songs have a general outline, we bring in our live band members, Izak Chatterton (percussion) and Jack Thirtle (Trumpet)…. These two wizards then add the beautiful flourishes that take the songs to the next level.
DJs, Live Performers, Party promoters. But you were all DJs first, right?
Luke comes from the DJ world having released solo records and DJing with Ministry of Sound London. Brad came from the Dunedin rock scene with his band Two Cartoons brought to London in 2014 to record their album. Dom actively participated in the Auckland indie band scene for years before moving to London in search of new inspiration.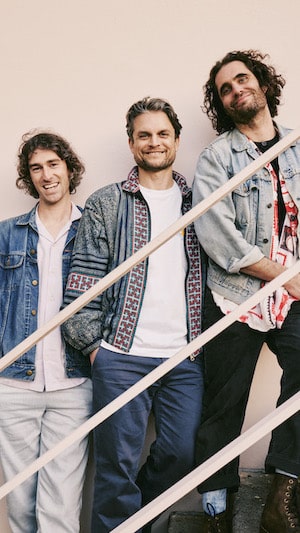 Tell us a little about your time in London.
We all met through mutual friends. It quickly became clear that we were on the same wavelength musically. Luke was keen to start throwing daytime disco parties and so began the Flamingo Pier Friday parties. Hosted on a canal pontoon at the back of Counter Cafe in Hackney Wick. As all three members were musicians, it made sense to start making music to play at the parties. And so began our Flamingo Pier live journey.
There's a real vibe in Hackney Wick. What was it you loved about the Wick culture?
At the time, 2014 Hackney Wick was blessed with plenty of good warehouse spaces ripe for party throwing. It also consisted of the right kind of open-minded, expressive people. This meant it was the perfect place to do our thing without upsetting the neighbours.
There are some great bars there too that have some great line ups, like Bar 90, set on the canal. Did you visit 90 at all?
Our first studio for recording was in the rooms above bar 90 so yes, we've had a pint or two there. Yep, there are lots of great spots all along the Canal and the nightlife in Hackney wick is now busier than ever. Our Spiritual home would have to be Crate Brewery. It's on the canal also and it's where we met each other. We played many DJ sets there as well as some amazing live shows.
You did some parties too while you were there...
We've done many parties in Hackney Wick, too many to remember!! Initially the parties were at the Counter Ccafe, but then we expanded to the much bigger Mick's Garage (now Colour Factory) and had some legendary names come through.Bill Brewster, Ray Mang, Chaos in the CBD, Sadar Bahar, Session Victim to name a few.
Did you guys make music while you were in the UK?
Yes, the first two EPs were made in London. The third EP was partly London and partly Auckland. Now all three members are back in NZ. So, we make everything in the Auckland Studio.
When did you make the move back to New Zealand?
Luke and Dom were both in London for over 10 years. Brad only had the two-year Visa, sadly. By 2019, both Dom and Luke were ready for a change from London life and so moved back to reunite with Brad in NZ. The timing was fortunate as COVID hit soon after. Returning to NZ during that time allowed us to write our first full-length record.
When you got back to NZ you threw a hell of a party! Tell us about your festival on Waiheke Island?
The Waiheke festival is a very special event for us. Hosted on the beautiful island of Waiheke amongst native rainforest. We've been lucky enough to do a party there every summer since 2015.
How many people attend and how do you go about promoting the event?
The event started small, with just one stage and 700 people. But the vibe was incredible, and word of mouth spread quick. The event now goes for three days over two stages. We host a bunch of international and local acts.
Flamingopier.net will keep you up to date with all our Waiheke and Auckland parties.

What was the experience like organising an event of that size?
Stressful, of course but incredibly rewarding.
Tell us about the Flamingo Pier party in Auckland.
We do two different parties in Auckland. "Afternoon Delight" - A Sunday disco party. Beautiful vibes and brings out the true purists who need to dance. Recently, we had internationals CC:DISCO, Mount Liberation Unlimited and JKRIV. "Pleasure" - A Friday late-night party where the music gets a little deeper and tougher with more American house music in the mix alongside the disco/afro/Italo. Both these parties are co-hosted with our good friend Frank Booker.
What international DJs have you had over to play?
CC:DISCO, Suze Ijo, Mount Liberation Unlimited, JKRIV, Gabrielle Kwarteng, Session Victim.
You mentioned Frank Booker.
Booker hosts the Pleasure and Afternoon delight parties with us. Booker is a great friend with whom FP has regularly collaborated. He's right on the same vibe as us musically. He's an unbelievable DJ of legendary status in NZ. He also produces excellent tunes on the same New York label as us. Razor n tape
Flamingo Pier the producers - if you had to choose a few words to encapsulate your vibe how would you best describe it?
Groovy, percussive, uplifting disco and house.
What was your first release as Flamingo Pier?
FPC001 in 2015 with the single 'Say It Like You Mean It', a track that we're proud of and holds up to this day!
Your first album came out on the brilliant Soundway. How did you hook up with Miles, and how did you make that happen?
We were all huge fans of the label, so we asked Miles to play at the Waiheke festival. A friendship grew out of this meeting and eventually we got the chance to release with Soundway.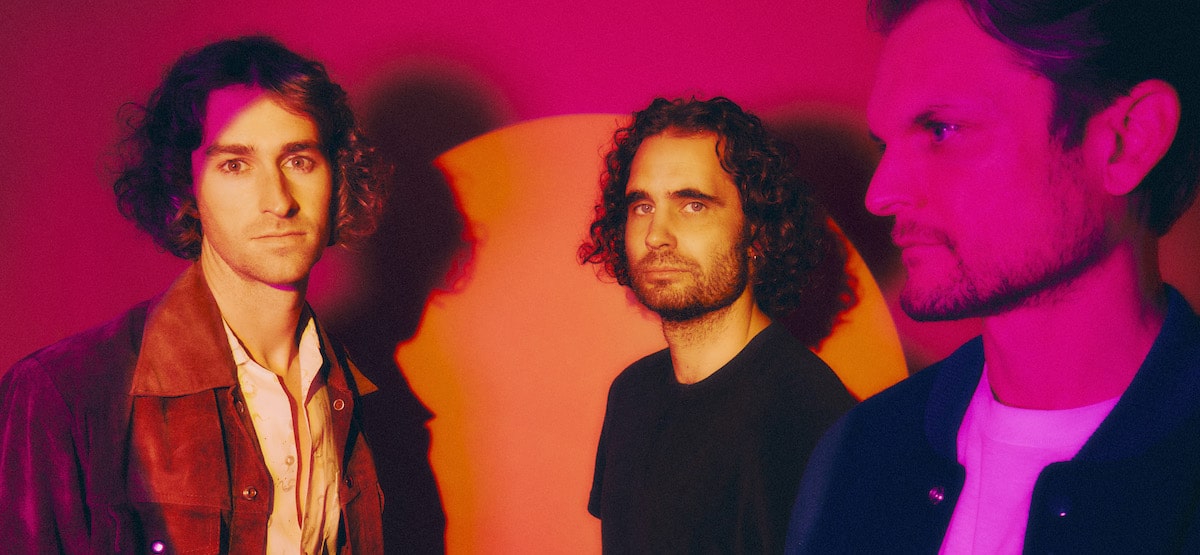 I know that it dropped mid Covid, that must have been a bit of a downer. How did you overcome the challenge of trying to get an album out in such a crazy time?
Covid helped in some ways. It gave us time to write the record without distraction. We were lucky to have a release window in which New Zealand was briefly free of covid restrictions. This meant we could do a NZ release party. However, the international scene couldn't happen.
I'd love to ask you about Flamingo Pier Live. Tell us about the live set up. Are there additional members that you bring on board?
The live set-up is vibey! We have the three core members Brad, Luke, and Dom playing keys, gat, bass and vocals, our bandmates Jack Thirtle on the horns and Izak Chatterton on percussion.
What is it you love about the live performance?
It's a whole new level of excitement. We love to connect more directly with the audience, playing only our music.
You've been running around Europe most recently on tour.
We played Bali, Berlin and London so far. All three shows exceeded expectations, but Berlin has been the highlight. We played at the incredible club Heidigluhen, a spot that reminded us how good clubbing can be.
And you're heading out here to the USA soon. Any plans for San Francisco?
Yeah, we're off to New York where our label Razor-N-Tape are based. Looking forward to playing live at the Sultan Room in Bushwick on the 8th of September! Unfortunately, no plans for SF this time, but we'd love to play there.
What else is cooking in the kitchen?
Two exciting EPs are very close on the horizon!