The following interview was conducted in February 2023
Next up on Milan's super slick Rollover Milano imprint comes Ferrari. Also hailing from Milan, the DJ & producer makes a welcome return to the label at full speed. Ferrari is known for conjuring up space rock from far flung corners of the galaxy with a warm house and cosmic disco lean. Shortly to drop his Subacqueo EP, a collection of high speed, dance floor killers elegantly designed to make your dancers sweat in the deep, dark, deadly night hours. We catch with him in the run up to this stunning release.
Thanks for talking to us at Dream Chimney. Where are you today and what are you doing?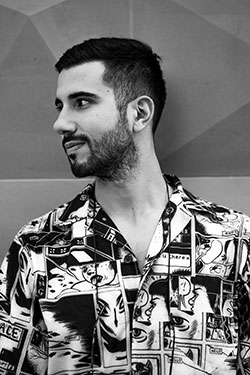 I'm on my sofa diggin' new stuff for next weekend (it's Monday).
Where is it you are from exactly? Paint us a picture of where you grew up a little.
I'm born and raised in a small town in the north of Milan, it's called Legnano. Legano is a good mixture of big flats, small houses, huge factories and green fields
What is the music scene like there?
Not so much happening right now (except for 2 or 3 parties and clubs) but great things during the 90's and early 2000's.
Where are you based these days exactly?
I'm based in the Isola district in Milan, just behind 'Bosco Verticale'.
When did you first start to dabble with music?
Think I started doing something aged 4 with a plastic xylophone. Not really sure to be honest.lol.
So, you were playing in band in the early days.
I used to play drums, always loved the rhythmic parts of a song…and I was really too bad at playing every other instrument lol. I played in different bands, always punk/post punk vibes.
When did you first start to DJ?
I started DJing at the age of 14 in 2007, mostly at private parties and bars. I used to play a mixture of tech and electro house, even if I liked more trance and prog stuff.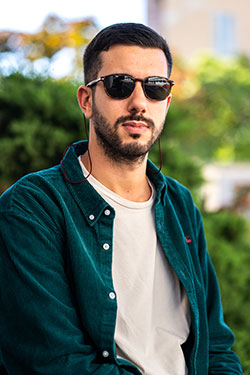 When did you make the move over to production?
I first started producing in 2011 but never took it seriously then.
What was your first release?
I can't remember well but I think a split ep with two guys from Biella, one of them is still producing great stuff (Kreggo)
What has been your most notable release?
Definitely 'NENE', my first ep on Rollover
Which one of your releases do you think slipped under the radar and should have had more attention?
I've done an EP on Origami Sound back in 2015 with my previous project Trve. It definitely slipper under the radar even if I liked it so much back then.
If you had to find some words to describe your style/ flavour, what words would you use to define it?
Romantic, funky, electro dark grooves.
Who are the artists from the past who inspire the music that you make today?
Definitely a lot of people of the Chicago house scene like Ralphi Rosario and DJ Funk, but also guys from the 90's UK rave scene like Orbital, LFO and others. Special mentions for DFA Records, Soulwax.
Who do you think is making great stuff right now?
Too many, but I would recommend Voodoos&Taboos, Man/Ipulate, Running Hot and my dear friends Eternal Love and Acidgigi
What kind of sounds might we hear in a Ferrari set today?
You would hear a good blend of house, breaks and a touch of electro.
So this is not your first release on Rollover. Tell us about your previous record with these guys?
I became friend with Rocco and he instantly supported my stuff. I sent him 3 demos and he signed all of them to the label. The record sold out quickly in a lot of stores and that made my really happy. The airplay on BIS show was the definitely the highlight of the release. Not so much to tell about the process of making it, but I had fun sampling some middle-east instruments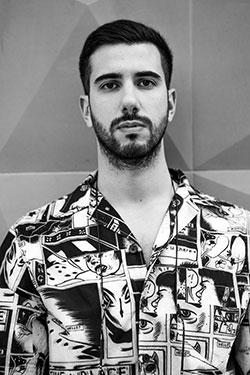 How did you hook up with Rollover Milano Records initially? Are you familiar with their party at Apollo?
I've been to their parties since 2014/2015 and when they opened the label I contacted Rocco Fusco via Facebook. He answered like a month later because he was on holiday in Australia, but he loved my stuff immediately. Anyway, they still run one of the best parties in Milan after all these years!
Tell us about the interesting title of your EP and its meaning? Does it have a meaning?
Subacqueo is the name of a pre-set that I made in one of the VST I used to make that specific track. The EP was originally called 'Morning Routine'.
Bell Towers is a heavy remixer to have on board. Are you thrilled with what he did on the remix?
Sure! He gave the track that Balearic dreamy mood that it needed, really excited about that since the first time I heard it.
What other projects are you working on that you can share?
I'm trying to improve my diggin' skills, carefully selecting new stuff to play. I'm also producing stuff for other people at the moment.
What are your next ambitions as an artist?
Always trying to improve my own style of production as well as being a better DJ. I would love to play more outside Italy!