Dom Williams
By: Dream Chimney
The following interview was conducted in June 2023
Dom Williams heads up Miles Away Records, the brilliant London based, quality reissue label. Dom cut his teeth at Acid Jazz Records and this education put him in pole position to dig deep and uncover quality gems presenting them to a whole new audience. For their next release Miles Away brings a tidy little 7" by Ruth Waters entitled Super Star. We sat down for a chat with the main man.
Congratulations on this incredible re issue. I heard Gilles Peterson play it a few weeks ago. How does that feel when the king pin plays your stuff?
Thank you! Ah yeah, it's a great feeling. I've listened to Gilles' show for years and I always found it a source of inspiration and exploration so to hear someone like Gilles to feature our music is an incredibly feeling.
How did you come across this record initially?
I first heard Super Star on a Soundcloud stream called Magic Teapot Recordings. It wasn't on Youtube or anywhere else and I remember being completely captured by Ruth's incredible vocals straight away. I went back to that track time and time again. It was always an ambition of mine to reissue it and have it on the label. I just thought more people should know this and I reckoned lots of people would really enjoy it too.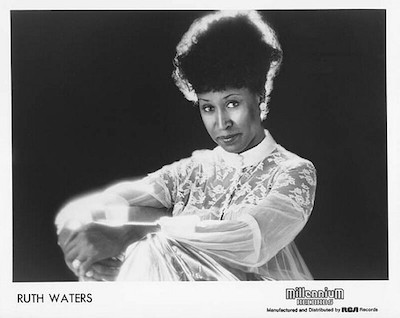 What can you tell me about the original artists?
Ruth has had an incredible career. She released two albums on RCA subsidiary labels that were produced by the late great John Davis. Ruth was born and raised in Texas, USA and learnt to sign by going to church on Sunday's. She really loved ballads and her inspiration were people like Nina Simone. It was John who convinced her to make disco records as that's what people wanted at that time in the late 1970s. This led her to have two hit singles, Never Gonna Be The Same and Out In The Open but I think it's fair to say her career never saw the success her voice deserved. She was dropped from RCA and her career hit a bit of an impasse which is a real shame as I believe she could've been massive.
It's a killer release that you are presenting in two parts. Is this how it was in its original format?
Yes, exactly. We wanted to stay true to the original release and that was in two parts. I did ask Ruth why this was and why they never released the full length on one side, but she couldn't remember. We do have plans to release the full length on a VERY special release later this year. Watch this space.
In a world of bootlegs and un-official releases, you guys have sort permission on this as your do on all of your records. What's the story on how you did that on Super Star?
I had been a fan of Super Star for ages and it was on my initial list of tracks I'd like to include on the label prior to the label starting. I had emailed Ruth a number of times with no success. I even emailed her official fan club but no one could help. The reason I never gave up is because I never had a bounce back so I knew the emails were going somewhere. Eventually one day last summer I had a reply from her son Woodie and well, the rest is history.
It's so important to me to track down the original rights holders because, well, it's their music. Not mine and not anyone else's. If I'm going to be profiting from their music then they deserve to have some of that profit as well. It might sound straight-forward but it's that simple for me. I couldn't look myself in the mirror knowing the person who originally wrote this track or released this single wouldn't see a penny from it. We spend so much time tracking these people down and it's so rewarding when you do find them and they're lovely people too who, like Ruth, perhaps never got the chance they deserved.
Have you done anything at all to the record?
Yes, we spent a lot of time trying to finding a great master and then an equal measure of time re-mastering it. After a few not-so-successful attempts we used the legendary studio AIR Studios. When they sent it back it was like the track had improved by 20%. Absolutely stunning. The lacquer was cut by Timmon in Finland and personally I think it sounds amazing on wax.
How does the family feel about the refreshed release?
They're chuffed. When Ruth was played by Gilles on 6 music she couldn't believe it. She's thinking about writing a book about her life. She's always believed in her music and still listens to it today so for someone to come along and continue her legacy, I think made her very proud.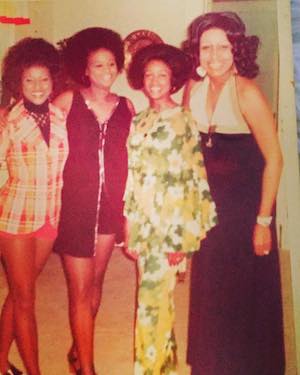 This record harks back to the 70s. Were you alive then? Where does your passion for this era come from?
I was not alive but I always loved history and I love music from this era. There's something about it. The feeling it creates in me, the production, the attitude during this time. It sounds so fresh and a lot of the music created in this period still holds up against anything release today in my opinion.
How long has Miles Away been going and how many releases have you had?
We've been going for 4 years now. We just celebrated our 4th birthday. We've managed 13 singles and 2 LP reissues during this time. We started out with Rokk - Patience and we've release music by Lamont Butler, Patterson Twins, Rita Joyce, Dyson's Faces, Howard Lemon Singers and more during this time.
Who are the people involved in the label?
To be honest it's a one-man band. I employ designers, mastering engineers and promotional people but the A&R and concepts are really down to myself. It's a passion project really.
What is your process for finding inspirations for your next releases?
Inspiration comes in so many different forms. Sometimes it's via a recommendation, other times it's through research, collecting records and DJing for years. I listen to so much music from lots of different genres too, I just think it's about keeping open minded and curious. I also think it's important to go to see live music, to go out and hear music really really loud. I always come back from gigs with a head full of ideas. Watching people do their thing live is so inspiring.
What was your last release on the label?
The last was a single by the Howard Lemon Singers titled 'For The Children' is a more mid-tempo burner, but don't let this fool you - it's -stop-you-in-your-tracks" good. Smith's vocals shine brightly and are delightfully accompanied by the Nile Rodgers-esque 'wacka-wacka' guitar of Lester Snell throughout. Musicianship is of the highest quality as Howard Lemon, group leader, called upon some of the best musicians from STAX Records – Willie Hall and the aforementioned Lester Snell were key components of such groups as the Isaac Hayes Movement and the Bar Kays.
What have you got in the wings for your next release, can you give us a sneak peak?
The next release is probably going to be a compilation. It'll be our first label compilation and will be a mission statement for where I want the label to go in the next 2 to 3 years. I'm not saying anything more than that because it's nearly finished and you'll all see what's it's about very soon.
Are all of your releases on the 7 format? Is this an environmental choice as well as being more representative of the era?
I love vinyl singles. Plain and simple. I got into vinyl singles when I worked at Acid Jazz. My boss Eddie Piller played a lot of singles and he imparted his passion for them with me. I liked the convenience of just carrying around the single track, also the label and artwork, the history behind them. There's a real beauty to singles that you don't have in other formats. So, to have a label that in a very small way contributes to this history makes me incredibly proud.
Your releases are not digital is that right? Do you play digi releases as a DJ?
We do have some digital release. To be honest it all depends what rights we can get when we sign singles. Sometimes the tracks we want to do are already owned by someone else who have them up digitally. In the future we'd like to own more digitally and we're building towards that.
You are a DJ too Dom. Where have you been playing recently?
I've been playing all over London recently. Prince of Wales in Brixton, Royal Albert Hall, a new spot in Battersea Power station, I'm also a Spiritland resident and regularly play at Brilliant Corners. I run my own nights as part of the label and recently hosted our 4th birthday celebration at The Jago in Dalston with Poly Ritmo.
Do your DJ sets mirror your label output in sound? What kind of stuff do you play?
Yes, to some extent. I play a lot of soul, disco and funk when I play out but I also love to mix it up and play a lot of salsa, MPB, Latin soul, Latin jazz as well as house and techno. My music tastes are broad, so I like to keep it as interesting as possible when playing out.
What is the most recent record that you have invested in?
I recently invested in a load of Fania albums. I've been really into Salsa and Latin soul for years but never had the legendary albums by Hector Lavoe or Johnny Pacheco on vinyl so recently I've been investing in these classic titles and they're not cheap may I add. I normally try to be sensible with my vinyl spending but some of these are essentials so they'll earn their money back in time... I hope.
If you could have a dinner party with five artists from the past that are no longer with us, who would you chose?
So many to choose from but probably Fela Kuti, Prince, Miles Davis, Nina Simone and Aretha Franklin.