On the occasion of Dennis Kane's "Live from A1" mix for the good people at Dream Chimney, I sat down with him for a chat about—what else?—records, music, and his years in and out of A1 Records.
BT: We actually met at A1, didn't we?
DK: No, Danny Krivit brought me to see you playing at a bar across from the Post Office depot, which I think was on 10th street. The post office is now a luxury condo, I talked with you at A1 after that.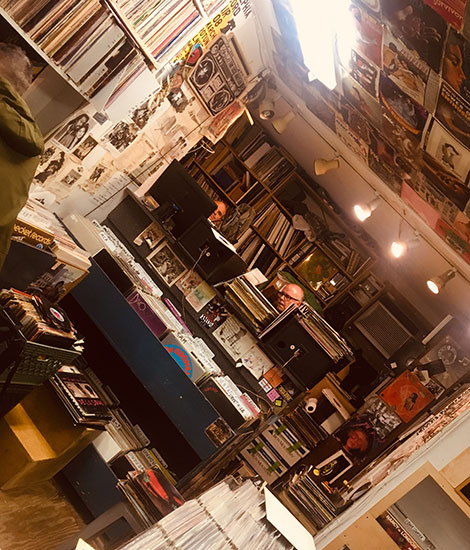 BT: How did you begin working at A1?
DK: I had met this guy Aldo Rosati who lived down the block from me. I had bought a few records from him and he told me he was starting to work there. He was a natural salesman, had great enthusiasm and a real knowledge of a kind of euro-boogie and '80s sound. Shortly after, he took over managing the shop and brought in his own people: Toshio Kajiwara; Dan the Beat Man, of Dusty Fingers fame; and Aldo's friend from Paris, Lord Funk, a.k.a. Roman. It was quite a cast of characters. What I liked, though, was that everyone had their zones of knowledge, and realized quickly just how provisional knowledge was. It was both humbling and exciting.
BT: How did you get into records in the first place?
DK: Records were a big part of my childhood, and never really weren't a part of my life. As a kid I had a small turntable and some 45 boxes. My parents played records, my older brother was buying some good records, and the radio was always on in our home. Philadelphia had great radio in the '70s, and there were also a number of mom and pop shops to visit. My friends all had strong opinions about music and we would sit around and listen to records and argue and compare collections.
I remember back then a new LP was an event, getting the record opening it, reading the liner notes, etc....a new Led Zeppelin release was a big deal. I remember the first Chicago record being huge. "Free Form Guitar," "I'm a Man," "Beginnings," the chanting crowd from the Democratic convention protests—it had real impact. I also listened to my parents Basie and Sinatra records, and of course comedy LP's. The local pinball spot played mostly Latin music so I was exposed to a fairly wide range.
BT: How long did you work at the shop?
DK: I was there for a few years. I was starting to DJ a lot more, and was definitely burning out from the grind of being there. So many characters to deal with. There was this one guy, a hip-hop producer—not really a heavy music head—he would come to buy music to sample and he'd say to me, "Play me something that sounds like somebody's about to die." Then days later he would bring the records he bought back and try to resell them. I moved on, and by that time was always selling stuff that I was finding, first on GEMM and then on Discogs. Discogs and the web changed everything almost overnight.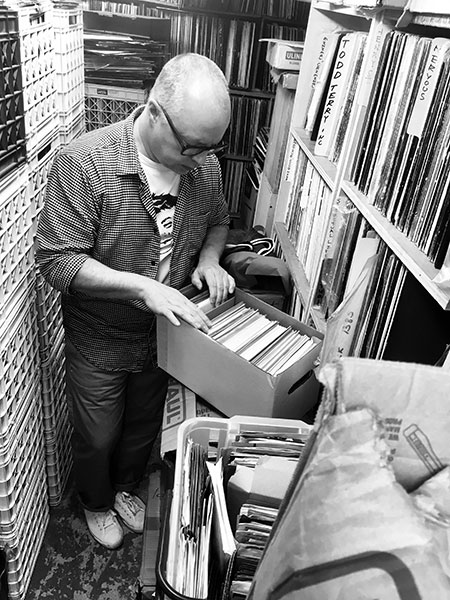 BT: But despite moving on, you've maintained a relationship with the shop.
DK: Oh, hell yeah—it's still, in my opinion, a great shop. It's near my house, my son has grown up going to that store, and the crew of people working there now are really great to deal with. Now I sell them more records than I buy, but I always need a few new jams each month to play out. I like deejaying there for Tosh every few months, it is sort of the anti-Boiler Room—meaning the vibe is an authentic one.
BT: What's on the docket for Mr. Kane these days ?
DK: Well, SIREN has a new jam. We have to switch out some vocals, but we are really happy with the song. I'm doing a remix for my pal Phil Mison, and Phil recently did a remix for SIREN that is going to be featured on Compost's 25th-anniversary box set. I also have finished a 12-inch for Moton, and have been working on a track with my old pal Jon Creamer and his production partner Noam. I have a few more things marinating as well, and I'm still doing the monthly radio show forthelotradio.com. Plus I'm doing some writing and drawing, unrelated to my musical activity. I'm also going to be giving some DJ lectures at Scratch Academy starting in December.
BT: So the usual low-key pace.
DK: Haaaa! It actually feels pretty right. Club life in NYC is sketchy right now, but I'm seeing more people take the initiative to open their own spaces and I sense a lot of the people I take seriously working intently on their own productions and looking for new approaches. The megaclub with bad Resident Advisor–sanctioned techno may be profitable—but it is squaresville. I recently played at a friend's basement loft on a great system and had a ball. Things are definitely in flux, but I'm encouraged seeing smart people wanting a more underground and bespoke experience.
Mix of the Week
Check out Dennis Kane's Live from A1 mix
Further Reading
Follow Dennis and SIREN online at