Cosmonection
By: Dream Chimney
The following interview was conducted in October 30, 2023
Hey, Cosmonection! These tracks give off Ibiza, Balearic vibes. Was that the intention? What sort of setting do you envision these tracks to be played in?
The Ibiza and Balearic vibes in these tracks were indeed intentional. the colors and enchanting atmosphere of the Mediterranean have always been a significant source of inspiration for me. I envisioned these tracks being played in beachfront clubs, sunset parties, and open-air festivals with a relaxed and euphoric atmosphere. The goal was to transport the listener to a beautiful, exotic setting where they can immerse themselves in the music and the surroundings.
Describe the EP in three words.
Sun-kissed, Nostalgic, and Groovy.
How did this collaboration come about? Was it fun working together?
I met Hamidou about a year ago, and we immediately connected musically. He's a guitarist who has been making music for over 20 years, and I really enjoyed working with him from the get-go. The collaboration on this project happened organically after working on several drafts. We realized that we probably had a story to tell across multiple tracks. Working together was not only fun but also incredibly inspiring, as we shared a deep musical connection that made the creative process enjoyable and seamless.
There are uses of the acoustic guitar throughout this EP. Tell us more about the guitar. Was it sampled? Was it recorded live? What guitar is it?
All the guitars on the EP were played by Hamidou. We recorded them spontaneously in my studio. Our main goal was to start with a guitar idea and then build the music around it. For instance, we used an acoustic guitar, especially in the track 'Bulles,' where we aimed to preserve the essence of Balearic music. Additionally, we incorporated an electric guitar, without an amplifier, in the track 'Solar' to enhance the groove.
What's the synth we hear on the second drop in 'Wakin' Up With You'? How have you used this synth?
The synth you hear on the second drop in 'Wakin' Up With You' is the Juno 106, which I coupled with a Soundtoys flanger. The idea was to create a rhythmic stab that would be introduced exclusively during this part of the song.
How do you usually go about creating these summer-y, dreamy atmospheres in your music?
I believe I'm someone who tends to be quite dreamy and romantic by nature. While I've lived in France for most of my life, my Catalan origins from Barcelona have always instilled in me a deep love for the Mediterranean - its colors, the sea, and the sun. I always try to draw inspiration from this connection to create something sun-kissed in my music, while preserving a sense of nostalgia. This nostalgia often stems from the memories I've had the privilege of experiencing.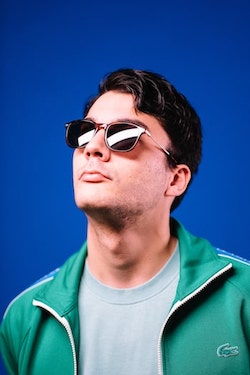 Where was the EP made? Was it a new environment for you both?
The EP was created in Paris, in my own studio. Hamidou visited my studio around ten times to collaborate on new tracks, and it was during these sessions that we decided to create the EP.
What sort of gear was used on this EP? Any standout synths, instruments or effects? Why?
For this EP, we utilized a variety of synthesizers, including the Juno 106, the Korg Wavestate, and the Moog Grandmother. We also incorporated some drum machines such as the RD-9 and the Tanzbar. Additionally, I incorporated several samples that I had recorded in the past, including percussion elements and more. Finally, Hamidou contributed by playing the guitar for various parts of the EP.
What is your favourite piece of gear and why?
My favorite piece of gear is the Juno 106. I've been using it since the beginning of my music career for almost everything. It allows me to create basslines, lead melodies, but most importantly, beautiful and evocative pad sounds.
If you could have any classic piece of studio gear, what would it be and why?
The Moog One, my dream haha
NEW RELEASE
Check out the latest release from Cosmonection