Caramel 3000
By: Dream Chimney
The following interview was conducted in March 2023
For its next dancefloor trip, Hell Yeah Records takes a look through the weird and wonderful lens of Caramel 3000 who serves up four cuts that collide leftfield electronics, dark disco, and ancient cosmic wonderment into captivating new forms. On the week of his release, we have a chat with the exciting and intriguing Brussels based producer.
Thanks for taking the time to talk. Where are you today and what are you up to?
My pleasure! I'm at home, in Brussels. I'm packing my suitcase, and I'll spend the next two months in Melbourne, making the best of the end of summer. I'll pack my modular: I hope to make it a music retreat.
I can't read your name without thinking of confectionary. How did you arrive at this sweet nom de plume?
It's a play on words over my teenage nickname -toffee". So, from toffee - sweet material - I got Caramel. Then added 3000. Now, I regret I wasn't bold enough to simply be Caramello, but I'm saving it for future releases.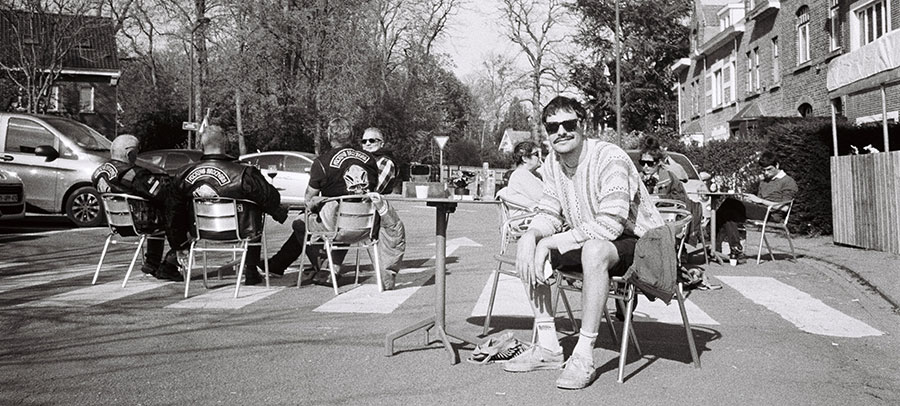 Where are you from and where are you based now?
I was born in Mira, a town in the metropolitan area of Venice. I lived in Brussels for the past ten years. But there has been a lot of back and forth.
What's the music scene consist of in your town? Where are the key venues?
I was more involved in the Venice party scene end of 2000, I still nostalgically look at that era as a wonderful golden age. Nowadays, I'm happy to see that there's a second summer of raves in Venice. Plenty of collectives doing nice things in warehouses, beaches, and random places: Flora Protection Unit, Opificio, 100VE… I shouldn't mention them, right? I hope they don't get into trouble. Then Brussels is great place to party… but there's already a lot of literature on the topic.
Who are the prominent DJ's out of your town?
Steve Murphy (Rawax, Lobster Theremin) is the absolute legend. Fango (Degustibus) is possibly the coolest, but he lives 3 kilometres away and that's already another town.
How long have you been a producer and what was your first ever release?
I think I started releasing tracks in 2009 as Rambla Boys. It was me and a friend, Luca, who also deals with caramel now… he has an ice cream shop in Warsaw (hehe). I think the first decent thing we've ever produced is a track called Cocomero. It was unapologetically lame and ridiculous, but then Tim Sweeney played it on Beats in Space, and I got goosebumps for a week.
Have you always had the moniker Caramel 3000 or have we known you under some other tag in the past?
As I said, ten years ago I would publish music as Rambla Boys. That's the name we would use to play around at parties. Some people still have no clue what my name is, when they see me they shout "Ramblaa". I like it!
In the past ten years, I featured on vinyl as SO LATE, I think this music aged well actually. Lately I published some tracks as Naufragi, releases on Ombra International and Slow Motion… The dark side of the Italo scene.
Are you also a musician? What instruments do you play and to what degree?
I studied guitar as a teenager for around 5 years. Somehow, I wasn't that interested in perfecting the technique. I spent the whole fifth year going to classes with the welder instead of the guitar. I did a technical school, and I was good in printing circuit boards: I would just hang out with the music teacher trying to assemble pedals. Gianni - the teacher - would always say that he could predict the end of our friendship: "you'll drop out as soon as some love shows up! You'll use the money your mum gives you for music school to buy your sweetheart some presents". Prophetic!
If you had to put a pin on your sound, what words would you use to describe it?
It's silly downtempo. Loopy and dubby. A bit Balearic maybe?
Who are the artists from the past that inspire the music you make?
I'm not sure I'm very good at dropping names. I'm even worse at music history. I think I listened to River Yarra, Tolouse Low Trax, and Mayurashka while producing Caramel 3000.
What do you feel has been your most notable release throughout your production career?
That's a tough question. Maybe the remix for Black Strobe. Or maybe Rock Solid with Stee Downes. Lots of plays on Spotify. It's very cheesy though. I wish I could turn back time and get rid of it.
Which of your releases do you feel should have gotten more love?
Gahinga on Slow Motion. I saw couple of videos of people playing some of my songs live. Somehow this one went pretty much unnoticed, but I thought there was dancefloor potential when it came out.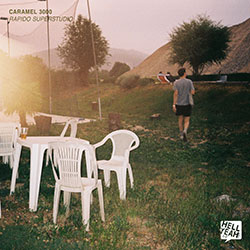 How did you hook up with Marco Gallerani at Hell Yeah?
I've been following Hell Yeah for a long time. Some of the releases he published over the last few years really marked me. Recently, I fell in love with Japon by Lucas Croon on Buena Onda Balearic Beats. I wrote to Marco and met him in Ferrara, he's really easy going, hard not to like him.
Quite a dark vibe and one we are not used to hearing on Hell Yeah. Why do you think the label signed it?
Not sure I'm in the right position to answer. It's true that Rapido Superstudio doesn't follow the "canon" of Balearic music. Nonetheless, it's a genre that has very blurred boundaries, it means all and nothing. Hell Yeah has already systematically crossed those borders, publishing perhaps ambient and house tracks. I'm not so surprised Marco signed it, his catalogue is pretty eclectic, overall.
Very much an Andrew Weatherall, A Love From Outer Space vibe here. Did you have that vibe and the party in mind when you made it?
Not really, I was thinking more of Dusseldorf rather than London.
I heard Sean Johnston played it in London on Saturday night. Did you know he was a fan?
Yeah, I was delighted to hear that. Him and Weatherall played some of my old tracks as Naufragi, both at festivals and in the radios. I already see myself old, senile on a wheelchair, annoying my granddaughters with this story.
Do you have a Superstudio? What is the most important piece of kit in it?
I have a small studio in Brussels, but all it's pieces are pretty top notch. Maybe the most notable piece is the Sequential OB-6. It features heavily in the EP.
What kit did you use in the making of Rapido Superstudio?
I used the OB-6. A small modular system. The DX7 for the basslines. And a 30$ kids drum set for the percussion samples.

The aesthetic on the release is extremely atmospheric. Tell us a little about the cover story?
It's a picture Julija took when we went to Jazz is Dead in Turin - May 2022. It is a nice festival, a chilled home vibe, with lots of cool ambient and dub acts. We had fun. I think, in that precise moment we have had enough of music, and just wanted to hangout somewhere remote and silent.
Are you a DJ too Caramel? Where have you played most recently?
I'm certainly not a DJ. I am frightened by the idea of deejaying. I incidentally ended up doing it a lot in the past, from 2006 to 2009 regularly in clubs around Venice. And I happened to play in Rome, Milano, Lisbon, Copenhagen. A recurrent image of those times would be me frantically going through my DJ bag, clueless about what's inside, desperately crying for help at Luca, and literally having no idea what to play next. His blasphemies resonate in the eternity.
Who do you think is making great music right now?
In terms of labels, beyond Hell Yeah, I would say anything coming out on Antinote, Osare, and Multi Culti...
What else are you working on that you can share?
Perhaps a second Superstudio. But it's all Supersecret.
What keeps you busy outside of music?
Nowadays, I'm trying to complete a PhD in media studies. I also got a small apartment in Curegem that I want to redecorate. And a wooden boat harboured at "Moranzani" near Venice that's in perennial reparation.