The following interview was conducted in November 16, 2023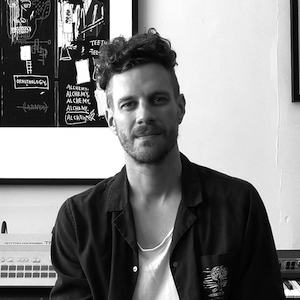 UK-based Ben Sun is a musician and producer composing vivid, atmospheric moods and grooves using analog synths, vintage drum machines and bit-crushing samplers. He is about to drop his 'Apex' EP on Cyphon Recordings this week. The release is an interstellar affair that combines four spine tingling, celestial cuts that balance weight, precision and emotion in equal measures. We flip the switch and turn the lights down low, for the afters back at the ranch. Ben Sun takes us through his late-night hours playlist.
1. Deniece Williams - Free
This was almost always the opening track when we got back to the house. Got that really dreamy, magical opening, then it breaks into that blissful, head-nodding groove. It sounds amazing on nice sound system – such a perfectly produced record.
2. Lil Louis & The World – Nyce & Slo (The Blow Horn Mix)
This one is the B-side to the 7" single of 'I Called You'. Rarely heard, more RnB style than the album version. Super sexy Chicago soul at it's best.
3. Mike Francis – Features of Love
More drum machine soul here, Balearic bliss… Up to you whether you wanna skip the slightly corny intro, but once the beat drops the crew will starting spinning around the lounge and spilling their mezcals.
4. Arthur Russell – In The Light of The Miracle
Going a bit deeper… This man occupies such a big place in my musical world, but this tune is one of my favourites to dance to with some loved-up friends. A sprawling opus of a tune, it's got everything: gently driving rhythms, beautiful harmonies and a wonderful production that washes over you forever.
5. Richard H. Kirk - The Feeling (Of Warmth And Beauty)
A perfectly apt title. This one is unusually feel-good and uplifting for Kirk… lay back and float around.
6. Innerzone Orchestra – At Les
One of the most beautiful things Carl Craig ever did, I think… the gently descending synths over the rolling piano and persistent jazz cymbals. Nothing quite like it – maybe certain moments with The Doors?!
7. Womack & Womack - MPB (Folk version)
My favourite version of this hit tune. The pared-back production really lets the beauty of the instrumentation come out. Very spacious and groovy at the same time. Almost beatless but it stills swings, with the big bass.
8. Cloud One - Dust to Dust
Mellow cut from Cloud One – dope bass lines, Patrick Adams' signature keys take the lead, and then these lush, wordless vocals to bring in the chorus. I love the whole album – gorgeous songs with a no-frills production approach… raw and laid-back underground disco sound.
9. Sad City – Steady Jam
I just love the sonic qualities of this one – dreamy, hypnotic vocal loops, soulful piano lines spilling out over some deep house / jazz break type rhythms.
10. Black Renaissance – Body, Mind & Spirit
Would be remiss not to include some spiritual jazz (with a smattering of proto-rap!)… Badass Woody Shaw on Trumpet and Harry Whittaker on the piano. Sit back and blaze one to this – both sides.
NEW RELEASE
Check out the latest release from Ben Sun