The following interview was conducted September 5, 2023
East London scenesters AXNÉR bring us 'Shout From The Rooftop' on Disco Freaks this month. A soulful tribute to love and disco, carefully crafted over five years under a shiny disco ball! To embellish this sparkling dancefloor gem further, the duo enlists some primo remix talent to take the upbeat dancefloor bomb to yet another level. Al Kent, and John Morales, do the necessary, both upping the ante but keeping the heart of the shimmering original intact. Here we have a chance to sit down with this sparkling duo and get to know a little more about AXNÉR.
Thanks for taking the time to talk. Where are you guys at the moment and how are you spending the day?
It's Sunday and we're home in East London. Catching up on all the music admin that they conveniently never told you about when you were a kid and dreaming about this. We're excited this release is underway - can't wait to see & feel the vinyl.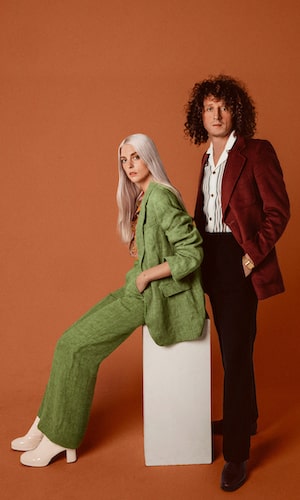 Where are you both from originally and where are you based now?
Julia is from Malmö in the south of Sweden & Chris is from Blackburn in the north of England. We live in East London
How did you first get together as AXNÉR? How long have you been making music together?
Chris: About 5 years ago. I'd been signed by Acid Jazz Records with Matt (Disco Freaks) to release some remixes and edits and I'd started to demo a handful of original tracks. I loved disco music but had never written or recorded it so had to spend an age relearning guitar. The funk style of playing sounds so simple but I soon realised it's pretty complex.
Julia: I still have the early demos with Chris singing on them. I'm holding on to them in case I need any favours in the future.
What were you both doing musically before AXNÉR?
Julia: I've been singing pretty much all my life & been writing original music since I was 14. I've always had a jazz & folk influence so stepping into disco was a new and fun experience.
Chris: I DJ's a part of a duo called Disco Freaks, we are celebrating our 10th birthday in October at Oslo Hackney. Julia's going to sing the tracks live as part of it for the first time!
As DJs, where have you played most recently?
Chris: With Disco Freaks, we've had a very busy Summer playing three nights at Glastonbury, some very fun shows in Italy & this weekend we had one of our regular parties at Grow in Hackney Wick - was one of the wildest ones yet! Started the set with the test pressing of John Morales' remix of our new one and it tore the place apart. So good to see.
Julia: Together we're a band not DJs, but we will be spinning some records at Discount Suit Company in East London on Thursday 21st September as a little AXNÉR launch party.
What might we hope to hear in an AXNÉR set? Pure disco? Or do you play across the genres?
There's a more soulful influence to our next release & we've a few in the works that include electronic elements. The line that draws it all together is the groove.
What's the most recent record you've bought?
Julia: - Olivia Dean's Messy. A soulful pop singer from London I've been following for years. It's been great to see her rise & success.
Chris: - Franc Moody's remix of Alegria. We mainly DJ 7's when playing out so was very pleased to be able to add Franc Moody into the set with this one.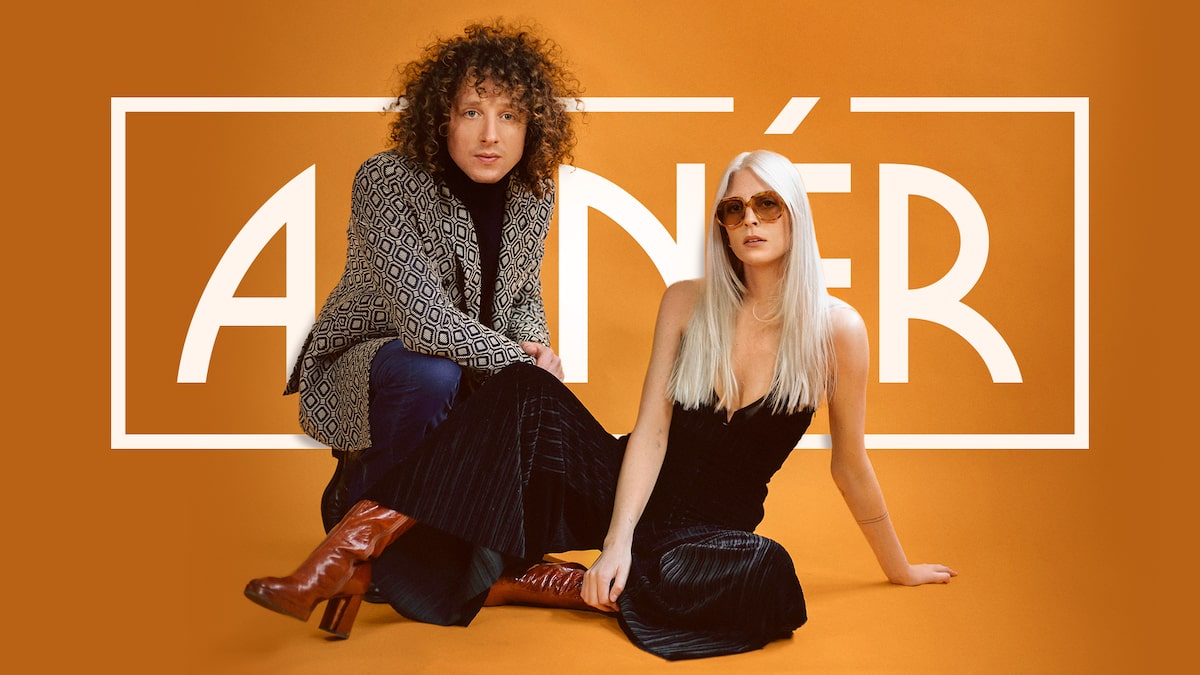 Who do you think is making great music right now? Who do you follow?
L'Imperatrice. Incredible on record and live. Six very talented, cool and lovely individuals.
What was the first record that AXNÉR made?
Got The Look, we co-produced this with Ralph Rolle, drummer for Nile Rodgers & Chich which was pretty special. Ralph was really great to work with and we learned a lot. Al Kent remixed the track too. We released it on vinyl a couple of years ago.
What parts do you both play in your productions?
Chris: I play guitar & Julia sings. We work together on the production, lyrics & melodies.
The cover aesthetic is nostalgic. How inspired are you by the disco era?
We love so much of that era but do our best to keep our head in the present day when we can.
Who are your disco icons?
Chris: Ashford & Simpson. Unbelievable songwriting duo. Check out their list of compositions, its insane. Was lucky enough to meet Valerie Simpson in New York a few years ago and let out all the praise. The best!
Julia: Aretha. She may be The Queen of Soul but her voice has travelled through the genres. Stylewise, Cher in Paco Rabanne & all those amazing Studio 54 shots. Can't wait to play live and bring those outfits to life.
What do you think is one the greatest disco records ever made?
Chris: Diana Ross - The Boss – written and produced by Ashford & Simpson too!
Julia: Jocelyn Brown – Somebody Else's Guy – It's a classic. Amazing song and vocal delivery. John Morales worked on this track too and almost forty years later he's remixed our song - Shout From The Rooftop. It's crazy when we think about it!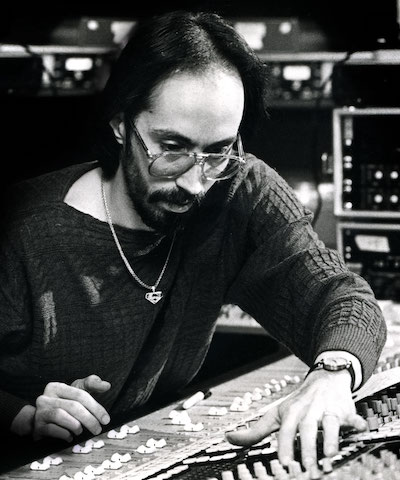 Who wrote Shout From The Rooftop? How long did it take to come together?
It was the 1st song we started about 5years ago! It's taken many forms and the lyrics pretty much all changed by the end but it's been a labour of love getting it right. We always knew we wanted strings so had to be patient until we had the ability to make that happen.
You collaborated with some high- profile musicians on this release. Tell us a little about that aspect?
It's all happened organically but we still take a step back and realise how surreal it is. We met Ralph Rolle (drummer for Nile Rodgers & Chic) on a radio show, and he heard Julia singing along to a Lalah Hathaway song and said he wanted to work with us! He stood by his word, and we went in the studio and recorded four songs a couple month later and then again the following year. He's a great producer as well as drummer and was really helpful throughout the whole process of our 1st track. We sent Ralph our 2nd track when it was pretty much done and he replied a day later with a voice memo on Whatsapp of the track with some extra backing and ad-libs out of nowhere! We found out soon after he'd sent it to Audrey Martells who sings in Chic, and she'd sprinkled her magic on it. We still find it pretty crazy!
The vocal gives off some Groove Jet vibes. How much fun did you have recording the vocal on the track? Did it come together easily?
Julia: It was a lot of fun. We recorded it in my hometown Malmö at Sickan Studios. My twin sister, best friend, Mum & Auntie all joined on background vocals so it's a real family affair. It didn't come easy during the writing stage as we've rewritten the lyrics and melodies a few times but once we were in the studio it was a lot of fun.
How did you know when to stop tweaking? How do you know when the track is done?
IT'S NEVER DONE!
The remix package is strong. How did you manage to get all of the players on board?
Chris:This is the 2nd time we've worked with Al Kent and the first one happened after Chris had gotten to know Ewan through DJing together. Julia met Kousto through Loose FM, a radio station she started. John's came from daily prayers, a sacrificial lamb and manifestation.
Julia: Chris knew John through a residency Disco Freaks had in London years ago and when we put out our first record he reached out saying if we ever wanted a mix get in touch.
I think our favourite is the Al Kent mix. Talk us through what he did to the original source material?
Our music is all live instrumentation, no samples, but somehow Ewan (Al Kent) arranges his remixes in a way that makes them sound even more real. He can keep a track interesting for 10 minute which is a feat considering the original is three and a half minutes long. It sounds like a band coming back on stage for one last song with the keys player starting first. Joel Sarakula added a Rhodes solo especially for this remix too that comes in towards the end – stick around for it. Definitely worth it.
Who would be your dream future collaboration?
Braxe + Falcon. We love the French touch sound & we've been all over their new music & creativity in their live shows. We saw them drop Pixies at 1am in Printworks earlier this year. All over sprinkling some rock n roll into clubland.
What's up next for AXNÉR? What should we look out for?
Our next release is pretty much ready to go – we are just looking for the right remix to accompany it. We're working out how we can make a full live show happen to.
Thanks for the chat!