Aura Safari
By: Dream Chimney
The following interview was conducted September 8, 2023
Aura Safari are the red hot Italian DJ and production collective, back with a second album 'Island Dreams' on Marco Gallerani's Hell Yeah Recordings. The album is a live and sun-kissed odyssey through balmy Mediterranean evenings, sundown sessions and analogue grooves that will sweep you up into its arms and transport you somewhere tropical and idyllic. We sit down with guys to talk a bit about their new album, their huge records collections, and about having a Campari and soda by the sea...
I am called to action by your wonderful album Island Dreams on Hell Yeah Recordings. Such a spectacular collection of tracks. How long has Aura Safari been around?
Aura Safari was born in 2018 from the meeting of DJ's, producers and musicians from Perugia. Each of us had our own musical background, with some more inclined towards house music and others towards jazz. We came together in a recording studio, and within 5 or 6 late night sessions, our first album was recorded, which was released in 2019.
Who are the core members and what parts do you all play?
Currently, the band consists of 7 people, there are three truly amazing musicians. Lorenzo Francioli, our keyboardist, is the mind behind all the synths you hear in our records. Then we have Ruggero Bonucci, who plays the bass and guitar, and Nicola Pitassio on drums and percussion. Meanwhile, the rest of us work in the studio, where we edit and post produce the music recorded during our sessions. We all work together closely in this process, deciding on the sounds to use, the right melodies and the rhythms to bring it all together.

As producers - if you had to encapsulate your sound in a few words, what words would you chose?
It's not an easy one to answer, because we don't want to stick to a single sound but rather explore multiple musical worlds. We draw influences from a wide range of sources, and we enjoy incorporating almost all of them into our music. What ties our productions together is a warm sound that goes back to the late 80s and early 90s. Whether we're playing jazz or producing house music, that era's aesthetics holds a special place in our hearts. Whether it's boogie funk, obscure Italo disco, jazz fusion, or even an afro cosmic or balearic experiment, we're drawn to the vibes of that time in music.
I hear you are all great collectors of music. Who has the biggest vinyl collection from you all?
Some of us have been on a record collecting journey since the late '90s, which means two decades of buying, selling, and trading vinyl. If you peek into our homes, you'll find a hefty chunk of our collections dedicated to house music and disco, with a special affection for those American house tunes from the '90s. We've got a soft spot for Italian productions from that era as well. Our musical roots trace back to the legendary Red Zone Club in Perugia, where we were raised on the sounds of obscure classic house music. We'd often immerse ourselves in recordings of Larry Levan's mixes or David Mancuso's sets whenever he graced Perugia with his presence. Over time, our vinyl addiction expanded far beyond the boundaries of any one genre. It's become a bit of a friendly competition.
Who has the most extensive collection?
But truth be told, most of us have no idea where to stash all these records anymore; they've taken over our lives and our living spaces.
As DJs, what kind of vibe might we hear in an Aura Safari set?
Our musical choices tend to change to the rhythm of the party. When it's a peak time situation, we're mostly playing lots of house tracks and disco. However, in those more intimate settings, like our monthly "Tropical Climax" event, the musical landscape is more diverse. We enjoy exploring a wide range of sounds, from balearic gems to Italian downtempo from the '90s, synth boogie, world music and other oddities.
Tell us a little about your local music scene in Perugia?
Perugia is a city with a rich musical heritage. When it comes to underground dance music, the legendary Red Zone Club played a fondamental role. This nightclub, active since 1989 in a location known as Casa del Diavolo, was one of the main spots in italy for house music heads for two decades with resident Dj's Sauro Cosimetti and Ricky L and amazing guest Dj's from all over the word. There are many recordings of those nights now available online, we really suggest to look for them on soundcloud and mixcloud. Although the club has been closed for several years now, it's influence on the city's music culture is still relevant in numerous local DJs and really good producers who are from Perugia, like Daniele Tomassini aka -Feel Fly" or Marcoradi and Ricky L aka "Hear & Now", just to name a few.

Also Umbria Jazz Festival is really important for Perugia. It's one of the most significant Italian jazz music festival established in 1973, it takes place annually in the streets of the historical center of Perugia during the month of July.
I'd love to hear about the initial idea for the album Island Dreams. When did you first approach this concept and what was your original intention with this release?
The concept came to life early last year when we revamped our band lineup and immediately decided to work on an album, rather than just releasing singles. Our starting point was to blend the project's jazz-funk roots with vintage electronic synth and drum machines. We were drawn to the idea of creating an album where the project's musicality, thanks to the presence of some extraordinary musicians, always shines through, but takes it beyond the boundaries of jazz-funk to create something with a more dance-oriented aesthetic. We envisioned it as some sort a lost LP from the 80s.
What was most important for you to convey through this album? Do you feel that you were able to accomplish all of your intentions?
We wanted to offer a snapshot of the diverse influences that have shaped our musical identity over the past two decades. In doing so, we wanted to create a sound that also pays homage to the records in our collections that we hold in the highest regard and cherish the most. Our intention was to bring these elements together, infusing them into the album's DNA to provide a genuine representation of our musical world. As for whether we've fully achieved all our intentions, that's a question we'd rather leave to the listeners to decide.
What are you most proud of with Island Dreams?
Probably that it truly represents us. We can say that we poured our best efforts into this project, and we are certainly satisfied with how the album's sound aligns with our initial vision. This album embodies our essence, and that's what matters most to us. It's like a diary of our late night music adventures. We also greatly appreciate collaborating with FJD for the graphic design and CALM for the mastering, as they fully got our overall vision.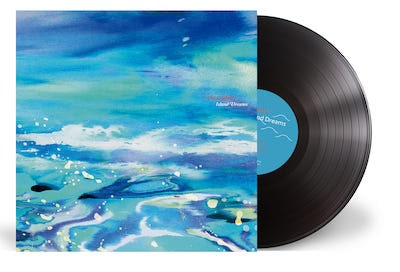 What was the most challenging part of bringing this album release together?
Without a doubt, the trickiest part of piecing together this album was the whole editing and post-production process. We're talking about countless hours of sweating over the mixing board and computer screensA lot of experimentation, revision, and refinement.
Also working with such a diverse group of musicians and producers brought its own challenges. Each one brought their own creative perspective and style to the table, and finding the right balance and cohesion among these different voices was a delicate balancing act. It required open communication, compromise, and a shared love for what we were creating.
Logistically, coordinating recording sessions, mixing, and mastering across multiple studios and locations was another challenge. We had late night recording sessions scattered across three or four different places. It's like climbing a mountain, sometimes exhausting, but when you reach that summit, the view is absolutely breathtaking.
I guess this album marks a lot of work, time and love. I'd love to hear about your creative process for the tracks. As a collective - how does a track begin between you? How does it get fleshed out? How do you know when it's finished?
We often gather in the studio and arrange listening sessions. We seek inspiration from records we love and use them as both a point of reference and a starting point. Lorenzo, Nicola, and Ruggero are exceptional musicians, so we enjoy sharing some records from our collection with them to give them a taste of where we're headed and the direction we want to take. We prefer to convey the "vibe" we're after through music listening rather than explaining it in words. We'd rather let the music do the talking. For example, we might say, "Listen to this Larry Levan remix; We're thinking something along these lines, especially how that bass groove hits". From there, the creative process begins. For us, starting with a reference is crucial. Next, the selection of sounds is another key step. During a session, we record everything we can get our hands on: synths, guitars, bass, keys. After that, it's back to our home studios, where we tweak and shape that raw material to finish up the final track.
What drives you all to continue creating music?
It's most of all the connection with other like minded people, musicians, dj's, producers and all around music enthusiats. There's this unique magic that happens when you connect with other people who share your musical DNA, exchanging ideas, influences, and experiences. Collaborating with a talented musician who gets your vision. So, when you ask what keeps our creative fire burning, it's the thrill of connecting with like-minded people in the music world.
What has been one of Aura Safari's favorite moments from the past year?
Live concerts are definitely some of the best moments. This year, our first live gig with the new lineup featuring drums, guitar, keyboards, synths, and drum machines took place at Perugia's Urban Club during the Tanagram party. It was fantastic. Another highlight was our summer performance at Botanica festival in Sanremo. Really amazing venue and crowd.
One more exciting moment this year was the opportunity to have a recording session with Jimi Tenor here in Perugia. We recorded quite a bit of material during that session, and we're currently in the final stages of production. We can't wait to share it with everyone.
Where does Aura Safari find the most inspiration when it comes to discovering new music?
For us crate digging is still the most important thing. We're old school in some ways. Nothing beats the thrill of crate digging at record stores, flipping through hidden gems. For many years, we've been sifting through the records of a Perugian dealer who's stocked incredible and huge collections of Italian DJs from the '90s. But he also had archives from radio stations and even clubs.
Also the live experiences. Club nights, concerts, festivals and listening to other dj's, it's a massive inspiration. Sometimes, a single night can send us on a whole new creative journey. Take, for instance, a party right here in Perugia called Last Note that happens a couple of times a year. Colleen 'Cosmo' Murphy spins there all night, and it's a tribute to what David Mancuso used to do in his loft parties. That's just an example of a live experience where we discover loads of music.
We are also constantly scouring music blogs, and online communities. You can find everything in the digital universe.
You are releasing on Hell Yeah. What can you tell us about the imprint and its mission?
We've always been fans of Hell Yeah Recordings; we loved their records, bought them, and played them. Then we got to know Marco Gallerani, who happens to be the label's owner, as he came to play in Perugia several times. So, when we had some new material on our hands, it just felt natural to share it with him and see if he was interested.
Forming a connection with Marco has been really great. It's like the perfect alignment of our musical tastes and a great opportunity to collaborate with someone who shares our vision. And the fact that it all started from being fans of the label and evolved into a creative partnership makes it really cool.
If you had to describe the perfect setting to listen to Island Dreams, where would that be?
By the Italian coast, with the sun across the sea dipping below the horizon. You've got that classic Campari in hand. That is the perfect setting to soak in the vibes of this album. It's like a soundtrack to your Mediterranean sunset dreams.